Make the most of your bookcases by showcasing your favorite books with accessories. 
Bookcases make it possible to organize your cherished books, but making the cases stylish can be a challenge. Following some simple tips, you can create bookcases that are as beautiful as they are useful.
Change the back of the bookcases to add some character that coordinates with your decor. Cover foam core with textured or printed fabric and simply press them into place. If preferred, cover the backs with a bright-colored paint or wallpaper.

Organize your books in a way that works for you. Choose to do it alphabetically or by category. Lay some books flat and some on their ends. Top books with accessories for a finishing touch.

Use tall objects like vases or small table lamps to fill tall spaces.

Add framed quotes to reflect your personality. Choose decorative frames and print your favorite quotes using your printer.

Gather your collections and use the bookcases to showcase them. Think outside of the norm. Try vintage cookware with your cookbooks or nests with your birdwatching books. Give yourself some time to gather, assemble, and carefully curate. Add just enough to tell your story without going too far.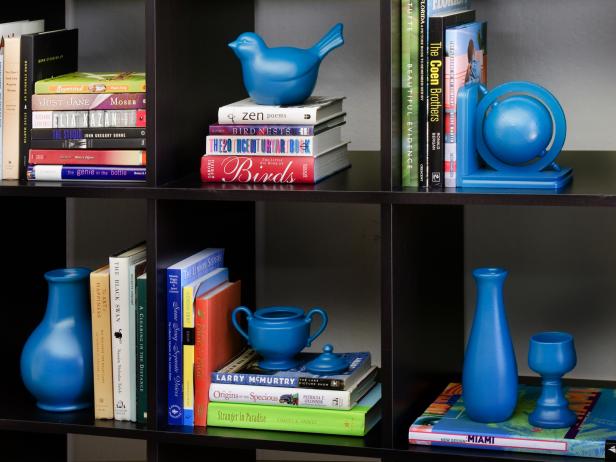 Blue Painted Accessories Featured on Bookshelf
To get high-end style on a dime, unify mismatched knickknacks with a coat of spray paint. A white bowl, green bird, and gold box are just tchotchkes, but turn them all teal and they become designer touches. Distribute them throughout a bookcase to bring it all together.
Jennifer and Kitty O'Neil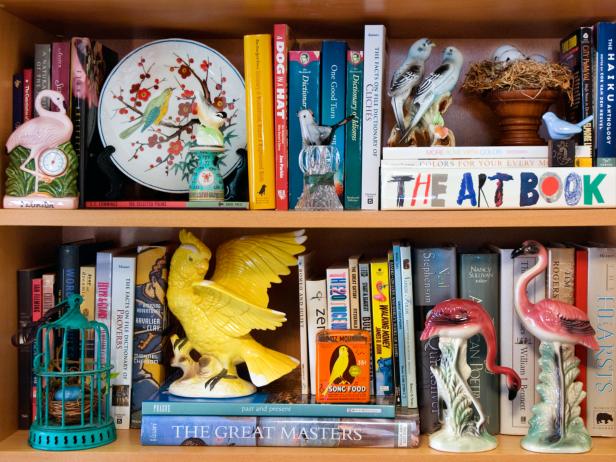 Bookcase With Ceramic Knick Knacks
Whether you collect birdcages or buttons, sculpture or shells, transferware or teacups, any collection you love deserves pride of place in your home. Plus, there's power in numbers: "Anything looks better as a collection," says Mary Carol. "The different sizes, shapes and colors play off each other, and grouping a collection together gives it emphasis." Gather up your treasures around the house and mass them for a stunning display.
Add small touches and artwork to remind you of travels to far away places.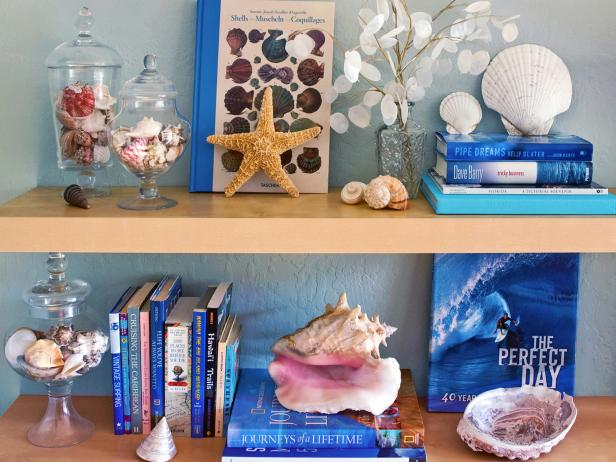 Seashell Collection on Beachy Bookshelf Display
Give your books added dimension with a little show-and-tell. Gather up one of your collections and display it among related books. Showcase butterflies with field guides, souvenirs with travel guides, or Russian lacquer boxes with the fairy tales they depict. It's like making your books come to life!
Jennifer and Kitty O'Neil
Place greenery some of the shelves to add life to your collection. Choose plants that will thrive with the lighting conditions available.
Make use of beautiful boxes or small cases to fill spaces.

A beautiful bookcase filled with your most cherished books and collections is just a few steps away.
Designer Inspiration for Home Styling
Find DIY ideas on how to give your home a designer look.
Find amazing ideas for styling bookcases, coffee tables, consoles and more.