Ace Your Movie Awards Party
Try these free games that you can use during your annual awards party.
Whether you're going to be donning sparkles or sweats at your film awards viewing, we think you and your friends will enjoy celebrating the year in film with a few fresh games.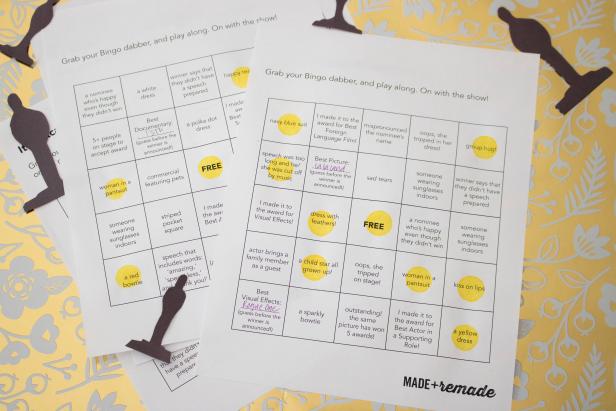 Free Award Show Bingo Boards
Play this fun game of Bingo while you watch this year's award show.
Our Movie Awards Bingo boards can be downloaded here for free. You and up to 4 friends can play, because we've created 5 unique game boards that promise to entertain from the pre-show through the afterparty. Just grab your dabbers, and watch closely for the predictable (happy tears!) and the unpredictable (a polka-dotted bowtie).
Put more spin on the event by checking out our 2017 Awards Party Spotify playlist, where we've rounded up 18 songs from this year's nominees. Enjoy the playlist while you entertain before the event, or make a game of it by encouraging your friends to pair each song with its respective film or artist. Provide your guests with a piece of paper and a pencil, and encourage them to write down the answers. Offer up a prize at the end of the night to the guest who matched song to film with the most accuracy!