Wood Finishes 411: What You Need to Know
Get helpful advice for picking the proper finish for your project.
Finishes for your woodworking project can be a little overwhelming to say the least. There are a ton of options for finishing a project by numerous companies, and it's hard to understand exactly what the outcome is going to be. It's nearly impossible to compare every product on the market, but let's have a look at several popular options.

Finish is typically the last thing you want to put on your project. Before you get to this point, you've sanded and applied any pigment—paint, stain, dye, etc.—or not. The finish coat is meant to seal, protect or enhance the hard work you've already put in. In some cases, all three. But before we get to the bottom on the top coat, let's get a couple of terms out of the way that can be stumbling blocks in picking the right product. Full disclosure, I have not recieved any compensation from any of the manufacturers mentioned, nor is this a complete list. The products highlighted here are simply ones that I've found success with.
Varnish is a general term for a top coat that is composed of a resin and a solvent.
Finish and top coat are often used interchangeably and are synonymous with varnish.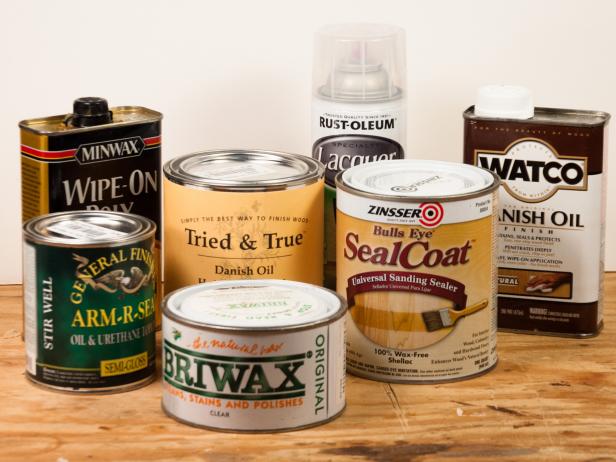 A variety of finishes: Wipe-on polyurethane, danish oil, shellac (seal coat), oil and urethane, polishing wax and lacquer
Urethane is a synthetic resin—think plastic—in a solvent.
Characteristics of finish
Some products, like the drying oils (linseed, walnut, tung) soak into the wood, but don't create a surface protection, i.e. protection from scratches and hard wear. Other products sit on top of the surface of the wood like polyurethane, lacquer and wax. Some products leave a matte finish, while others are super glossy, like lacquer. While some products, like polyurethane create a hard coating protecting against water, others are delicate when it comes to moisture, like shellac. Some finishes are wipe on, some require a brush and others are spray-on. And finally, the time it takes to complete the coating varies from less than an hour to 72 hours or more. And to make it more complicated, many of the products on the market are a combination of these elements.
There are dozens of companies that make similar products. These are just a few that I have had success with and either prefer to other products, or I just haven't explored other options. I tend to favor the wipe-on finishes to the brush-on varieties, simply because I'm not that good with a brush or I don't care to clean oil out of one.

Unlike a typical household vegetable oil, the drying oils soak into the wood and cure. They can be used alone or in tandem with a top coal like polyurethane. For light-use items like the shaker peg rack, using oil alone is perfect in my book.
This is a formula of drying oils that penetrate into the wood, harden, and create a protective low-gloss finish. It's an easy-to-use single product finish and shouldn't be used over a wax or polish—which prevent the oil from penetrating the wood. It can be coated with a topcoat like polyurethane if you want the extra protection.
Linseed Oil (Tried & True Danish Oil)
Linseed oil, another of the drying oils (it hardens, as opposed to vegetable oil that goes rancid) soaks into the wood. It can be used alone, over the top of stain or paint, or can be covered with an oil-based top-coat, like polyurethane. Look for a polymerized or boiled linseed oil as the processing allows the oil to cure much faster. In comparison to the other finishes, this product has a fairly long cure time. Similar to the Watco Danish Oil, it produces a warm tone in the wood, but offers no hard durable coating.
Of the samples that I created, the Tried & True darkened the oak more significantly than any of the other products.

This drying oil is specifically made for tropical hardwoods— mahogany, teak, etc.
Arm-R-Seal is a polyurethane and oil combination that can be applied with a rag or a brush. Like Danish Oil, it will soak into the wood, but will also leave a hard durable coating on the surface. The dry time is in the mid range. Arm-R-Seal is perfect for high traffic usage, such as table tops. It comes in a range of sheens from satin to gloss and leaves a slightly amber tint.
It's perfect for when you want the look of oil but also want the provide some protection from abuse.
Shellac (Zinzner's Seal Coat)
Shellac is a natural resin that is dissolved in alcohol. Dewaxed shellac can be used as a sanding sealer or a primer for other finishes, while the standard shellac can't. Both products can be used as a top coat. Many thin coats are built up to create a glossy coat. It dries very quickly, but doesn't offer much in the way of protection from water. Unlike the oils, shellac sits right on the surface of the wood.
Polyurethane is a synthetic resin and oil-based coat. The wipe-on variety is thinner than the standard flavor and can be applied with a lint free cloth as opposed to a brush. It can be user as a top-coat over stain, unfinished wood and even over cured oil finishes. Polyurethane comes in satin to glossy and sits on top of the surface creating a highly durable and scratch-resistant protective layer. The wipe-on variety dries fairly quickly.
Modern lacquer is used almost exclusively as a top coat. It products a super high-gloss durable coating that dries extremely quickly. It can be used on metal or wood, but is not compatible with polyurethane. Because it sits on top of the surface, lacquer doesn't change the color of the wood.
Spar Varnish is a finish designed for boats and marine use. It's similar to polyurethane, but provides a more flexible coating and has the addition of UV protectants.
There are dozens of wax products to choose from, from liquid varieties, to beeswax, to spray wax.
Wax can be applied with a rag or #0000 steel wool and sits on top of the surface and doesn't cause much change to the color of the wood. It does provide some protection from moisture, but isn't a very durable finish for high-traffic items. It does provide a wonderful sheen when rubbed to a slight shine. It is a great option for book cases and other light-use furniture projects, and to top it all off, wax can be used on top of most other finishes. One downside to wax is that it needs to be reapplied periodically to provide continued protection.
There's a lot to consider and take in here, but I hope that it gives you a jump-start on finishing your next project. The best thing I can tell you is get in there and try some things out. I know you have a pile of wood scraps in your garage or basement that are ripe for being test subjects in a finishing experiment. While you're at it, experiment on different species of wood and be sure to label your experiments. You'll be glad that you did.