7 Ways to Incorporate Pantone's 2017 Color of the Year in Your Home
Pantone, the world-renowned authority on color, just announced their 2017 color of the year. 
It's called Greenery. Pantone says this zesty color "signals consumers to take a deep breath, oxygenate and reinvigorate." It's a hue that is meant to "evoke the first days of spring when nature's greens revive, restore and renew." Looking for some inspiration on how to add Greenery to your home decor? Check out these spaces that may make you green with envy.
The easiest, most inexpensive way to add the color Greenery to your home is simply with greenery. For a dramatic effect that requires little effort, go to the florist and get a single frond and place it in a simple vessel.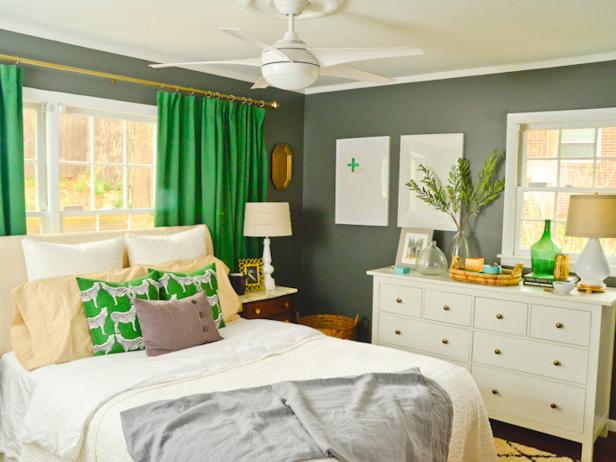 DIY Upholstered Headboard in Green and White Master Bedroom
When couples combine furniture, sometimes major pieces, like a bed, need to be freshened up. Atlantan Amanda Macy Hall, who blogs about home decor and DIY projects, transformed a queen cherry sleigh bed that belonged to her husband, Josh, with upholstery. She used a cheap drop cloth and a roll of brass decorative nails. "I love the look of the drop-cloth, a beautiful natural color with subtle texture, and the nailheads bring the added style that helps to tie it to the rest of our room."
If you're not ready to commit to painting your walls in Greenery, start with window treatments and pillows. Here, the energetic burst of color provides artistic style to the neutral gray and white space.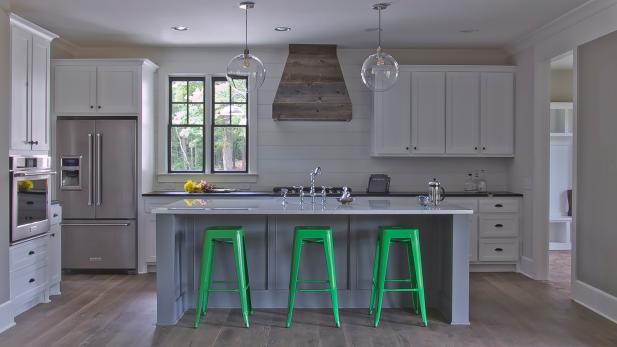 Modern Farmhouse Kitchen with Gray Island and Green Bar Stools
Instead of going overboard on a bright island color that you may question later, a vibrant trio of bar stools can give you the shot of color you desire. These stools were less than $40 each at a home decor store. New River Building Co. in metro Atlanta used just one bank of cabinets for the island, providing a deep space for seating.
Austin Lineberry, New River Building Co.
Green is a good color for kitchens. According to some feng shui experts, green promotes digestion. If you want just a touch of Greenery, add it via useful items like utenstils, canisters, oven mitts and dish towels.
4. In the Youngsters' Space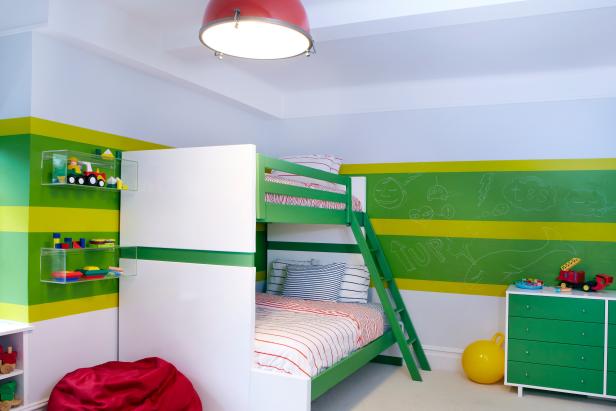 Green and White Boy's Bedroom With Bunk Beds
Bunk beds maximize space in this fun boy's room. A green stripe of chalkboard paint allows children to be creative without fear of ruining the walls. Pops of red and blue tie the space together to create a playful, colorful space fit for any young child's growing imagination.
Greenery is a nice choice for gender-neutral kids' rooms or playrooms. Here, a green stripe of chalkboard paint allows the kids to be creative without fear of ruining the walls.
5. Enchance an All-White Space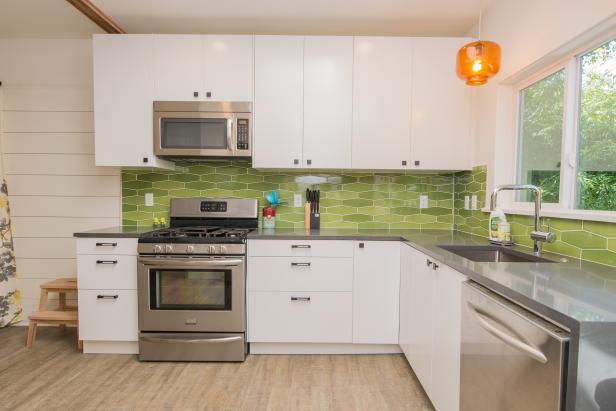 Contemporary Kitchen With Green Back Splash
This contemporary kitchen features white cabinets, stainless steel appliances and green back splash. An orange pendant light hangs above the sink and adds a pop of color.
A bold backsplash can make a plain white kitchen soar with personality. Greenery can add the perfect pop of color, especially when it's done in a cool retro pattern like this one.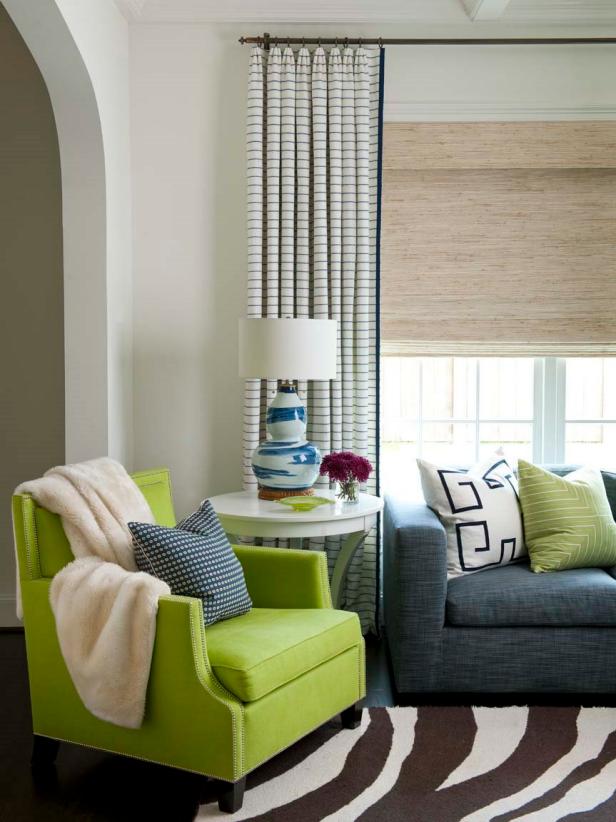 Transitional Living Room With Green Armchair
To mix and match patterns, choose a few colors to anchor the look, then go wild. Here, blue, green and purple are the base for zebra prints, checks and stripes.
A neutral sofa paired with a bold side chair can result in a high-end designer look. If buying a new chair is not in your budget, consider painting your old one.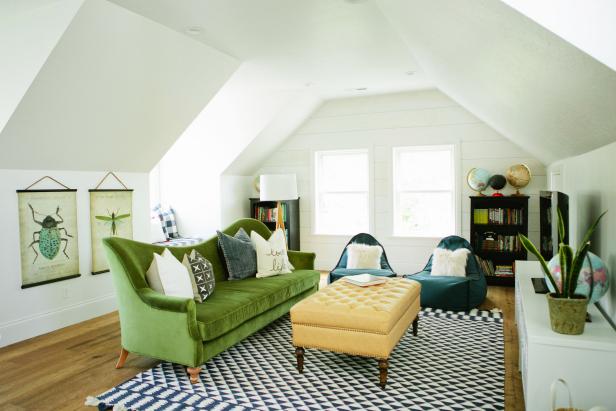 Kidtastic Space with Complementary Colors
Area rugs ground a sitting space and are another opportunity to add pattern under a simple green couch overflowing with inviting pillows.
7. Make it the Focal Point
Crushed velvet sofas add a heavy dose of sophistication, but a crushed velvet sofa in Greenery adds a funky hipness to the equation.