6 Tips for Working With Reclaimed Lumber
There are many benefits to using reclaimed wood over new material. Here are a few tips to help you make the most of it. 
Working with reclaimed wood has been pretty popular for a minute or two. Creating a barnwood accent wall in a room in your house seems like a great idea, right? Reclaimed wood comes in all shapes and sizes and from a variety of places. One thing's for sure, you can't beat authentic aging and abuse when it comes to giving wood a good vibe. Regardless of the source here are a few tips for making the most of your experience.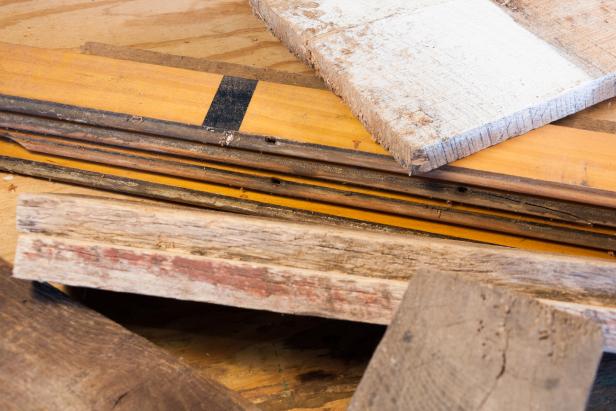 A Variety of Reclaimed Woods Rest on Top Of A Workbech
A selection of reclaimed wood including barn wood, and gym flooring.
Barn wood especially has been out in the elements for maybe 100 years or more. It's covered in dirt, dead bugs and, well, may have come in contact with less desirable substances as well. There's nothing like a bunch of dirt to dull a good sharp tool.
To clean it, I like to start with a stiff nylon bristle brush and give it a brisk rub down. This knocks any loose dirt off. I follow that up with a quick spray with the air hose to clean off the finer particles. Some folks like to hit it with the high pressure water sprayer, but you have to be careful or you'll damage the wood.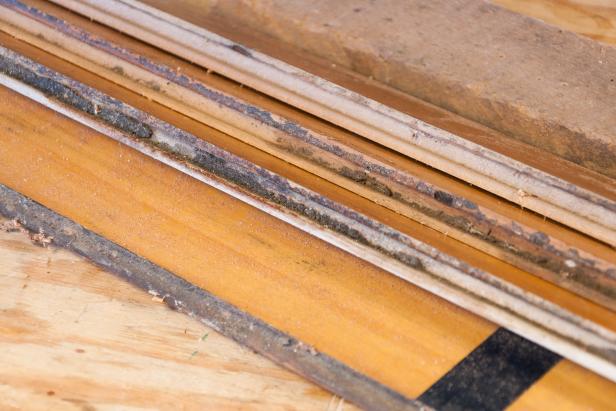 The grooves of this old gym flooring has the remains of years of use. Gotta clean that up before I can glue it up!
Photo by Dan Lipe, 2017 Scripps Networks Interactive. All Rights Reserved
Inspect it for remaining metal.
As part of a barn, boards would have been nailed to the structure and some nails may be left behind. Pallet wood too. Give each board a good visual inspection and you'll catch 99% of it before it dulls your saw blade. I for one welcome the nail holes, as the steel and the wood react nicely over the years, creating some wonderful black stains - especially in oak. Urban lumber is particularly notorious for having nails and such in it. Remember that clothesline grandma had in her yard? That bolt is still there.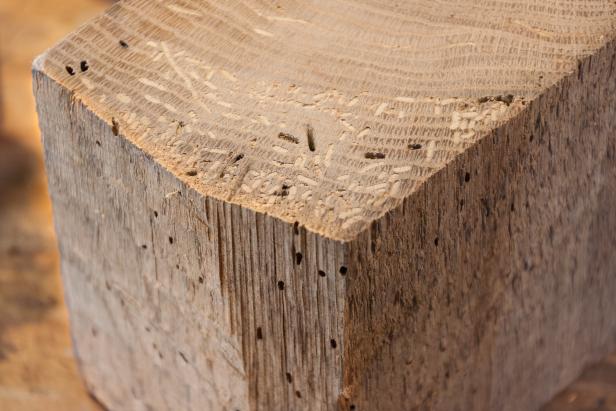 All those little holes are cosued by bugs. In oak, the holes are limited to the sap wood.
Photo by Dan Lipe, 2017 Scripps Networks Interactive. All Rights Reserved
Pallet wood usually doesn't have this issue, but with barn wood it may depending on the type of wood. Ask your supplier if the wood has been treated in any way either chemically or by kiln drying. Chemical pesticides mean you need to be a little more careful not to breathe the sawdust. Ask a few questions from the source (if you can). One of my sources kiln dries his reclaimed barn wood, killing off any bugs and removing moisture from the material. If you suspect a piece of wood has bugs, you'll need to hit it with some insecticide of your own. You don't want the critters invading the inside of your home.
It's rough sawn. Emphasis on rough.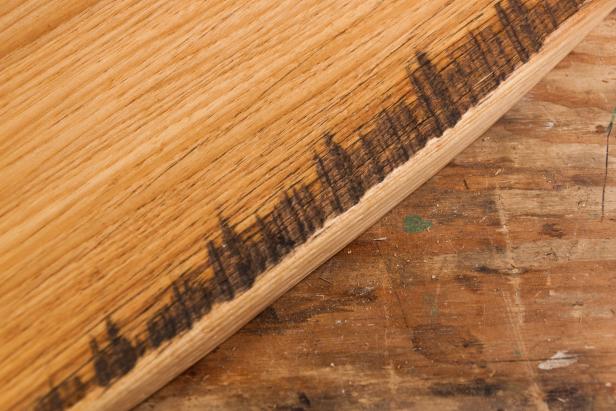 The edge of this skateboard has the remains of the milling left intact. It looks awesome when you finish it with Danish oil!
Photo by Dan Lipe, 2017 Scripps Networks Interactive. All Rights Reserved
This means it still has its saw marks and isn't in any way smooth. Curved marks indicate it was cut on a circular saw blade while straight marks indicate a band saw. You can do one of two things. Keep the texture or not. OK so there is a middle ground which is to hit it with a sander to knock off the sharp edges and retain the vibe of the saw marks. Whatever you decide to do with it is up to you. In most of my projects, I prefer to keep at lest a little of the texture around.
It's not straight. Or square.
Photo by Dan Lipe, 2017 Scripps Networks Interactive. All Rights Reserved
It's probably warped, crooked and one end is probably thicker than the other. A good bit of barn wood has the pith of the tree (center) which results in the board being irregular in shape. Again, you can work with what you have or put it through its paces to make it smooth and square.
Craigslist is a great place to look for reclaimed material. I can find old barn wood, wood from urban demolitions (like gym flooring), and even the scraps from local shops. I've also made friends with a local shop that specializes in tearing down barns and selling the wood. There are even a few shops cropping up that take the tree trunks from urban trees- then make boards out of them. I've even been known to grab logs from neighbors' piles when they have a tree cut down. I'm not a fan of using pallets, simply because they are often sprayed with chemicals to help them last longer.
Regardless of where you get your wood and what you make with it, be sure to wear those safety glasses and that respirator. Happy building!