5 Handy Uses for Beer (That Don't Involve Drinking)
April 7 is widely recognized as National Beer Day. Whether you imbibe or not, there are other ways beer can make you happy. 
Beer is for drinking, right? Well, yes, but it's also handy for lots of household uses. I picked a few of the most plausible and useful to try, and here are the results.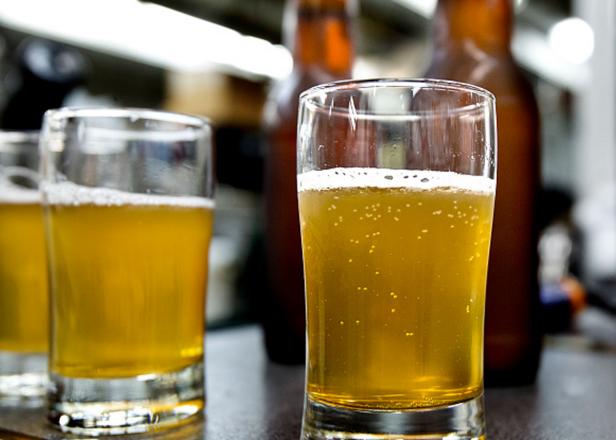 1609219000
Samples of beer made with the yeast from bees are poured by Dr. John Sheppard, with the Norht Carolina State University Department of Food/Bioprocessing and Nutrition Sciences, in the Brewery in the Pilot Plant on the school's campus in Raleigh, N.C., on July 23, 2015. (Corey Lowenstein/Raleigh News & Observer/TNS via Getty Images)
Get Rid of Slugs in Your Garden
I lured these slugs with beer last fall when they started munching on my cabbage plants. See them drowned in the booze?
I list this one first because I've tried it many times and, without a doubt, can testify that it works. If you've ever grown cabbage, brussels sprouts or any plant in the cabbage family, you've probably met a slug you didn't like. Slugs love these vegetable plants and can wreak havoc in your garden, munching a myriad of holes in the cabbage leaves until they're inedible. They also love lettuce, but they love beer more.
Lure slugs away from your veggies by setting out a small, short bowl or plastic container of beer near the plants where you've noticed their damage. (First, pick off any noticeable slugs from your plants to get rid of the obvious ones.) In a day or so, the slugs will find the beer oasis and drown themselves in it. Harsh, I know, but it's them or the cabbage.
Fix Brown Spots in Your Yard
I honestly didn't have a lot of hope for this tip at first. Supposedly, the sugars in the beer feed the emaciated grass and bring it back to its former green glory. So I filled a spray bottle with flat beer and sprayed it onto a few brown spots in my yard. I guess you could also just host a lawn party and ask each guest to sacrifice a drop or two for the good of the lawn.
Maybe it's just my beer-soaked imagination, but after a week or so, the brown spots in my yard do look better. Hmm. Perhaps beer will become a regular part of our lawn care routine … I'm pretty sure my husband would be OK with that suggestion.
Who would intentionally wipe down their wooden furniture with beer? I mean, accidents happen, but why spill beer on your table or chairs intentionally? To test, I wiped down a section of our teak outdoor furniture. I figured it's seen a drop or two of beer already and, without a doubt, this won't be its last, so no harm. And boy did it work. The beer cleaned a layer of gunk from the tabletop, which was great, but the best part came a day later, when, after a rain, I noticed that the section of table wiped down with beer actually beaded up water rather than soaking it in. The left side was not wiped with beer, while the right side was. See how water beads up on the right side? It could only be because of the beer.
Granted, this could be because I desperately need to rub this table down with teak oil, but nonetheless, the effects are pretty obvious.
Disclaimer: I didn't try this on expensive or antique furniture.
Yes, that's me pouring beer on my hair. I promise it was cheap beer.
I distinctly remember my mother using this one on us as kids — head bent over the sink, cheap beer pouring down. It worked then, and it works now. Apparently, the malt, hops and yeast in beer all benefit your hair, making it stronger and shinier and adding volume. Of course, beauty companies have recognized these benefits and started making products using beer-making ingredients. The Broo haircare line has an especially clever name. But you can also still just rinse your hair in the stuff, just like momma did, and get some nice results.
Draw Out a Red Wine Stain
Beer is reported to take red wine stains out of fabric, but this one didn't work for me.
I know from experience that beer and wine don't mix. Choose one or the other, and stick to it. But what about the tale that beer, like white wine, can actually help draw out a red wine stain from fabric or carpet? To find out, I sacrificed a dishtowel to some red wine, let it sit, and then tried applying beer to loosen the stain. Though it may have helped a bit, it didn't remove that stain. I'd say this tip is worth a try — other than some lost beer, it couldn't hurt — but don't expect it to be a cure-all for your wine mishaps. Maybe next time I'll try vodka.
If you're really more into drinking beer than sacrificing it for your garden or furniture, check out this photo gallery for a stock-the-garage wedding shower featuring instructions for a craft beer tasting.
If you're new to home brewing, here is the perfect beginner recipe to get you started.