Herb Appeal: 5 Top Underdog Herbs
Expand your herbal horizons with author Susan Belsinger's recommendations of less-common garden herbs you can grow.
Many of us know the joys of growing the Best in Show herbs by now: rosemary, mint, basil, sage. Whether you're making homemade beauty products, the freshest pesto in town, or rosemary butter, the applications for garden herbs are endless.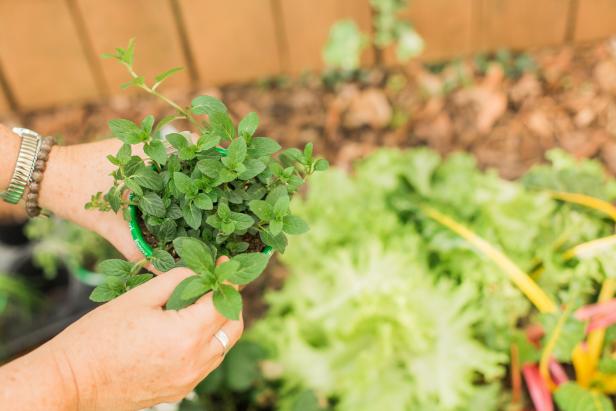 STEP 5- Select Plants
When choosing plants for your garden keep in mind that deeply rooting fruits, veggies and flowers will not do well in a shallow container. Your best bet would be plants with relatively shallow root systems. Also, consider planting a mix of fruits, veggies and herbs with a variety of scents and textures so the kids will enjoy exploring each plant by touch and smell. Favorites are beans, peas, chives, coriander, mint, basil, poppies, lettuce, garlic, onions, and strawberries. DISCLAIMER! Check with your state's EXTENSION office for more specific advice on gardening in your area.
Flynnside Out Productions
But there is a world of herbs out there—97 to be precise—beyond the usual suspects. And author Susan Belsinger is just the woman to arrange an introduction. The author, along with Arthur O. Tucker, of The Culinary Herb: Growing and Preserving 97 Flavorful Herbs, Belsinger sings the praises of 5 Under-the-Radar herbs you should keep in mind when planting your spring garden. Here are Belsinger's top unsung heroes of the herb world:
1. Bee Balm aka Bergamot (Monarda didyma)
This marvelous, colorful, fragrant and tasty herb is one of my favorite perennial plants and it is located in my pollinator garden since bees, butterflies, moths and hummingbirds love it. It is a member of the mint family, so it will spread laterally underground and it also reaches about 3- to 4-feet in height and plants produce heads of shaggy red blooms. The red cultivars like 'Cambridge Scarlet' have a lovely floral aroma that is reminiscent of Earl Grey tea and the leaves have a similar smell and taste, although more green-tasting; I love to use it in desserts, preserves, jams, jellies, beverages and baked goods, and most especially with the stone fruits of summer. Other cultivars with pink, purple, lavender, white or mahogany blooms contain carvacrol, which is the hot spicy taste in oregano. These herbs can be used like oregano in salads, sauces, soups, with grains or beans and in savory dishes or as a garnish for pizza and pasta—not in sweets!
2. Summer Savory (Satureja hortensis)
Savory is an underused herb in the U.S., though it is used often throughout Europe. Both summer and winter savory (S. montana) are savory and peppery in flavor and complement hearty meat dishes, soups, stews and beans. In Germany, savory is known as bohnenkraut, which means the "bean herb" and I rarely cook a pot of beans without adding some of this tasty herb, fresh or dried. It also makes a delightful vinegar and is delicious on green or wax beans. Summer savory is an easy-to-grow annual, 12- to 15-inches in height with pale pink flowers, while winter savory is a small, perennial shrub with white to pale blue flowers. I sow the annual every year so I am sure to have plenty of it.
3. Lemon Basil (Ocimum basilicum)
Basil is my favorite herb, and lemon basil runs a close second. It has a lovely lemon nose and flavor on the palate. My cultivar of choice is 'Mrs. Burns Lemon Basil', although the other lemon basils are also good. I use it to make vinaigrettes and put the leaves in salads, scatter them over just about any summer vegetable or fruit and use them in desserts, baked goods and beverages. The lemony-sweet aroma and taste brighten any seasonal dish; it makes a killer gelato. I use this annual fresh in season, and also dry it and make an aromatic herbal paste to have it year round.
4. Sweet Marjoram (Origanum majorana)
This member of the Origanum genus is different from all of the other pungent cultivars because it has a mild, sweet bouquet and a lovely, balanced, well-rounded flavor. In my zone 7 garden, it is a tender perennial and so I grow it in a container and bring it indoors in the winter. I truly love this little perennial plant for its delicious scent and taste and use it in everything from vinaigrettes, sauces, soups, salads, casseroles, with eggs, pulses and vegetables. If you want to add a flavorful herb to any dish—and you aren't sure which one—choose marjoram since it is a reliable classic. You won't be disappointed with sweet marjoram in your herbal repertoire.
5. Dill (Anethum graveolens)
Although we can buy bundles of dill in the grocery, growing your own provides the gardener/cook with abundant baby sprigs for spring salads, sauces, soups and garnish. I plant them right in the lettuce bed so I can snip these tasty sprigs, reminiscent of caraway and fennel with a hint of citrus, to go in every salad bowl. They are wonderful in quick sauces, with yogurt, in vinaigrettes or as a garnish to any vegetable, potato salad, and coleslaw, grain or egg recipes. The added bonus of the bright yellow blooms adds beauty to the garden and makes a delightful garnish to spring and summer dishes. Control yourself and don't eat all of the umbels—save some to make seed! You can save seed to grow your own, however I love to stuff an umbel full of ripe seeds into each pickle jar when I am making dill pickles, sauerkraut or fermented vegetables.
And when you're done checking out Belsinger's recommendations of the best indie-herbs, make her delicious savory herb paste, a wonderful way to preserve your harvest and a great starter for soups or dressings and, depending upon the herb, a delicious topper for steak or fish.
Courtesy of The Culinary Herbal
Makes 1 to 2 cups, depending on herbs used
The yield for this recipe varies. Thin-leaved herbs like dill or thyme will process down to a much smaller amount than bulkier leaves like basil or mint. If you have washed the herbs for a paste, they must be completely dried before combining with oil (oil and water do not mix).
About 4 cups herb leaves, cleaned and patted or spun completely dry, stems removed
1/4 to 1/3 cup extra-virgin olive oil
Coarsely chop the herb leaves in a food processor (or blender) by pulsing with about 2 tablespoons of the olive oil. Continue pulsing, adding just enough oil to coat the herbs and make a paste, but not so the herbs are floating in oil. There should still be some texture to the herbs and they should not be puréed.
Frozen herb-oil pastes are best stored in airtight, half-cup to cup-sized freezer containers. Fill containers with the herb paste, leaving a 1-inch headspace for expansion when frozen. We often use heavy-duty ziplock freezer bags: add 1/2 or 1 cup of the herb paste, flatten the bag to spread the contents evenly, remove the air, and zip closed. Be sure to label the freezer containers or bags with a permanent marker (they will all look similar when frozen). Place the containers in the freezer and stack. These herbs in oil will keep in the refrigerator up to one week and in the freezer until the next season's harvest.
When we need some of the herbal paste for a recipe, we take a container or bag from the freezer, and if not using the entire package, we use a spoon to scoop some from the container, or break off a chunk from the bag, and drop it into a soup or defrost it to make a sauce.