14 Tips for Preventing Indoor Allergies
How to make your home a getaway from allergies.
Maintain your home well, and sleep better at night by learning how to prevent and reduce the effect of indoor allergies.
Monitor Local Pollen Count
Stop Pollen at the Entryway
Remove your shoes and jackets immediately after entering the home to prevent tracking pollen indoors. If your pet spends time outside, air quality experts also suggest that you wipe down your pet's fur with a damp cloth.
Choose the Right Bedding and Bedroom Furniture
Hypoallergenic and allergy-free bedding is a worthwhile investment if you're an allergy sufferer, because they won't trap dust and other allergens. According to the Allergy Buyers Club, in just a few years, dust mites can add two pounds to the weight of a pillow, and that can definitely influence quality of sleep for those affected by allergies. Cover pillows and mattresses with impenetrable fabrics, or tightly woven fabrics. Bedding should be easy to clean for hygienic purposes and in order to reduce indoor allergies. If you're in the market to upgrade your bedding, opt for latex pillows and mattresses, which are inhospitable to dust mites, and duvet covers made of silk or wool.
Washing your bedding once a week is an important step in controlling the amount of pollen that settles where you sleep.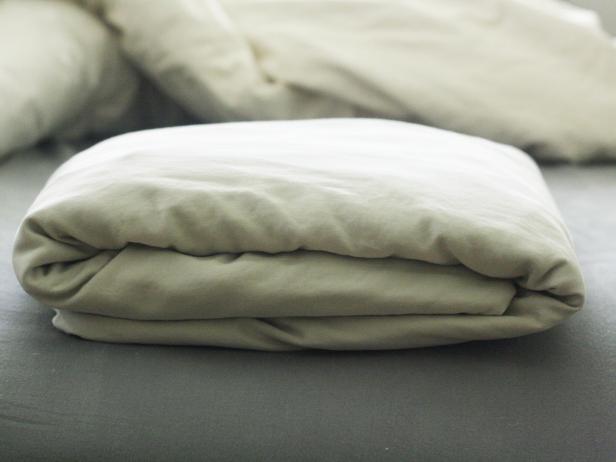 Hypoallergenic sheet set for allergy-free home
Use tightly-woven and hypoallergenic sheet sets in order to prevent allergies in the bedroom.
In addition to choosing the right fabrics, you may want to reconsider the other fabric surfaces in your room. Hardwood floors are less likely to harbor dust than carpeting, and solid surface or wooden furniture is easier to keep clean as well. If you have fabric-covered furniture or a fabric headboard, commit to vacuuming it often to reduce dust. (And really, learning how to clean a fabric headboard is something everyone should master.)
Commit to a Laundry Routine
In addition to laundering bedding every week, your laundry routine needs to take into account the day-to-day clothing you wear, and all outerwear. Before kicking their feet up on the sofa, allergy suffers should consider changing into clean clothing after a day outdoors to prevent pollen from getting on furniture and carpets.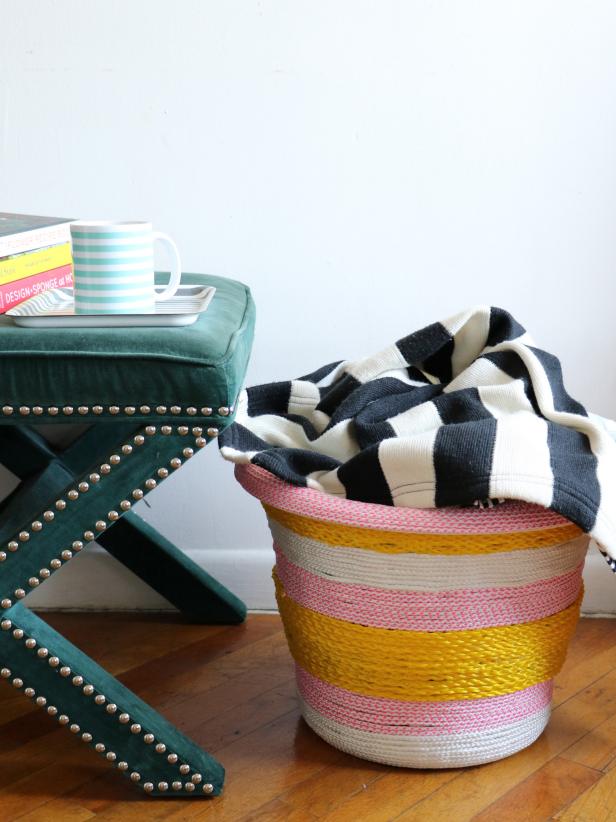 Rope Basket
A basic, inexpensive plastic laundry basket is made whimsical and colorful with stripes of rope. Look for fun rope in your local hardware store. Experiment with a variety of colors and thicknesses to match your decor.
Be aware of the ingredients in detergents and softeners. Use "free and clear" products when possible to avoid skin irritation caused by an allergic reaction.
A hot water cycle is preferable for killing dust mites and pollutants.
And, in case it needs to be said, avoid line-drying clothing outdoors. Use the dryer on high-heat, or line-dry inside.
Don't Forget to Dust, Vacuum, and Clean Surfaces
Regular vacuuming and dusting will keep indoor allergies at bay. Vacuums marketed towards pet owners are also good for allergy sufferers, as they have high-quality systems and filters that prevent the distribution of fur, dust and bacteria.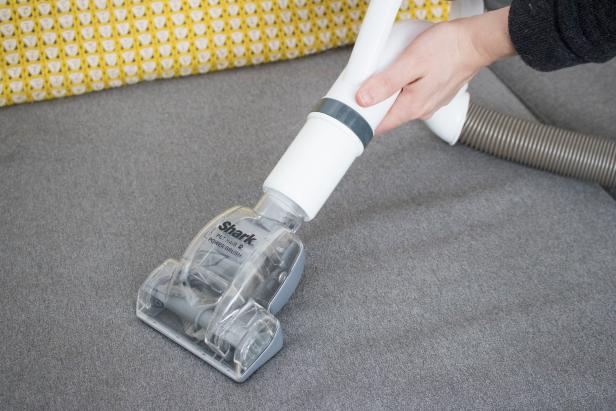 Vacuums For Cleaning Pet Fur
Find the best vacuum for managing and cleaning your home when it's covered in pet fur.
When cleaning surfaces of the home, you can reduce allergy and asthma symptoms by opting for natural products; many natural cleansers are made of combinations of vinegar, water, lemon, and baking soda. To get you started, you can see how we made carpet cleaner, general surface cleaner (great for hard surface toys), and window and glass cleaner.
Don't overlook the dust on fan blades–it's easy to forget about them until you turn the fan on for the first time at the beginning of the season and deposit dust across your entire room. My favorite tip for cleaning fans is to use a pillow case, which can slide completely over the blade and simultaneously catch any falling dust as you wipe it clean. Just be sure you use an old pillow case that you're no longer using on the bed.
Install a Home Air Filtration System
Jay Ayers, Indoor Air Quality Product Manager at Trane Heating and Cooling reminds allergy sufferers to avoid openings windows and doors to bring in fresh air when the weather turns warm. To maintain a clean, reduced-allergy environment it's important to keep indoor air cleaner than the outdoor air. Trane's air filtration systems "remove up to 99.98% of airborne particles" and that includes natural indoor allergens as well, such as bacteria and pet hair.
For homes with forced air HVAC systems, homeowners should also make it a point to change the filters routinely, especially during allergy season.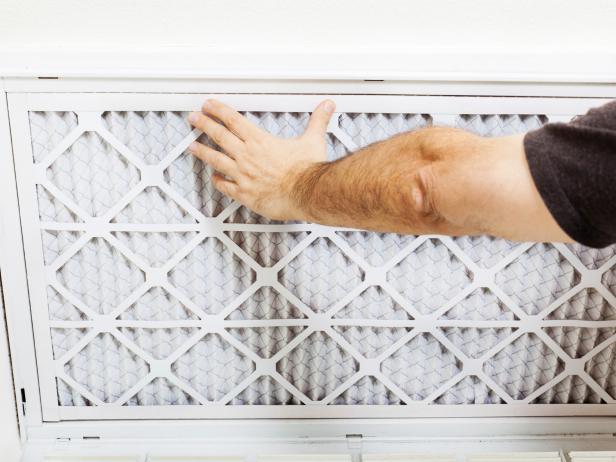 Changing Air Filter
It's important to schedule a maintenance checkup for your HVAC system every spring and fall, but in the meantime, filters need to be checked once a month. When they're dirty, change them; dirty filters shorten the lifespan of your system. Fortunately, it's easy to do. First, check your owner's manual for the right part number in order to buy a new filter. Then turn off your HVAC system while you work, remove the old filter and slide the new one in place.
A good tip for anyone with or without allergies: Avoid bringing allergens into the bedroom by showering or rinsing off prior to going to bed. You'll also find that it helps to shower immediately after coming indoors. Being clean will help you (and any sufferers that you live with) rest easier.