Snap Judgement: 11 Reasons to Print and Organize Photos the Old-Fashioned Way
Learn why you should still be printing photographs.
I've been printing and archiving photos literally since my parents bought me my first disposable camera for a '90s school dance. My love of photography is influenced no doubt by the plethora of family photos in my parents' home, although in this age of photography when people are inclined to focus on digital archiving, there are still quite a few reasons for having a printed (and organized!) collection for your own home.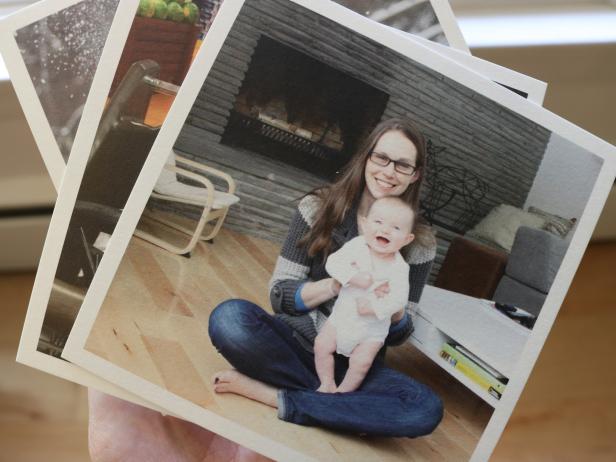 Print and Organize Home Photos
Get ideas for organizing your home photo collection.
Why should you continue to print photographs if you have them stored digitally?
You can curate a smarter, smaller collection. The best part about maintaining a printed photo collection at the point that we're at in digital photography is that you can really whittle down your photo selection to print the best of the best. None of those downers where someone's eyes are closed or the one where you're making an unflattering expression that's going to haunt you for decades.
JPGs deteriorate. Over time, as you open and close and duplicate the file, the quality of your original image, which is likely saved as a jpg by your camera or smart phone, will get worse. Print it while it's at its prime.
All technology can fail. Even if it's new, top-of-the-line, and well-reviewed, it can combust or be damaged. Your computer's hard drive might corrupt, you might drop that external hard drive on the ground, your paid cloud storage might go out of business, or it might simply become too expensive to maintain once your archive of images reaches a large size. Backups of backups are always a good practice, and printing those photos is a good backup too.
Make Grandma's day. Digital orders make it easy to print extras of selects that you know the grandparents will cherish. Whether or not you see your family members often, a mailed package of photo prints is sure to make them light up. (Admit it: you wish someone would send you an envelope of fun vacation pictures too, don't you?)
Printed photos are sized to fit your needs. I have a few larger frames that I like to rotate photos within, so I get a few of these sizes every few months when I'm placing an order.
Photo edit to perfection. If you're in a phase where you favor your photos filtered and styled, remember that many photo printing websites offer similar custom editing features. Adjust lighting, contrast, saturate the colors to perfection, or add a preset filter without having to purchase expensive photo editing software.
How do you organize and present your photo collection?
Use your favorite images as a statement piece in your home's decor. You can print engineer prints as large as 36"x48" in many office supply stores for <$20.
Consider the quality of the print. Photo paper is the standard expectation of a printed photo collection, but matte prints on nice card stock are great too. The heavier paper has a way of standing on its own, rather than behind a pane of glass.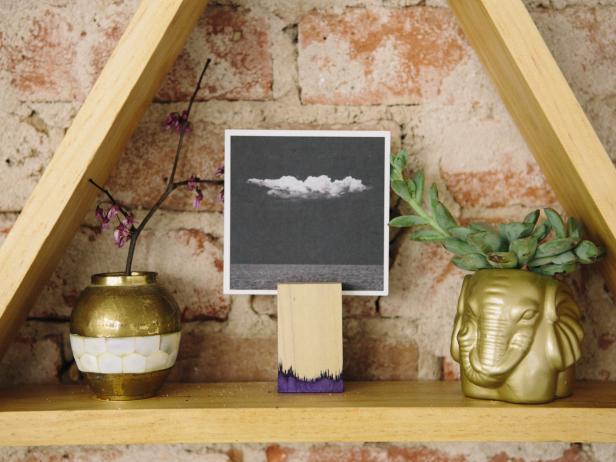 Dyed Photo Block
Dye a standard wood block to make a cute photo holder.
Label each photograph with ink. Be able to look back in a decade and not only know who is in the photo, but the date (or at least the month/year) the photo was taken, and the location as well. Avoid gel pens and permanent markers – ironically, they can fade over time! Ink is better for the long run. On a similar note, turn off those time stamps! They are distracting to the image, not to mention that the stamp is often wrong, and it's hard to hide behind a picture frame.
Embrace scrapbooking. It's photo-appreciation for the crafter in you, and can be a great hobby for kids and adults. Design individual scrapbooks to commemorate a family vacation, or create an annual scrapbook in which to highlight the events of the year. Back in 2002, I challenged myself to take a photo every day, all summer long. These 10 weeks of photos filled two small notebooks, and guess what? 2002 is the only year in which I have a great record of where my family went and what activities we did. I wish I did it every year. (One tip? Don't actually glue down the photos, as some adhesives can damage photo paper. Use corner squares instead, which hold the photo into position without taping or risk of tearing.
Invest in photo storage. At craft stores, you can often find them priced at $1-2 each in a variety of colors. Once your box is organized, label the exterior of the box to indicate the range of its contents.
Sorting your photos by month is my preferred approach, although you might like sorting by holiday or family event just as well. I create paper dividers to label each month, and write down details about the photos in each grouping so I can tell what's there at a quick glance.
Another easy way to store photos by month or event is in clear plastic sleeves, housed within a binder. Label each sleeve so you can easily see what it contains.
If you can, reserve space in a fireproof safe for the most precious of your photos – wedding photographs, professionally shot images, and duplicates of your all-time favorites will be safe in case of a fire.