10 Ways to Banish Winter Boredom
Entertaining and occupying kids during long winter days isn't easy, but it can be fun. We have lots of ideas to get you started.
Are you and your kids feeling the effects of winter boredom? Let's bounce ourselves out of this state of cabin fever and find ways to enjoy the long days of winter vacation, plan for the next snow day, and embrace long, snowed-in weekends at home. Keep these ideas in your back pocket, and you'll thank yourself later (your kids will thank you too).
(Did she really start the list with cleaning? Does she really think that the kids will partake in cleaning? Yes. She does.) Put on some of their favorite music and use it as an opportunity to organize the toy bins and the closets (ever so optimistically begin to transition the kids' wardrobes for springtime weather). Let them help by giving them the power to decide what toys and games they're ready to hand down, sell, or donate. And then give them a disinfecting wipe and let them go to town on the doorknobs, remotes, and other hard surfaces to stave off cold germs. I can't be completely sure why, but my kids really love disinfecting wipes and they will clean with them right up until they dry out.
2. Stock Up on Craft Kits
A few that we have loved? Recycled Robots gives your child the opportunity to upcycle ordinary objects into creative little robots. Ornately patterned coloring books aren't just for adults – they're great for kids too, and available in fun themes. Cubelets Robot Blocks are also a clever diversion, and pair with Lego and other brick-based constructions. Common art kits are fun too – loom friendship bracelets and beaded necklaces for everyone!
Another crafty idea! We've made these simple window clings on more than one occasion now, and they consistently entertain kids of a wide age range. Ridiculously easy to make, they just involve transparent contact paper, construction paper, and pieces of tissue paper. Trim shapes, letters, and numbers as learning tools to engage toddlers, and let the older kids express their creativity with larger scale mosaic stained glass designs.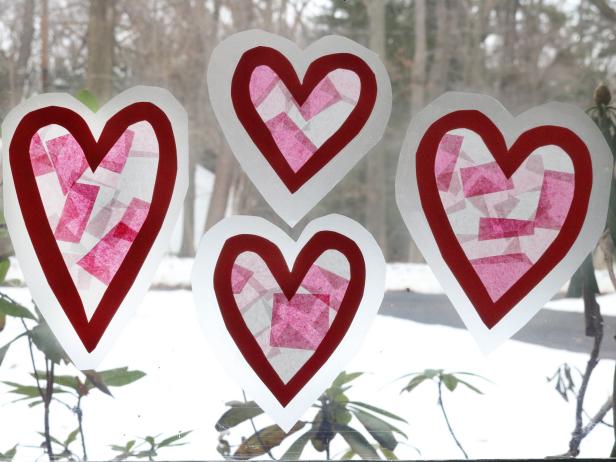 Make DIY Stained Glass Window Clings
Valentine's Day stained glass window cling craft for toddlers and kids.
Entertaining tweens and teens? Over winter break, choose a different meal or dessert every day that the kids can execute with minimal to no supervision. They might really enjoy the freedom in the kitchen, and if nothing else they'll get some built-in education in following step-by-step baking instructions and figuring out measurements. I suggest Make-A-Creative-Grilled-Cheese-Monday or Snickerdoodle Saturday.
Create a space on an external hard drive for your kids to backup the photos and videos that collect on their own devices. Backing up always offers piece of mind, and it's also a good opportunity to free up space (for more pictures and videos!). Use the time to encourage them to delete games and apps that they've outgrown, and incentivize them by offering them an allowance for new (paid) apps.
A snow day is a rare opportunity to give the kids a much loved manicure or pedicure. Plus, if you pop in a movie you'll be guaranteed enough time to let the paint dry before it has the chance to smear on your rug. Let them choose the colors and patterns and then you use the time to relax and paint their little piggies – it's just as Zen and relaxing as doodling in an adult coloring book.
7. Experiment With New Mediums
Give them the opportunity to create. To you, this might mean picking up a few canvases, a new pack of craft paint and some new paintbrushes. While you're at the craft store, consider new mediums that the kids might never have used before, like oil pastels for your tween, or watercolors for your toddler.
A seasonal favorite around here – use coffee filters to create ornate snowflakes, and then let them vote on the most creative pattern. Iron the filters between layers of wax paper to make them a little more durable, and perfectly flat for when you want to hang them in the window for the neighborhood to enjoy.
One of my favorite vacation activities was to make a band with my siblings and cousins. We'd create drums and other instruments from objects found around the house, practice songs and then promote a performance scheduled for the end of vacation.
Transform an indoor planter into a lovely, handmade fairy garden with the addition of twigs, leaves and other odds and ends found in the yard and around the home. Supply the kids with string, markers and anything else they think they need to execute whatever they dream up from a fairy playground to a sweet little mailbox.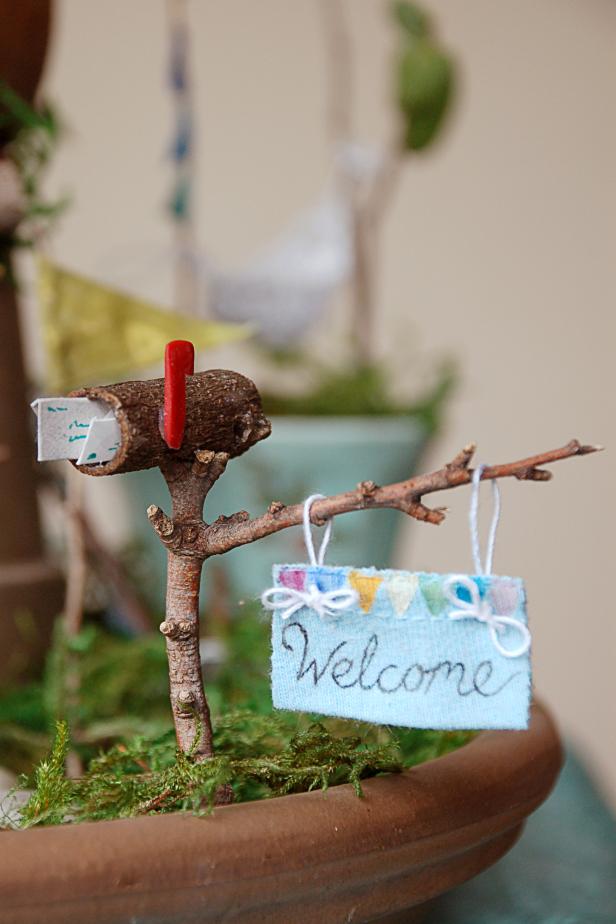 A Fairy Mailbox
Once you have a home for you fairies, you may want to add a mailbox so they can get letters from all their friends! We took apiece of vine from the yard, hollowed out the center leaving a tube of bark, and attached it to a twig with hot glue. The mailbox flag was created with polymer clay and we hung a hand painted, fabric "welcome" sign with a couple pieces of string.