Designer Small Bathroom Storage Ideas You Can Try at Home
Add function to your tight spaces with shelves, nooks, cabinets and fun organizing systems.
Space can be pushed to the max in a bathroom. Essentials, such as towels and toilet paper, join sometimes-bulky hair tools, along with cosmetics, bath and body products, and even bath toys if you have kids or pets.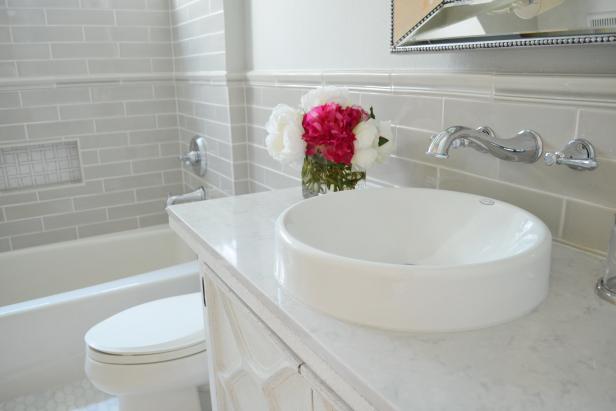 Chic Guest Bathroom With Gray Tile Walls
Instead of designing an expensive custom cabinet for the space, Heather Scott Home & Design attaches a Silestone countertop remnant to a furniture piece. The accent tile in the shower storage niche is pricier than the room's other tile, so it's limited to a small space where it still makes a big impact.
Heather Scott Home & Design
All that stuff squeezed into a small space can make your bathroom far from the relaxing retreat of your dreams (and Pinterest pages).
But you don't have to let bathroom items take over your countertops and floors. Check out these inspirational projects and ideas for small bathrooms from designers and bloggers.
Depending on the layout of your bathroom, you could take advantage of free space behind a wall to build in a set of shelves or cabinet. Look for spots underneath rafters or stairs, for example.
Timberland Cabinets, a Georgia-based company that has designed and built storage spaces into walls, suggests taking the extra step and painting the shelf nook to match the trim of the bathroom. You'll have a polished look and a place to stash bathroom necessities, extras such as books and magazines, and even decorative items. Functional and pretty!
Pull-out storage can make frequently used items easily accessible, and make space-saving so fun, you'll want to show off your savvy shelving to visitors. Timberland Cabinets installs its multi-level, pull-out storage within a vanity and in cabinets above a vanity.
Many bathroom cabinets can be retrofit with pull-out shelves. Above, see how pull-out cabinets can squeeze into spaces above vanities. It's 12 inches wide by 21 inches deep and slides via rails on each side. College City Design Build in Lakeville, Minn., worked with Regal Wood Cabinets, another Minnesota company, to make the custom cabinet. You can find all kinds of specialty interior storage components from companies such as Rev-A-Shelf, which has stainless steel bins for hair styling tools, and Hafele, says Rebecca Ryan, lead designer with College City Design Build.
Stained doors on pull-out shelves and cabinets provide a custom look to make a small space worth showing off.
In redoing the bathroom with the pull-out shelves, College City contrasted the stained cherry cabinets that have a charcoal stain with Torquay Cambria quartz countertops. This dark stain could be done on inexpensive stock oak cabinets, and the countertop could be a standard white Corian or basic white quartz, she says.
Mason jars have become part of decor around the house, and that means you can bring them into bathroom spaces, too. For a Mason jar organizer, blogger Casey Finn combined four jars to put cotton swabs, makeup brushes, toothbrushes and other items within reach at the sink.
She used Mason jars and a slab of wood (she used one that is 2 feet by 7 inches) for her farmhouse-inspired organizer. But the key was attaching the jars to the wood with hose clamps, which she found in the plumbing section of a home improvement store. She used a power drill and screws that she had on hand and some leftover stain to help put it all together.
She describes this as an intermediate level project for about $20. You can see all the steps on her blog, TheDIYPlaybook. She hung up the finished project with a picture hangers attached to the wood.
"It was a successful project and didn't take much time or money," she says. "All in all, (there is) nothing I'd do differently."