Clever Ideas for Repurposing Benches + Stools
Give a lift to rooms and outdoor spaces when you upcycle these pieces.
I often get into "picker" mode at my in-laws' home in Georgia. I return home with boxes filled with items such as vintage glass jars, a mishmash of floral china and teacups, and aprons with delicate embroidery.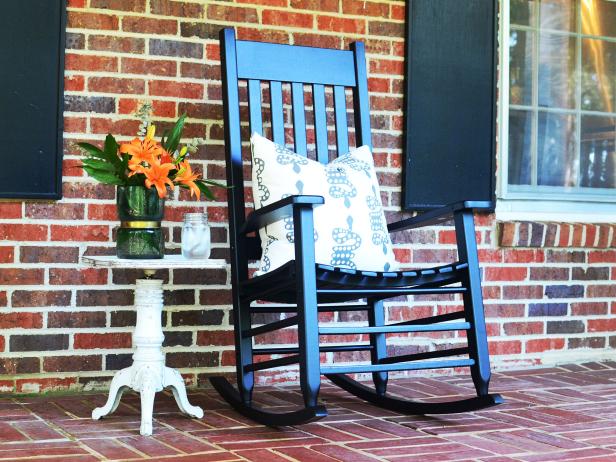 Upcycled Vintage Piano Stool Serves as a Side Table for an Outdoor Space
Because a piano stool is shorter than your average side table, designer Monica Stewart decorated this vintage stool with a tall flower arrangement of bright lilies to add visual height and a burst of color. Stewart, who owns The Misfit House in Athens, Ga., paired the neutral toned stool with a pillow in the snake fabric designed by Block and Brayer, based in Georgia.
Shannon Adams/Fast Copy News Service
When I'm really lucky, I snag a piece of furniture oozing with old-fashioned charm, along with a bit of dirt and dust from sitting unused for decades in the attic or garage.
That's how I found a piano stool with a heavy metal base and wood top believed to be from the 1920s. I thought it could work on my porch, but the white stool seemed so dirty and lacked purpose. Then I asked designer Monica Stewart for help sprucing up the stool to reuse it on a covered porch.
In about 45 minutes, Stewart helped me distress the stool to bring out its pretty design and use it as a vintage side table outdoors.
Before, it had an old paint job. Initially, she sanded off the dirt, before getting to work on distressing the stool to bring out the scrollwork motif on the base, and the ridges around the base and sides of the top.
For the upcycling project, she used sandpaper for the base and legs to rub off just enough of the dated paint to showcase the design.
"Sandpaper is easier to control so you can get the look you want," says Stewart, who owns The Misfit House in Athens, Ga.
Then she used a professional sander on the top. When a weird ring—larger than a watermark—showed up on the right corner as paint started to come off, she went deeper with sanding. That way, the ring blends in a bit better.
Even for a small stool, the sanding process created so much dust, that you'll need to be prepared to blow it off a few times, or even use an air compressor to speed up that part of the process.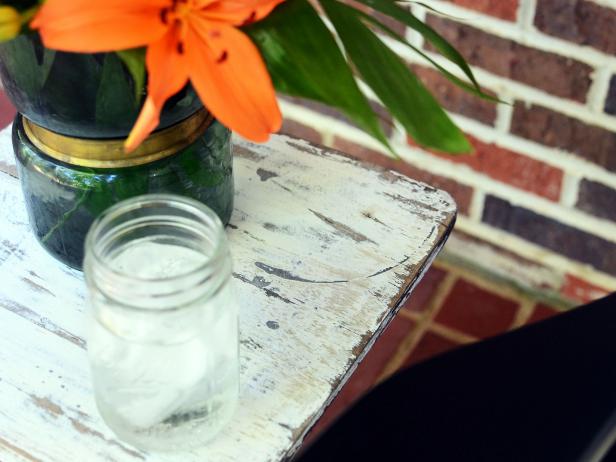 White Vintage Piano Stool Distressed and Upcycled as a Side Table
When designer Monica Stewart began sanding the top of this 1920s era piano stool, a large ring appeared. Stewart, who owns The Misfit House in Athens, Ga., sanded deeper to blend the mark into the distressed paint, giving it a weathered, vintage look.
Shannon Adams/Fast Copy News Service
While I originally thought the stool might need to be repainted, Stewart says sanding was a better DIY option to retain the stool's character. Now it has a worn, yet purposeful, appearance.
"Painting over it would continue to hide the special details," she says.
White serves as a neutral color and makes it a versatile piece against any pattern, such as the snake fabric designed by Block and Brayer, another Georgia company.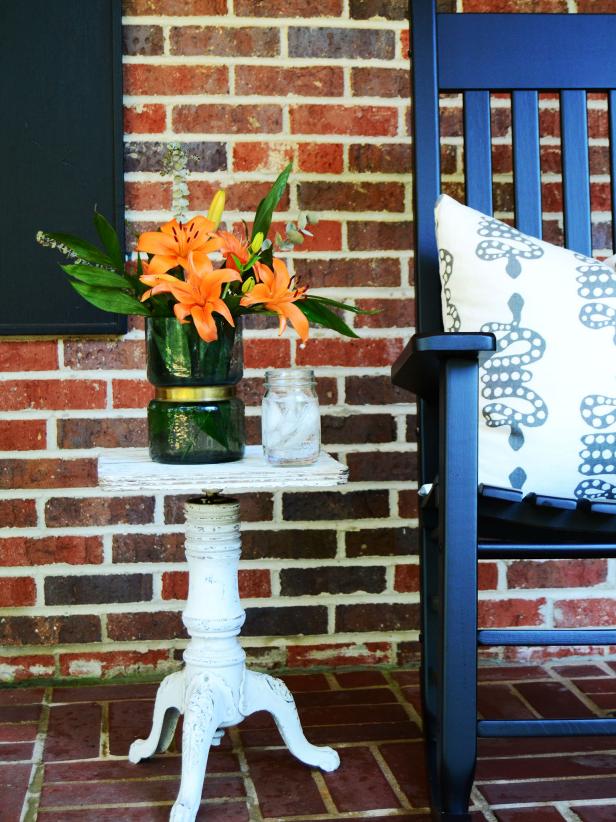 Upcycled Piano Stool Used as Porch Side Table
Designer Monica Hamilton, who owns The Misfit House in Athens, Ga., took this 1920s piano stool and sanded it to bring out the detailing in the legs and give it an intentionally distressed look. She paired the stool with a neutral pillow made with the snake fabric designed by Block and Brayer, a Georgia company.
Shannon Adams/Fast Copy News Service
Since the stool is a bit shorter than a traditional end table, Stewart used greenery and flowers, such as orange lilies, in a vase to add some height. A tall pillar candle would work as well.
DIY blogger Alaya Sheardon decided to keep her piano bench indoors, transforming it into a side table. Her bench was a steal, for just $8 at a thrift shop in the Atlanta area.
The bench was long enough to fit against the side of her couch, and just high enough to nestle underneath the stuffed arm of the couch.
She didn't sand it because she wanted to keep some of the nicks, but used three coats of black spray paint.
To further customize it, she placed upholstery nails two centimeters apart to finish off her repurposed bench-turned-table.
The simple DIY project also allowed her to use the bench for storage (the top still opens up) and a snazzy space for a lamp, books, plants and more.