Expert Tips for Barn-Style Door Installation
Two builders offer their top tips for replacing existing doors with sliding doors.
Sliding doors offer function and quirkiness that make them a worthwhile DIY project. Add these on-trend doors to your home and you also will end up with a focal feature for a room, says Tyler Kitchens of Atlanta-based POP Custom Homes.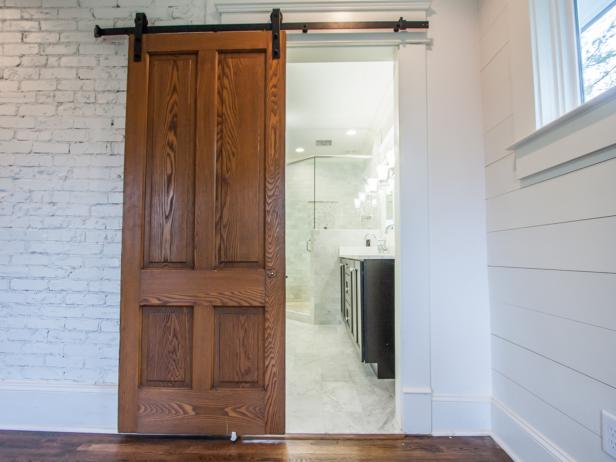 Sliding Door in Bathroom Entryway
Consider the thickness of the barn door, says Tyler Kitchens with POP Custom Homes in Atlanta. Standard interior doors are 1 3/8" thick, which will be consistent with a standard track. If the sliding door you are choosing is thicker than that, you'll want to take purchase a track that will accommodate your door thickness.
Antique and barn-style doors can restore elements to an historic or older home, and other sliding doors can match interior doors and even fit an ultra-modern residence. The doors can be custom made or purchased from a local hardware store or manufacturer, and dozens of websites offer custom-designed barn doors, hardware and track systems, says Randy Schiltz, president of t-Olive Properties in Milton, Ga.
Barn doors, an attractive alternative to a traditional door, have become a mainstream option, although the labor, door and other materials can make it more expensive than a standard interior door, Schiltz says. For tools, you'll likely need these: drill, router, level and stud finder.
Here are things to consider when taking on a sliding door DIY project.
Sliding barn doors are often quite heavy, Schiltz says. The track system must be affixed to a header or substantial blocking in order to keep the door in place.
A solid header, such as a 2x8 or 2x10, will allow the track mounting hardware to have substantial support. The track systems also can be customized to fit a desired look, he says.
This prep work is easy in new construction, because a blocking or a solid horizontal header can be installed during framing, Schiltz says. When remodeling a home, you will need to open up the wall above the door opening as well as the wall where the track will extend (the opened door) and add a header or blocking. The blocking will align with the track hardware mounting holes.
The track will be at least the width of the barn door times two (for a single door), so your header or blocking must cover the entire distance. If possible, extend your header or blocking past this distance by 6 inches or so, just to be safe, Schiltz says. Make sure the track is level, with the gap at the bottom and trim clearance in mind. Providing a strong and secure way to mount the tracks is a vital element in a safe and secure barn door, he says.
Kitchens suggests filling the holes and touching up the paint before you install the track, for ease of space.
2. Where will you position it?
If there is an outlet or switch near where you are installing, Kitchens says it is a good idea to contact a licensed electrician to evaluate the location of wires behind the wall so you don't puncture them. Also evaluate the area where the barn door will be when it is open. Consider outlets that may be blocked and furniture in those areas, he says. Don't overlook light switches or receptacles that may become "covered up" if a barn door is installed.
3. How wide and tall should it be?
Always choose a door that is larger than the entry space. The door should block the light from the top and two sides when shut, Kitchens says. Consider two barn doors that meet in the middle for larger openings.
If you're looking for true privacy, don't expect it from a barn door, Schiltz says. The gaps on the sides of the doors keep it from blocking out sound, and you can see beyond the door from certain angles. That's why he doesn't recommend sliding doors for closets, bathrooms, pantries or bedrooms. Instead, he suggests locations where barn doors can simply remain open and closed only on occasion, such as a divider between a kitchen and dining room, or a playroom.
The width should simply cover the opening and any trim that may be used to case in the opening, Schiltz says. Most standard interior doors are either 6 feet, 8 inches or 8-feet tall. The barn door hangers will roll on the track, which is mounted above the door to the header or blocking. With blocking or a header in place, the mounting hardware can be applied to adequately cover the opening.
Make sure that you account for trim and the bottom gap when sizing the door. When accounting for a 1-inch gap on bottom and 3-inch trim on a standard 6-foot-8-inch opening, the door height should be 7 feet. Use the header or blocking to apply hardware at the height that covers what you are after.
4. How thick should it be?
Standard interior doors are 1 3/8-inch thick (compared to 1 3/4 inches for exterior doors), which will be consistent with a standard track. Kitchens says if the barn door you choose is thicker than that, you'll want to purchase a track that will accommodate your door.
5. What will hold it down?
To keep the barn door in line and to prevent it from freely swinging, make sure to install either a wall mounted or floor mounted guide, Schiltz says. Then you'll be free to enjoy your sliding door, oh and all the compliments from guests once they see your handy work.
with dozens of websites offering custom-designed barn doors, barn door hardware and track systems, s
with dozens of websites offering custom-designed barn doors, barn door hardware and track systems, s
with dozens of websites offering custom-designed barn doors, barn door hardware and track systems, s