Wiring or rewiring a lamp is a pretty straightforward project and can be completed in less than an hour. 
Salvage stores and estate sales are great places to find some amazing vintage lights. The problem with old lamps and fixtures is that some of the pieces are showing their age and the wiring is usually degraded. But have no fear. With a little know-how and a couple of common tools, your new flea market find can soon be as good as new. See how we replaced a standard cord with one that has an inline dimmer.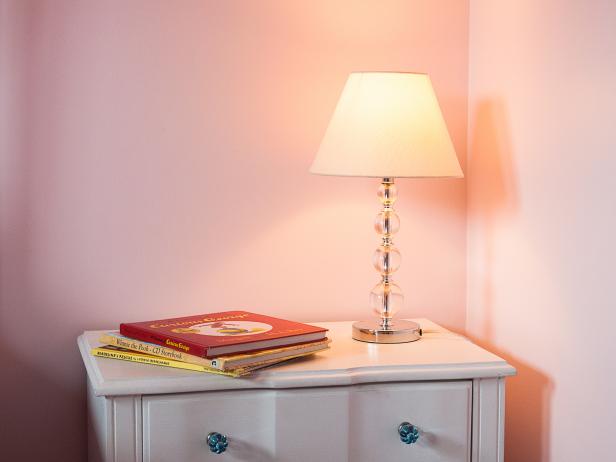 Glass Lamp on a White Bedside table in a Pink Girls Bedroom
The newly rewired lamp sits next to the bed, providing a soft and comfortable light.
Note: Not all dimmers work with all bulbs. If you plan on using a flourscent or an LED, make sure you have a dimmer that is designed for that.
Step one: Unplug the Lamp. No joke.
Take the lamp apart and inspect all of the components. The weight in the bottom of this one has a little bit of damage, but we're going to work around that.
A typical replacement socket has screws to attach the wires. The factory socket on this lamp has push-in type terminals, so I'll use wire cutters to clip the cord then pull it out and get ready for reassembly.
Run the cord through the lamp. For this lamp, I first have to push it through the cord protector, then through the center of the weight and up through the middle of the lamp, and finally through the base of the socket. I had to do this twice because I forgot the weight the first time. No biggie.
At the business end (top) of the cord, we'll tie an electrician's knot. This helps keep the wiring together in the case that the cord is pulled. This is why your mom told you to stop pulling on the lamp cord when you were a kid.
Using a small screwdriver (not too small) create a little hook in the ends of your wire like so.
Wrap the hook around the screw terminal and tighten the screw. It may be hard to see, but one side of the plastic sheathing has ridges on it. You can feel the difference if you can't see it. The side with the ridges is attached to the silver screw. Attach the smooth side to the gold screw. It's important to get this part right, otherwise you may see some sparks fly when you plug in the lamp.
Slip the the bottom of the socket housing around the knot and the base of the terminal. Screw the top on. Gently pull any slack in the cord back through the base. Button up the bottom and you're ready for testing. If you trip a breaker or something, you've probably reversed the gold and silver wires.