How to Clean a Fabric Headboard
Hygiene doesn't stop at the sheets.
A fabric headboard has oh-so-much appeal, but compared to its wooden and other solid surface counterparts, keeping it clean requires extra time and effort. Much like you'd wash your duvet and pillowcases, giving your fabric headboard a little bit of extra attention will keep it hygienic and help it last for a long time.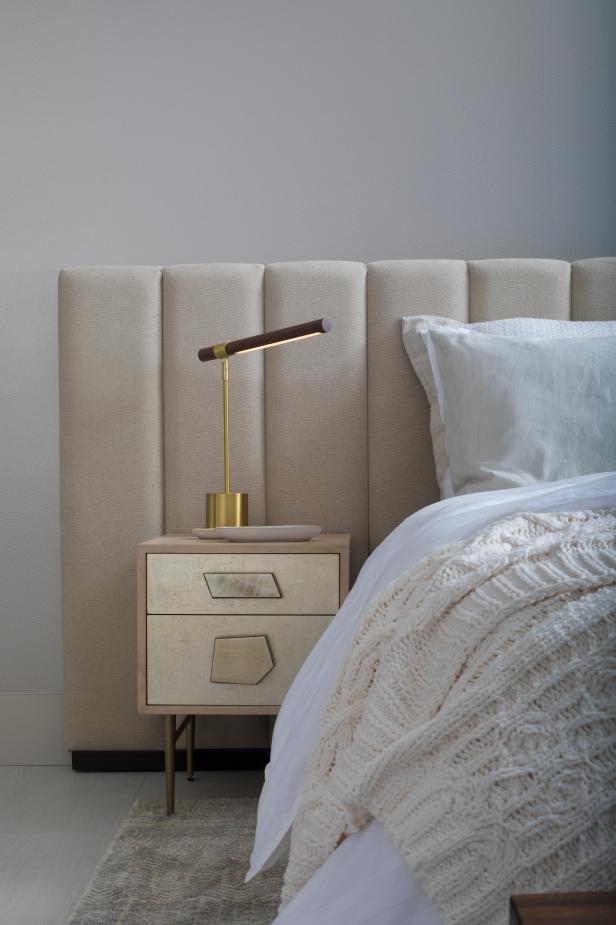 Neutral Master Bedroom With Linen Headboard
A linen headboard is a pretty, textured backdrop for this master bedroom's glamorous nightstand and gold lamp.
Dust and oils from lotions and hair products are the main offenders that affect the condition of a fabric headboard, but headboards are also magnets for germs and bacteria, especially during cold and flu season. Assuming that you don't want to preserve the headboard by wrapping it in a plastic shield like grandma's couch circa 1976, add headboard cleaning to your routine chore list and make your sanctuary sanitary.
A simple rundown using the extendable wand on a vacuum cleaner will allow you to remove any dust that settles on the top of the headboard. If the fabric is tufted or has pleats, you'll want to focus the vacuum on those areas too. Removing dust will lessen the presence of allergens and maintain the quality of the fabric.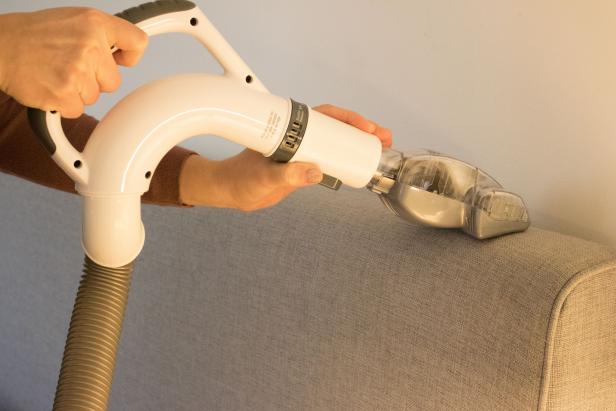 How to Clean a Fabric Headboard
Vacuum a fabric headboard weekly to keep it dust free.
Weekly Fabric Disinfecting
Common household sprays like Lysol brand and its competitors make it easy to treat the surface of the fabric to prevent the spreading of germs from common and contagious viruses and mildew (which might happen if you lean against the headboard with wet hair post-shower). If you're sick? Consider a daily spray down to keep your loved ones safe.
Monthly Make-It-Smell-So-Good
The sheets and pillowcases continue to smell fresh if you wash them on the regular, but the headboard can be revived easily as well with a little upkeep. My favorite trick? I use some of my homemade all-natural carpet cleaner that consists of baking soda, cornstarch, cornmeal, borax, bay leaves and cinnamon. Sprinkle a few tablespoons of it onto a dry cloth, and dust the powder in the cloth across the top and front surface of the headboard. Some of the cleaning powder will get lightly massaged into the fabric (and yes, much like chalk dust some will sprinkle down to the mattress and floor so remember to clean that up too). Leave it for a few hours, and then use the vacuum to remove the cleaning powder from the surface.
For a variation on scent, you might try a few drops of essential oil in your homemade cleaning powder. Both lemon and lavender are pleasant scents with natural cleansing properties.
More Cleaning Ideas From Made+Remade
Keep your wood cutting boards germ free with a few simple steps.
Quarterly Fabric Cleaning
Oils from your hair, hair products and skin rub off easily on to the fabric of a headboard, and without regular maintenance you might even begin to notice where you/your significant other rests their head while propped up reading or watching television in bed. Before you attack the stains with any cleaner, check to see if the manufacturer has any advice based on the material. For a simple cleaning solution, dish soap diluted in water can be applied with a wrung-out sponge or cleaning cloth. Clean the entire surface – not just the area you rest against – for an even clean, and absolutely avoid scrubbing against the fabric, which could cause it to pill or wear unevenly. If soap isn't doing the trick, a cloth wet with vinegar can also be used to blot the oils and stains on the headboard to clean the area.
It's not likely that you're going to need something as heavy-duty as a solvent that you would use to clean a couch or carpet, but they can be used in instances when you need to spot clean a tough stain.