How to Girly Up a Bedroom
We've got chic bedroom design ideas for girls of all ages and interests.
From picking up (and probably stepping on) hundreds of building blocks to that time I told you I wanted to play the drums, randomly decided to play the flute instead and then never played it, you've always entertained my often fleeting interests. You even let me paint my room that way-too-dark midnight blue and only screamed once when I came home from college with a pet rat. You put up with a lot, and for that I thank you. Love, Jessica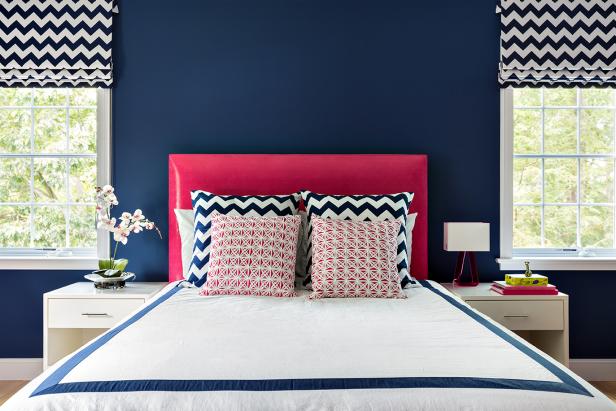 Blue and Pink Combine in Contemporary Teen's Room
Not pictured: Me, being uncooperative.
Claire Paquin
Not pictured: Me, being uncooperative.
As anyone with a little girl knows, a bedroom is her place to dream and forge her own identity, which my parents so indulgently allowed me to do. And design is a great way to express that identity. Ready to inspire your daughter or granddaughter's creativity? Read on to get easy, stylish ideas for anything they're into – even if it's just for a week.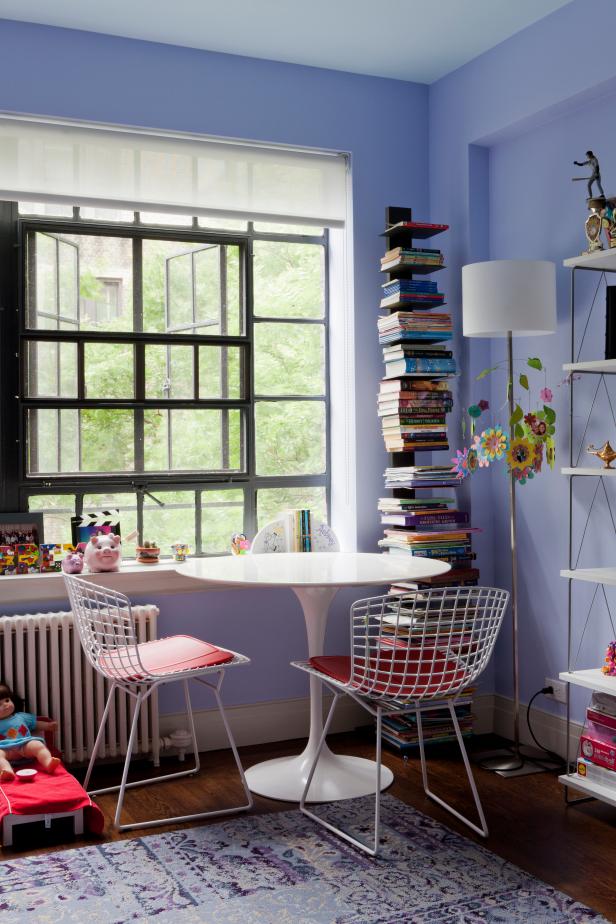 Girl's Purple Bedroom is Contemporary, Chic
The lavender walls set the stage for a fun and colorful space in this girl's bedroom. A lavender and purple rug complements the wall color and adds texture to the room. A contemporary round table and two chairs provide space for working, playing and being creative. A tall mounted bookshelf allows for easy, clutter-free stacking with a floating shelf appearance.
She's had her head in a book ever since she learned how to read – just add a bookcase, shelves and a lamp to create a cozy reading nook. The designers behind this whimsical bedroom even included a small table to make this space double as a homework station.
If She's in Tune with Nature
Invite the outdoors into your daughter's bedroom. One reader used this dandelion decal as a low-cost headboard, which served as inspiration for the rest of the room's design. Consider adding a potted plant or making a terrarium for girls developing green thumbs.
If She's an Aspiring Artist
Go ahead — let her draw on the walls. A few coats of chalkboard paint turn any wall into an oversized sketchpad.
One minute she's a princess, the next she's trailblazing the Wild West. She's also got big plans to explore the cosmos...after her nap.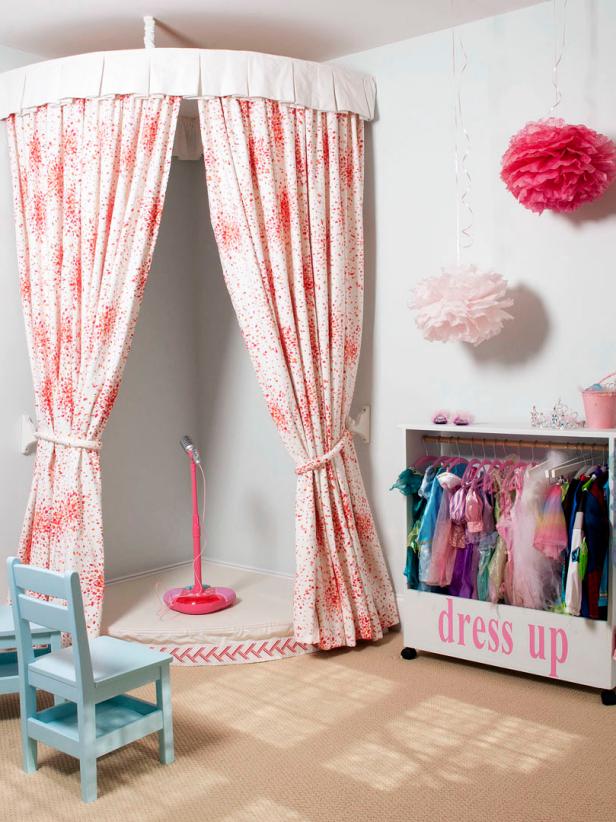 Little Girl's Playroom With Stage and Dress-Up Area
A curtained stage, microphone and dress-up area make this playroom any little girl's dream.
A dress-up station is a perfect solution for the child with a wild imagination. Try removing a couple of the drawers from an old dresser, give it a fresh coat of paint and then install a curtain rod to create a cute storage space for costumes.
Free spirits will enjoy weaving dreamcatchers to send good vibes flowing through their bedrooms. The best part? You can make them out of practically anything – fabric remnants, old scarves, ribbon. I made these using an embroidery hoop, thread and scraps of lace (for the large one) and children's bangle bracelets and necklaces (for the small one).
The inner-weave can be a little intimidating at first: Start from the outside, creating wide loops around the frame of your dreamcatcher – use your fingers to keep the spacing even if you're having trouble. Remember that there doesn't have to be any rhyme or reason; the more of these you make, the easier the process gets.