Clean Your Entire Home in 48 Hours or Less
Roll up your sleeves and get ready to speed clean like a pro.
I am my mother's child – all my siblings are. We've all got her cleaning gene – the oldest sister has a thing about people touching the walls (don't) and the twins split their time between ironing and perfecting their beauty routines.
My "thing" is vacuuming, best illustrated by this interaction between myself and an old roommate:
It took years, but I think I've finally mastered the art of speed cleaning. I can deep clean the entire house in one weekend, laundry included. Think it seems impossible? Here's how I do it:
Start with the laundry. Friday night, I'll gather and sort all the dirty clothes, towels and rugs (don't strip the beds just yet), then take them into the laundry room. Start your first load of laundry – socks, underwear, towels and anything that can be tossed into the dryer are easy candidates.
Tackle that mountain of dishes. I love to cook, but it comes at a price: dirty dishes stacked to ceiling if I'm not diligent. After the laundry is in, I unload and reload the dishwasher, then move on to anything that needs to be hand-washed. Once those dishes are on the drying rack, it's time to revisit the laundry. My next load is usually a batch of sweaters or button-ups that need to line dry.
Break for dinner. If don't want to eat out but are still looking for a quick meal that doesn't add to the pile of dishes, try picking up a rotisserie chicken. Serve it with roasted veggies or shred it for sandwiches.
Head into the closet. You're going to need to gather a lot of hangers for all that clean laundry. This is also a good time to switch out seasonal items and bag up any old clothes you've been meaning to donate. A good rule of thumb is to consider getting rid of anything you haven't worn in over a year. Get rid of any clothes with holes or stains or take cues from my mother: grab a pair of scissors, cut them into squares and then use them as cleaning rags.
Fold the clothes and put them away. Hang up wet clothes to dry, if applicable. Call it a night.
The next morning, it's back to the laundry. Toss in another load of laundry and keep at it in-between tasks. You'll get through most of it on your second day. Keep the loads light for quicker drying.
Make breakfast. After you eat, put away the dishes you washed the previous night.
Raid the fridge. If you're anything like me, there are dirty dishes hiding in your fridge in the form of forgotten leftovers and uneaten lunches. Get rid of anything spoiled or past its expiration date. Give the freezer the same treatment.
Wash the dishes again and take out the trash. You don't want any rotting fruits and veggies or spoiled milk sitting in your house.
Now clean the fridge. Take a clean sponge and wipe down all the surfaces in the fridge with a mix of hot water and vinegar. Remove the vegetable trays and wipe those down, too.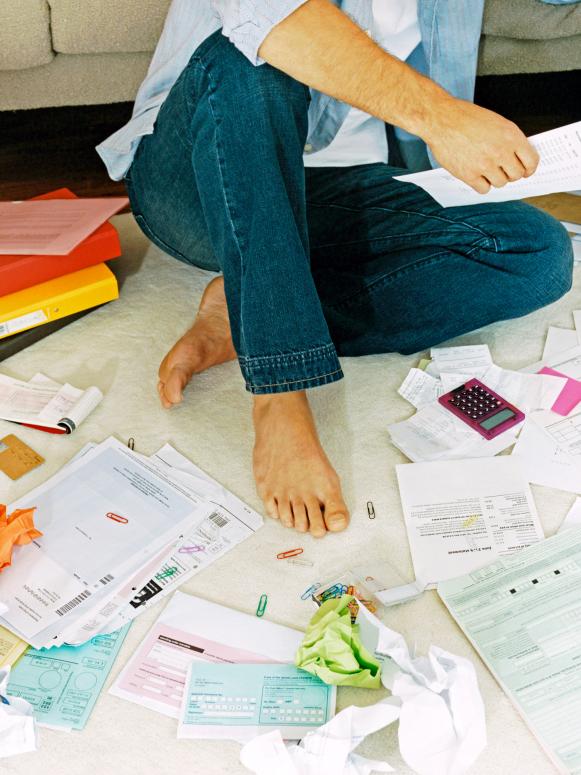 Man With Mess of Papers and Bills
The key to clearing paper clutter and maintaining an organized home is to deal with the paper you receive right away no matter what it is, from school schedules and bills to bank statements and party invites. It's easy to walk in the house, throw the mail on the kitchen counter and vow to put it away later, but too often the stack of mail continues to grow. Without a proper filing system, important notices can easily get lost in the shuffle. Tip: An excellent way to decrease the amount of paper in your home is to sign up for online bill pay and email statements.
Combat clutter. My kitchen island, which doubles as my dining space, and computer desk are magnets for paper clutter. I have a storage bin under my bed for any important mail or documents, and a magnetic memo board in the kitchen for any keepsakes I'd like to put on display. Tidy up shelves and bookcases. Collect any trash, lost toys, etc. hiding underneath beds and couches. Take out the trash and recycling once again.
One hour break. Spend it wisely.
Take a break to recharge for dusting. Dusting is an activity that makes me realize just how dirty my home is and consider moving into a hygienic bubble.
Polish. I clean my coffee table and other wood surfaces with a rag soaked in tea, then follow up with a small coat of olive oil. Glass surfaces get a spritz of vinegar and then I wipe them down with a soft cloth.
Put away the day's laundry if you haven't already. I don't have an iron or a wrinkle-prevention cycle on my dryer. Instead, I wait until the wet clothes I have hanging up are dry, and then put them in the dryer on low for 15 minutes.
Take the rest of the night off. Go grocery shopping – the stores are basically empty on Saturday evening and I bet your fridge looks pretty empty.
When you wake up the next morning, strip your bed. The end is near! If the bedding is the only laundry you have left, start with the sheets and pillowcases. Wash comforters and blankets last.
Make breakfast, wash dishes again. By this point, you're probably wondering how long the average human spends washing dishes. Try not to think about it too much.
Head outside. I like to sweep my porch and patio, and will also tackle any garden maintenance Sunday morning.
Now for the bathroom. First, I'll spray down the tub, toilet and sink. While the cleaner is doing its work, I'll clear and wipe down the vanity. Now, scrub and rinse the sink, toilet and tub. This is a good day to replace toothbrushes – before you discard, you can use it to scrub the grout and any crevices collecting grime. Also consider replacing the shower curtain if you haven't in a while.
Make the bed. You're almost home free. Break for dinner and then wash the dishes one last time.
HGTV Host and Designer Sabrina Soto
Sabrina Soto, host of The High Low Project, likes to keep her New York apartment spotless. Her cheery orange-striped rug is actually comprised of Flor carpet tiles, which makes clean-up easier. If there's a spill, an individual carpet tile is a cinch to replace.
Finally, sweep, mop and vacuum. If you've got a vacuum with attachments, vacuum underneath couch cushions – and even the cushions themselves.
Take a bubble bath. You earned it.