13 Favorite Winter Flowers
Grow these flowers to keep your garden colorful throughout the season.
With a little ingenuity and the right plants, winter doesn't have to be a write-off for your garden. In fact, winter can be a great time to add these plants and shrubs, or even use some colorful garden art to bring a pop of color to your yard. Lighting is another wonderful way to brighten a dreary winter garden and a fresh layer of mulch can do wonders to tidy things up.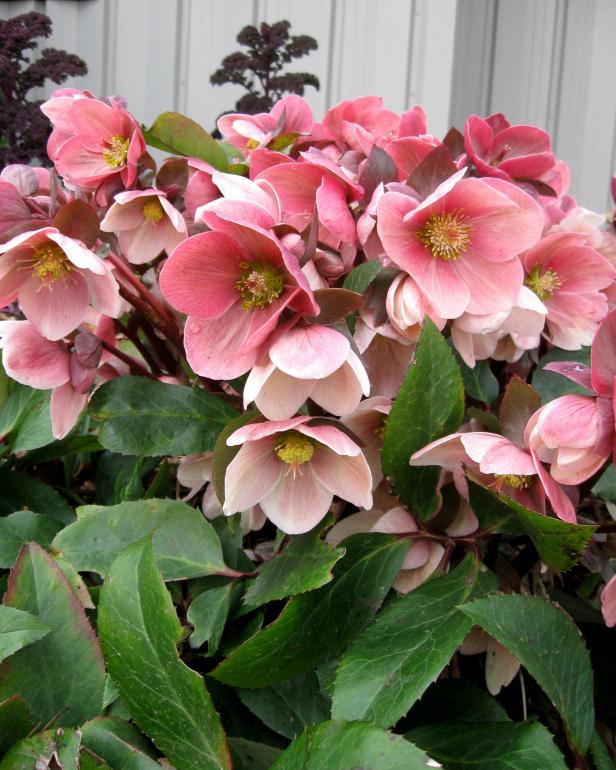 Lenten Rose Gold Collection® 'Pink Frost'
Lenten Rose Gold Collection 'Pink Frost'
Monrovia
Lenten Rose Gold Collection 'Pink Frost'
Unlike most hellebores, or Lenten roses, Gold Collection 'Pink Frost' holds its blooms upright, so their white, pink and deep rose colors are easier to see in winter. The plants have attractive burgundy stems. Use these deer resistant plants as groundcovers or perennials in shady spots.
While most primroses flower in early spring, some species add color to the late winter garden. Sow the seeds outside from January to March, or look for potted primroses in bloom at nurseries or garden centers. Enjoy them as houseplants, but don't feel guilty if you toss them when the flowers fade. It's tricky to keep them going.
DoreenWynja.com photographer for Monrovia
Camellia Japonica 'Magnoliaeflora'
Camellia japonica 'Magnoliaeflora', with its blush-pink blooms, is a good choice for winter color if you live in a mild region of the U.S. It's an evergreen, hardy in USDA zones 8 to 10, but its flower buds can be damaged by the cold. Grow the plants in filtered sun.
Vining Carolina Jessamine unfolds its yellow blooms from late winter into early spring. Don't be afraid to grow it on a wall or fence; it won't overtake nearby shrubs and trees. It's also pretty on a trellis or arbor. Grown in USDA hardiness zones 7 to 9, it performs as an evergreen or semi-evergreen.
Bailey Nurseries
Japanese Pieris
Pale green flower buds appear on 'Cavatine', a small, evergreen Japanese pieris, in winter. By early spring, they open into creamy white blooms that lure pollinators. These plants like rich, well-drained, slightly acidic soil.
DoreenWynja.com photographer for Monrovia
'Impish Elf' Lily of the Valley
Plant this shrub in masses for sweeps of winter color. The buds start out a dark, purplish-pink and open to bell-shaped flowers. 'Impish Elf' Lily of the Valley (Pieris japonica) can be used as a container, foundation or border plant. It's hardy in USDA zones 6 to 8.
Dan Hinkely/Monrovia
Pewter Pillar Winter's Bark
In late winter, this evergreen shrub or small tree, Pewter Pillar Winter's Bark (Drimys winteri var. chiloense), opens clusters of lovely white blooms followed by small fruits. The glossy leaves have silvery-white backs. The plants are hardy in USDA zones 7 to 10.
Richard Shiell/Monrovia
'Cameo' Japanese Flowering Quince
If you're a bird watcher, grow 'Cameo' Japanese flowering quince; birds often visit this shrub's quince-like fruits. The apricot-pink flowers open before the leaves and last a long time. These deciduous shrubs are hardy in zones 5 to 9.
Monrovia
Grevillea x 'Noel'
Deer resistant Grevillea x 'Noell' is a low-growing, evergreen shrub that's useful to grow on a bank, or as a hedge or border. Rose and white blooms stud its graceful branches, adding splashes of color for a long time in winter. The plants tolerate poor soil and drought after they're established.
Monrovia
'Cathedral Gem' Sausage Vine
Named for the sausage-shaped fruits that appear in summer, 'Cathedral Gem' sausage vine is semi-evergreen. Its stems can grow to 25 feet long; in winter, they're ornamented with white buds that become dangling flowers in shades of cream to dusky mauve. Grow it on a trellis or arbor near a patio, deck or door, so you can enjoy its perfume.
DoreenWynja.com photographer for Monrovia
Spike Winterhazel (Corylopsis spicata)
Spike winterhazel (Corylopsis spicata) opens its fragrant, primrose-yellow blooms from late winter to early spring. Try these deciduous shrubs in a woodland setting; they prefer partial to full sun. While they need regular watering, you may need to water more than once a week after the weather heats up.
Monrovia
Fullmoon Polyspora
Grow Fullmoon Polyspora as a shrub or small tree for its big, single, white flowers, which appear in late winter. This evergreen's new leaves are also colorful, opening red and maturing to glossy green.
DoreenWynja.com photographer for Monrovia
Winter Daphne 'Maejima'
Sweet-scented, dark pink blooms stand out against this winter daphne's variegated leaves. The flowers open from late winter to early spring on shrubs that reach 3 to 4 feet tall. This variety, 'Maejima', has good deer resistance.