Why You Should Care About Towel Types
There are aisles and aisles of towels out there, so picking the right ones can be overwhelming. Here's how to get good towels and care for them so that they actually last.
Bath towels, beach towels, tea towels, Egyptian cotton, polyester, supima – Phew! Towels are complicated. Don't throw in the towel just yet, though. Picking a quality towel is simpler than you think because there are really only two factors to consider: GSM and fabric.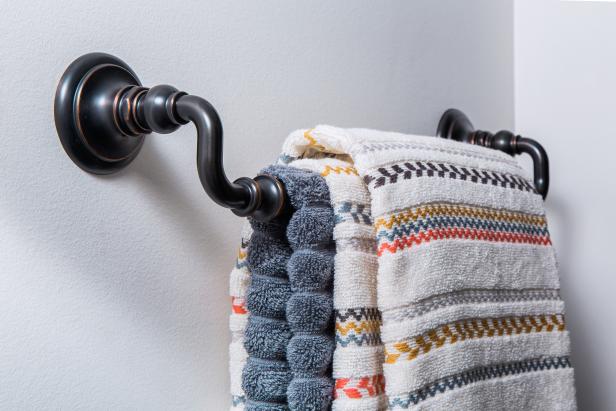 Handy Towels
An oil-rubbed bronze towel bar keeps fresh towels handy by the bath and shower, but also provides a simple way to air-dry used towels.
GSM stands for grams per square meter; it's a measure of the density of a towel. GSM is to towels what thread count is to sheets. The higher the GSM, the heavier the towel, and the softer and more absorbent. And the higher the GSM, the more expensive the towel. GSM ranges from 300 to 900. Here's what each weight is good for:
These towels are lightweight. They're thinner and coarser than higher GSM towels, so not the plush stuff of boutique hotels - Or even the middle-grade stuff of chain hotels. They can feel like sandpaper on your skin and aren't very absorbent, so they're not good bath towels. But, low GSM towels dry quickly, which means they're a great choice for a gym towel or a kitchen towel. Hang them on a rack, and in 15 minutes or so they're good to go.
These are medium weight towels. They're a good choice for beach towels and bath towels. They're soft and absorbent but don't take forever to dry. You can hang them on a rack or over a balcony in the sun, and they'll dry before you need them again.
These are heavy, high-priced towels that are a total luxury wallow. These are the sort of towels you dream about, the towels at five-star hotels and spas in Santa Fe, and they feel like a hug when they touch your skin. The downside? These towels take forever to dry. You can use one after your morning shower, hang it on the rack, and it may still be damp when you brush your teeth before bed.
Here's a quick primer on everything from sad polyester to luxury Turkish cotton:
Leave polyester bath towels to cheap motels. Polyester isn't absorbent or soft, but it dries fast, so, it's OK for kitchen, gym or guest bath towels (if you don't want the company to stay very long).
Also called pima cotton, this material makes a high-quality bath towel. Pima cotton has long fibers that make a soft, durable and absorbent towel.
Egyptian or Turkish Cotton
This is primo fabric, the stuff of towel fantasies. These materials have long fibers that draw water off your body and make a soft, luxurious towel. They get softer, fluffier and more absorbent with each washing. They're pricey, though. A set of Turkish or Egyptian cotton bath towels costs around $150.
Want to be kind to the earth and have a good bath towel, too? Go with bamboo. It's grows faster and needs less pesticides and fertilizer to thrive than cotton. Bamboo fabric is super-absorbent and it dries quickly, so it's the best of both worlds. Bamboo also resists germs and fungus, so it's less likely to get nasty. Bamboo's lone downside: It's not thick. If you crave plush, you'll be disappointed.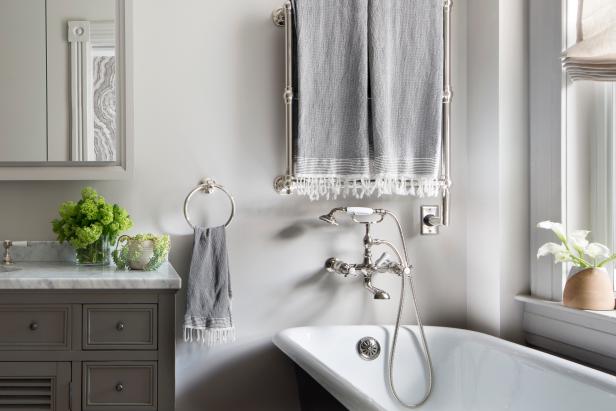 Gray Bathroom With Soaking Tub
Turkish towels are a refined touch in this bathroom, where a large soaking tub and marble countertops complete the petite room's spa-like feel.
OK, now you know how to buy good towels. Here's how to care for them:
Skip fabric softeners. They'll leave a residue on your towels that makes them less absorbent. Your Egyptian cotton towels could end up as crappy as $3 polyester ones.
Wash with vinegar. Put a cupful in the wash with your towels once a month. The vinegar will remove the body oils and soap residue that make towels less absorbent. It also blasts odors.
Say no to towel hooks. Towels hung on hooks dry more slowly than towels hung on bars. Slow-drying towels = mold and bacteria.
Don't iron them. Yes, there are people who iron their towels. That's bad, because ironing crushes the loops in the fabric, making them less absorbent. It's also bad because ironing towels is a bit much. Really, towel ironers, get a hobby.