Torque wrenches have varying capacities and features to make the job easier. This guide makes it easy to choose the right wrench for any project.
Torque, a measure of force produced about an axis, is measured in foot-pounds. For torque wrenches, this means the force necessary to secure a bolt.
The gauge torque wrench has a long bar that bends with added pressure. The gauge indicates the amount of torque produced. When the gauge reaches the required torque
(per the manufacturer's instructions), the user stops turning the wrench.
The dial torque wrench is designed for quick calibration. To use the wrench, the user sets the inside dial to zero and the outside dial to the desired measurement, then cranks the wrench until the two dials line up.
As its name suggests, the clicking torque wrench clicks when the desired torque is reached. Before turning the wrench, the user sets the handle to a specific torque, then listens for the clicking sound.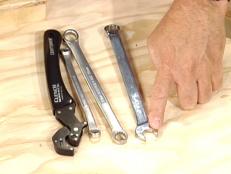 Wrenches are basic tools for every workshop, and different kinds are designed for specific jobs. Here are some tips for choosing the right wrench.
There's a basic wrench for every job. Here's a short lesson on some of the most common types of wrenches found around a home or workshop.