Remove fenceposts and stakes easily with the help of this tool.
The Post-Popper® from Bloomfield Manufacturing Company is a leverage tool for manually removing posts and stakes quickly and easily. Its balanced pivot system provides lifting force and increases the user's leverage. The chain and slip hook helps pull up materials such as construction stakes, galvanized fenceposts or wooden posts.
Removing old paint isn't a lot of fun, but a few paint removal tools can make the task easier.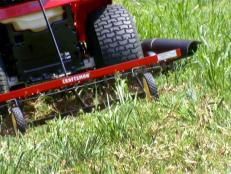 Thatch, built-up plant material between green growth and the grass roots, is essential, but too much can deter healthy lawn growth.