Palettes for High-Traffic Homes
Stylish color combinations and finishes to withstand even the wildest kids, parties and pets.
By:
Point Click Home Dot Com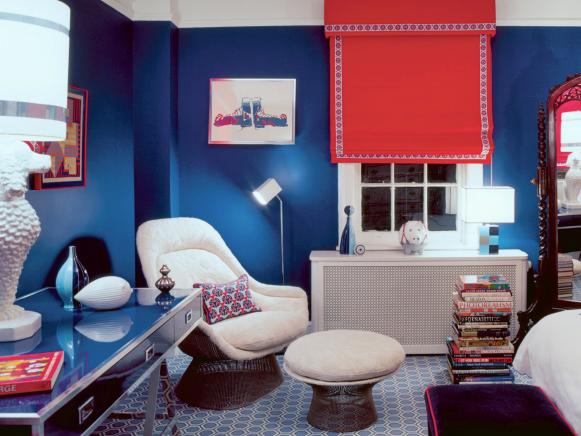 Hachette_07Adler
In this living room designed by Jonathan Adler a contrasting palette of red and blue (one warm color, one cool) works well because the chosen colors have equally strong values, and plenty of white to offset the hues. Credit: Photos from the book Jonathan Adler: My Prescription for Anti-Depressive Living
For those with kids, pets and a penchant to party, strong colors are the perfect solution to withstanding wear and tear without sacrificing style. Color experts agree that bold color is a hot trend. "It's time to throw away the rulebook and go with colors that are both whimsical and practical," says color consultant Leatrice Eiseman.
Here are top designers' secrets to tough yet stylish palettes
Palette: Spicy Oranges, Yellows and Reds
Colors in the spice family are a good option for high-traffic areas, according to Jackie Jordan, director of color marketing for Sherwin-Williams. "For the family room or kitchen, where you want to hide dirt and also have a cheerful scheme, spicy oranges, yellows and reds are great," says Jordan, whose favorites include the spicy orange Tiger Eye (SW6362), the hot yellow Tassel (SW6369), and the deep red Flowerpot (SW6334). "You could use all three of these colors in one room," says Jordan.
Color maven Susan Sargent has long been an advocate of strong color combinations, as evidenced in her vivid line of home furnishings, which includes everything from paint to tableware. Sargent likes a palette of lime-plum-mango as a good three-hue combination for a household with young kids and pets. "It's an energetic palette that is not for the faint of heart," says Sargent. "But strong colors will work when they share the same value, or intensity, and when there are enough neutrals to anchor the vivid colors."
Palette: 2 Bold + Touch of Gray
"Bright colors with gray undertones work well in high-traffic areas," says Amy Passantino, Associate Manager of Consumer Services and Programs and head of Benjamin Moore's Color Makeover program. She suggests three-color palettes that include two warm colors with a cool third—a burnt gold and orange with a green, for example—or a cool dominant color with two warms such as a sea blue with two light browns.
Palette with Tough Finishes
One last note for high-traffic palettes is the importance of product and finish choice. For years, high-gloss finishes have been the rule for the most smudge-and-scuff-prone surfaces (baseboards, kitchen cabinets, door and window casings) because they were easier to clean and more durable. But today, many paint companies make a stain resistant, washable paint that cleans up with soap and water, and comes in several finishes, from matte to high-gloss. You can have your color, and wash it too.