To make a splash of color on your walls, learn these tips on the qualities of basic color groups.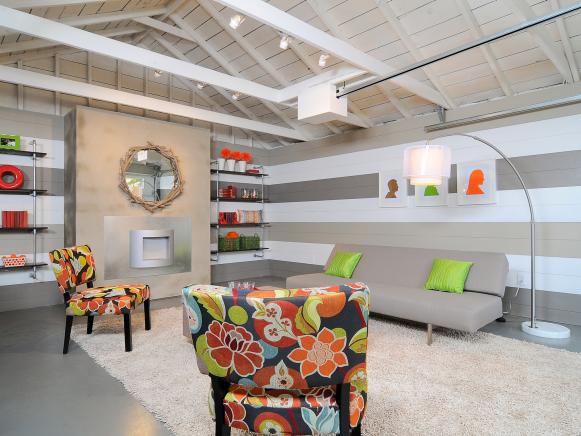 Contemporary Living Room in Converted Garage
A deep, rich purple wall-paint offers both cool and warm undertones.
2012 BRIAN KELLOGG PHOTOGRAPHY, 2012 BRIAN KELLOGG PHOTOGRAPHY
Many people are afraid to experiment with color when it comes to walls. They stick with the safety of white or neutral shades. Room color doesn't dictate just the decorating scheme: it can also affect your mood and the way that you perceive the room. If you want to make a splash with color in your home, it helps to know a little about the inherent qualities of basic color groups. Here are a few guidelines.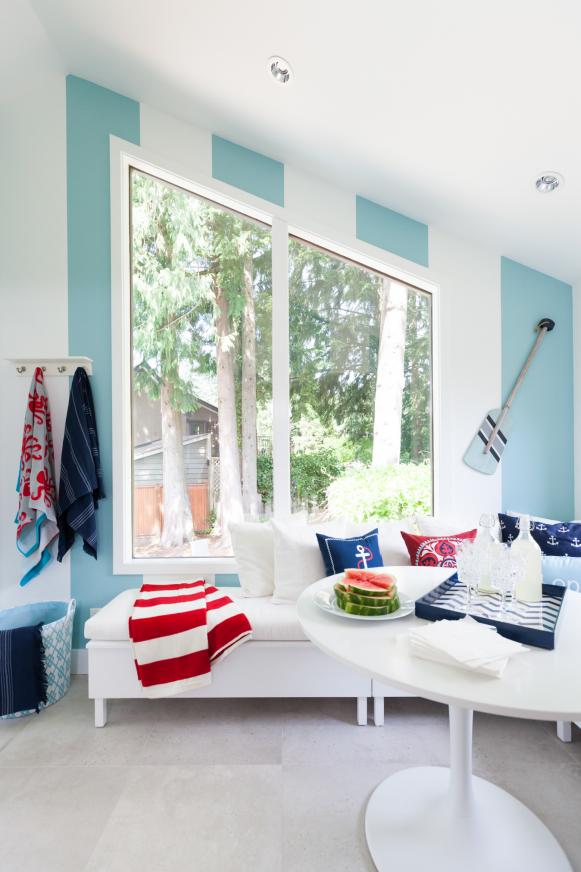 Beach Inspired Breakfast Nook
As seen on HGTV's Love It or List It Too, designer Jillian Harris added a breakfast nook off the kitchen and mudroom. This beach inspired space is located next to the window that overlooks the pool so that the kids can play while mom and dad look on from the comfort of the indoors.
From:
Love It or List It, Too
David Owen Strongman / Getty Images
One of the basic ways of dividing color is into the cool spectrum (blues, greens and the like) and warm spectrum (reds, yellows, oranges and related shades). When used in decorating, cool colors tend to recede, while warm colors tend to "jump out at you." For example, in a wallpaper with blue and white stripes, the blue shade tends to recede or fade back in the pattern.
By contrast, a yellow wall paint tends to "pop," but not overly so if it is a pale shade of yellow.
Periwinkle blue used as a wall paint in a bathroom is soothing to the eye but highlights the white fixtures and tile by offering contrast.
Sarah Wilson / Getty Images, 2014, Scripps Networks, LLC. All Rights Reserved.
A purple wall paint is an interesting alternative, offering both cool and warm undertones. Though purple is a cool shade, the richness of the color creates a warm feeling.
A brick red used in a dining room is ideal since it offers a warm feeling and because deep red has been shown to stimulate the appetite. It's a color that's often used in restaurants, and it reflects an attractive light on food.
Selecting from the myriad of paint colors can be intimidating. One suggestion is to start with an accessory -- such as a throw pillow -- that's particularly pleasing to your eye and use it as a guideline for selecting paint colors from a paint selector.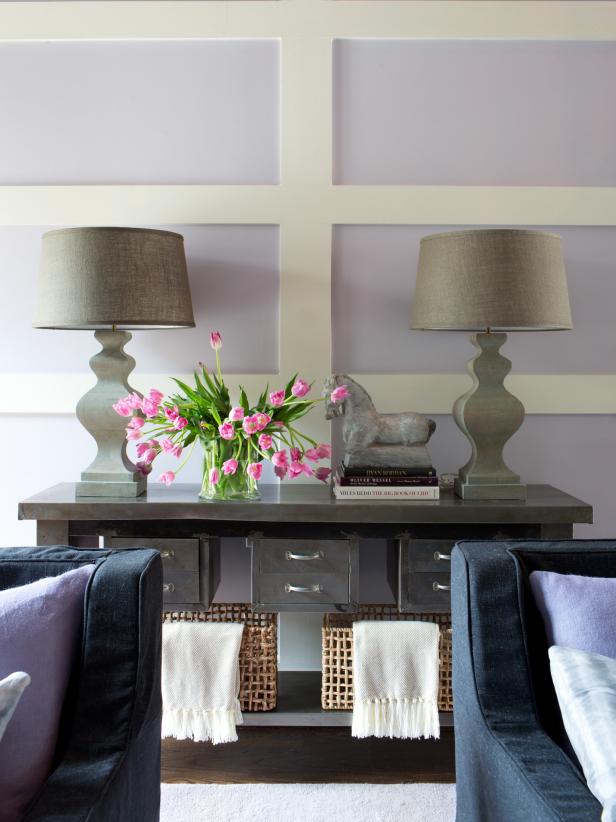 Great Room Decorating Ideas
For great rooms with high ceilings or large open space trying making the space more intimate by lowering the ceiling height with decorative crown molding. In this picture the same 1 inch by 6 inch wood trim seen in the crown molding and door casing was used to create a graphic grid effect which helps ground the space.
Pick the colors in the fabric that you particularly like and search for paint samples that match or complement that color.
Sometimes it's difficult to get a "feel" for a paint color from a tiny swatch. Here's a tip for helping you feel more confident about your color selection before making a final decision: Purchase a small amount of the paint you're considering and paint a large piece of posterboard or foamcore with that color. Place the painted board in the room you're thinking of painting and "live" with the color for a few days to decide whether you really like it or not.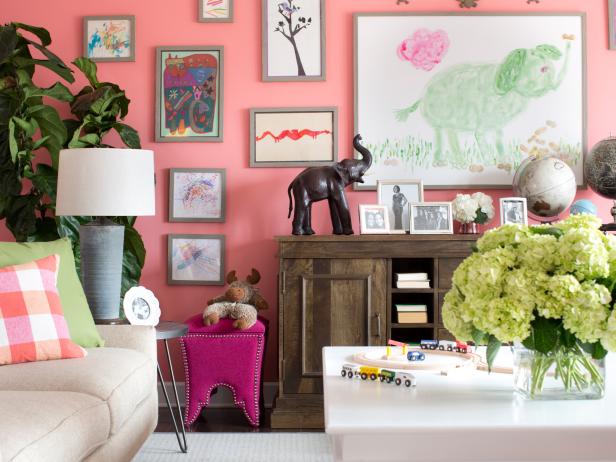 Kid and Pet Friendly Living Room
This bright and cheery family room is covered in high-energy hues, packed with pet-friendly materials and outfitted with clever storage solutions. From washable paint sheen on the walls to lightweight rustic table lamps, the space was designed to be durable, comfy and almost indestructible.
Flynnside Out Productions
If you're going to experiment with colors, you may want to experiment with novel paint techniques as well. Glazing paint offers a distinctive look that allows part of the painted surface to show through the paint color. Apply glazing paint lightly over the surface of another paint color with a dry brush.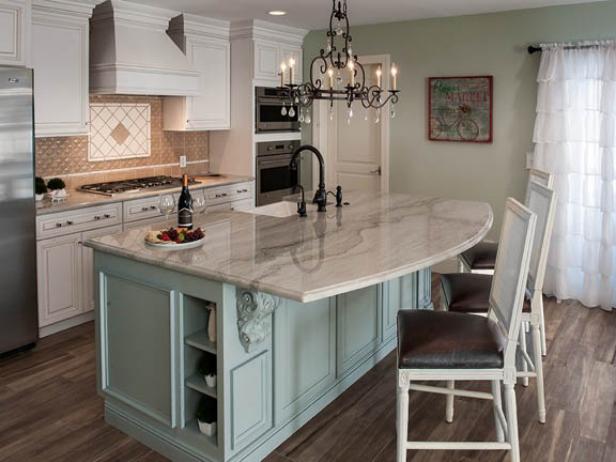 Beach Style Kitchen with Hand Glazed Backsplash
A traditional style kitchen down by the beach suited to please any cook. Ceramic tile floors that closely resemble wood floors and were designed to emulate vaporized walnut wood. Two-toned custom cabinetry with a light sea blue-island with creamy pearl and chocolate glazing cabinetry infused with GE monogram stainless steel appliances.
Photography provided by Christine Baumann