The Pros and Cons of Terra Cotta Tile
Give your kitchen or bath a warm, rustic look with terra cotta tile flooring or countertops.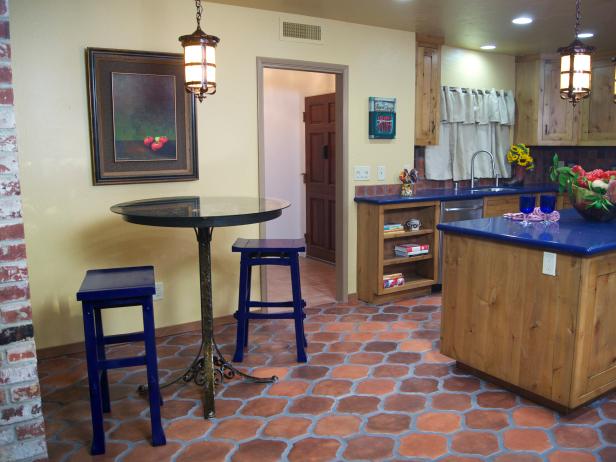 Elegant Bistro Table Create A Cozy Kitchen Nook
Sleek blue countertops, terra-cotta tile flooring and pale yellow walls help create a warm and inviting kitchen environment. The oversized table was replaced with an elegant bistro set perfectly proportioned for the kitchen's corner dining area right beside the bar.
Terra cotta is one of the oldest tile materials around, dating back before the birth of Christ, when it was sun-dried rather than oven-fired. People often use it, glazed or unglazed, when they want a rustic, weathered look.
"Quality terra cotta will last forever," says Dave Gobis, executive director of the Ceramic Tile Education Foundation, "but unfortunately it's very difficult to assess the quality, even for tile professionals." Buy only from a seller whose reputation you trust; even then, you may encounter problems.
For practical uses, "terra cotta can be enhanced by the seal you put on it," says Daniel Dixon, a California-based tile construction expert. "It is highly recommended that it be sealed, and if it's for kitchen use, you must seal it particularly well."
Install Yourself? No
Best Uses: Flooring, countertops, walls
Pros: Beauty, longevity when well-made
Cons: Wide variations in quality
Price Range: $3–$7 per square foot