The Pros and Cons of Concrete Tiles
Are concrete tiles the right product for your home?
Cement-based concrete is an undeniably strong material. While it's commonly used for commercial purposes to withstand wear and tear better than ceramic and hardwoods, tiles manufactured from concrete are endlessly customizable from a design aspect and have found their place in residential homes for centuries. But what are the true pros and cons of using concrete tiles in your home? Let's look a little closer.
Concrete tiles will outlive us. The biggest advantage, hands down. Once you make the investment, you can be sure that they'll hold up well for the long run.
Cement-based flooring is more durable than hardwoods, and it outlasts ceramic tiles, too, making it a great solution not only for businesses and high-traffic public spaces but also as a material used in homes being built or remodeled. To maximize durability and longevity, you'll need to coat the tiles with a penetrating sealant to help prevent staining and make them easier to clean and dry in dirty, wet, or high traffic areas.
Sealed concrete tile floors can be swept and cleaned easily – just like other tile floors. You can use a mild soap to mop the floor, but you should always dry mop over the surface to collect any standing moisture before it penetrates the tile.
Decorative concrete tiles serve well when used as backsplashes or fireplace accents and require little to no maintenance as they're not underfoot.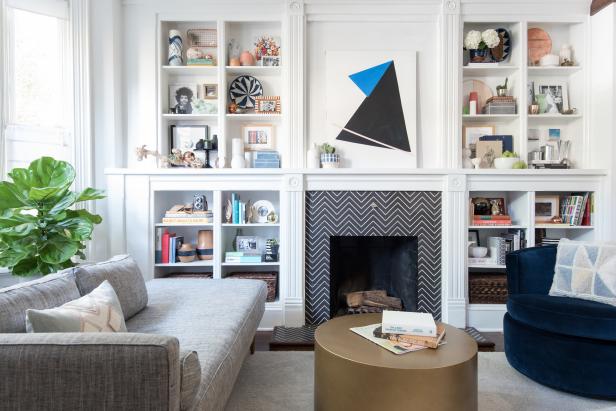 Contemporary Living Room Feels Inviting, Cozy
A patterned cement tile fireplace is surrounded by built-in bookcases that display the homeowners' favorite books and accessories. The heather gray chaise pairs with navy armchairs and a gold coffee table for a comfortable living area.
There's a Design to Match Every Home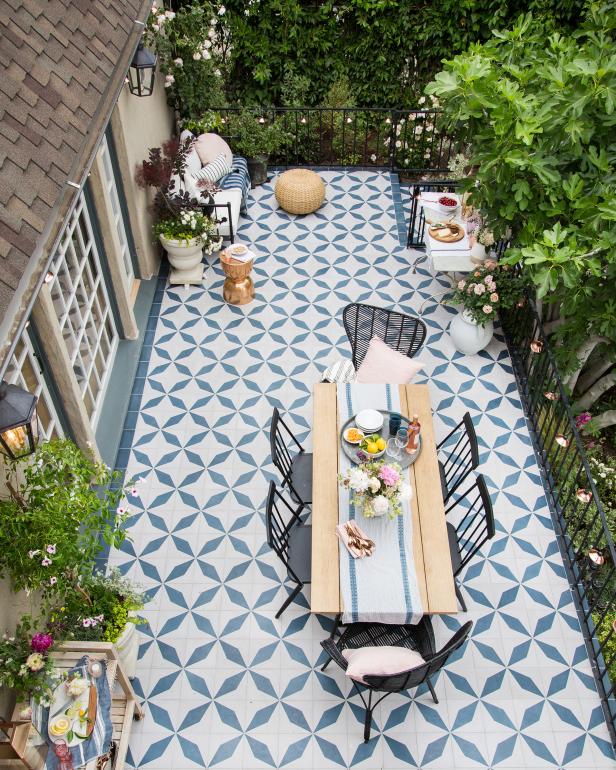 Concrete Tiles for Outdoor Spaces
Using concrete tiles in an outdoor dining space.
Designed and photographed by Emily Henderson. Granada Tile's Buniel cement tiles.
"Cement tiles can be used on the floors and walls in the kitchen, living room, foyer, dining room, bathroom, and laundry room," says Melanie Stephens, director of design and marketing at Granada Tile. "[They're great] on the kitchen backsplash and underside of the island, and they can be used on the walls to add a unique work of art. Often, homeowners choose tiles to be applied in unique ways to create one-of-a-kind features like tile rugs".
Thanks to the robust (and growing!) market for concrete tiles, it's even likely that you can find them when shopping at your local big box store; however, I think you'll also love losing yourself in a creative vortex while scouring manufacturers around the world from the comfort of your computer.
They're Environmentally-Friendly
Concrete tiles are made of natural materials, and high-quality tiles also include natural pigments to create their patterns. Natural colors won't fade over time the same way non-mineral based colors will, which is why some of the oldest encaustic tiles around the world continue to look extraordinarily vibrant. Made one at a time, concrete tiles are made using a hydraulic press method. They are never baked to harden like other comparable tiles, making concrete tile manufacturing a more energy-efficient process overall.
If you're worried that your concrete floor will feel cold underfoot in the middle of winter, it's easy to add radiant flooring before installation. In many cases, the ground-up heating solution can replace the need for venting and other heating sources and operates more efficiently, too. Consider this solution if you're renovating your kitchen or bathroom.
They're Easily Refinished
Concrete tiles (including colorful encaustic tiles) can be refinished over time to remove discolorations, just like you would treat scratched and damaged hardwood floors. Using a high-grade sandpaper on the dampened surface (to keep dust at bay), and gently sand away the top microlayer of concrete to reveal a fresh layer with revived colors. The color layer isn't just on the surface, it is usually at least 1/8" thick, so it won't wear away when you are refinishing. The tiles themselves are thicker too (5/8" usually) and can be refinished more often than hardwoods over the lifetime of the tile. If you're sanding the tiles yourself, pause often to clean the sanded residue before it dries onto the new surface.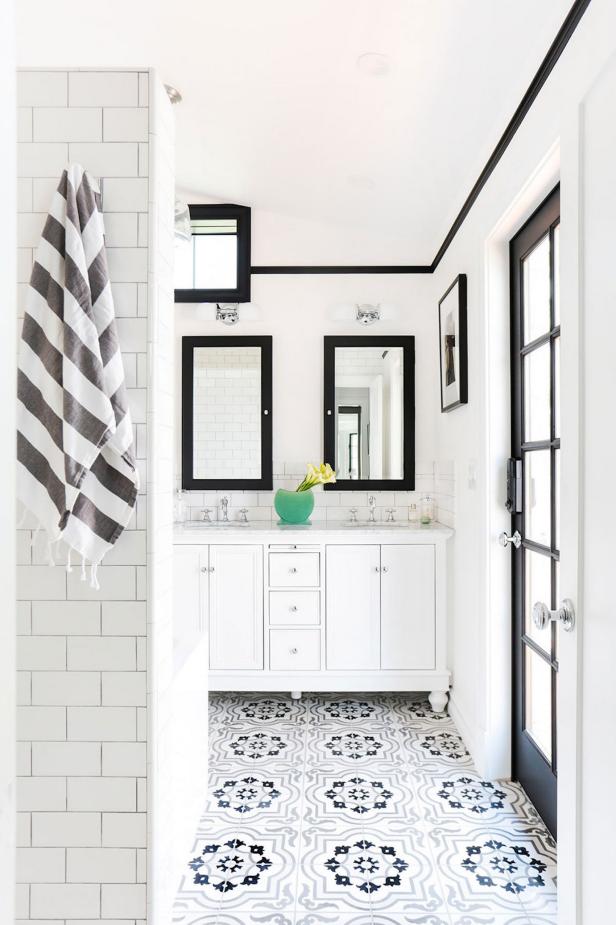 Black and White Bathroom With Black Trim
This big bathroom has a basic foundation: white subway tile walls, a white double vanity. What takes it into seriously chic territory is tuxedo-crisp black trim and a patterned concrete tile floor.
They Require Structural Consideration
Concrete flooring is heavy, so before you go stripping out old laminate and prepping for a beautiful new cement-based kitchen floor, make sure your home's structure can support the weight. The best way to do this is to hire an engineer who can assess your home. If it's not concrete-ready, the consultant can also connect you with the right contractor who can help reinforce for the additional weight. If your home can't be easily adapted, don't get too let down. There are other concrete-like and stone-like products available that are thinner, made of lighter materials, and in some cases, even less expensive.
They'll Change Over the Years
"Concrete will patina over time, just like a leather or wood material would," points out NEMO Tile + Stone design director Katie Michael-Battaglia. "It's supposed to have the chips and cracks in it — it's more brittle and that's the look! You have to be aware and okay with that and appreciate that kind of material to utilize a concrete tile in a residential setting."
If you love the look of concrete but aren't ready to accept the maintenance and upkeep that comes with the product, consider alternatives, like concrete-looking tiles made from materials such as porcelain. (NEMO's Opus collection is one you may want to consider.)
They're Thicker Than Other Tiles
Be aware that concrete tiles are usually 5/8" thick, which is thicker than ordinary tile. However you're using them, be sure the subfloor or backing accounts for the added depth if you're looking for flush transitions.
Concrete Is Porous (Even Sealed, Concrete Can Stain)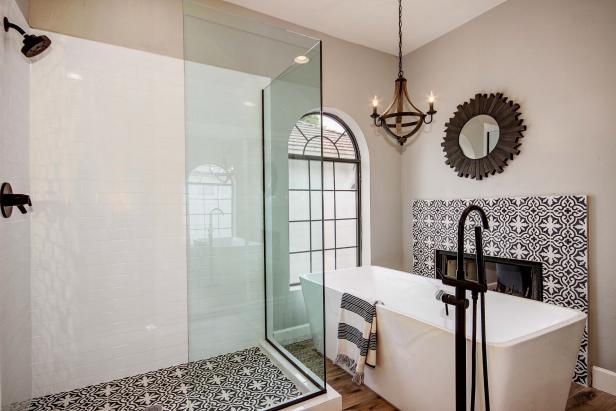 Raised Bathtub and Enlarged Shower Make Remodeled Master Bathroom More Functional and Elegant
This home's original master bathroom had a sunken bathtub and a small shower, so to modernize the space and make it more functional, designers raised the floor and added a freestanding bathtub, which was the perfect addition next to the newly tiled, double-sided fireplace. Then, the same tiles that were used for the fireplace surround were also used in the shower floor, connecting the two spaces and adding warm texture to the space.
Concrete tiles require extra maintenance in that they need to be resealed every 2-3 years, and to some homeowners, makes these tiles a deal breaker. Resealing the floors helps to slow the absorption of water in the kitchen and bathroom. In a kitchen, dropped food or spilled wine or oil on the floor can leave a permanent mark on concrete surfaces that aren't well-maintained or cleaned immediately. You'll need to make extra efforts to clean and dry them immediately to collect standing water.
If you choose concrete tiles in your shower – for either the tiled surround or the floor – you'll have to take extra measures to seal the tile and prevent water absorption. A penetrating sealant is mandatory for any space with excessive moisture, and it will need to be reapplied every 1-2 years.
They're Cold and Uncomfortable Underfoot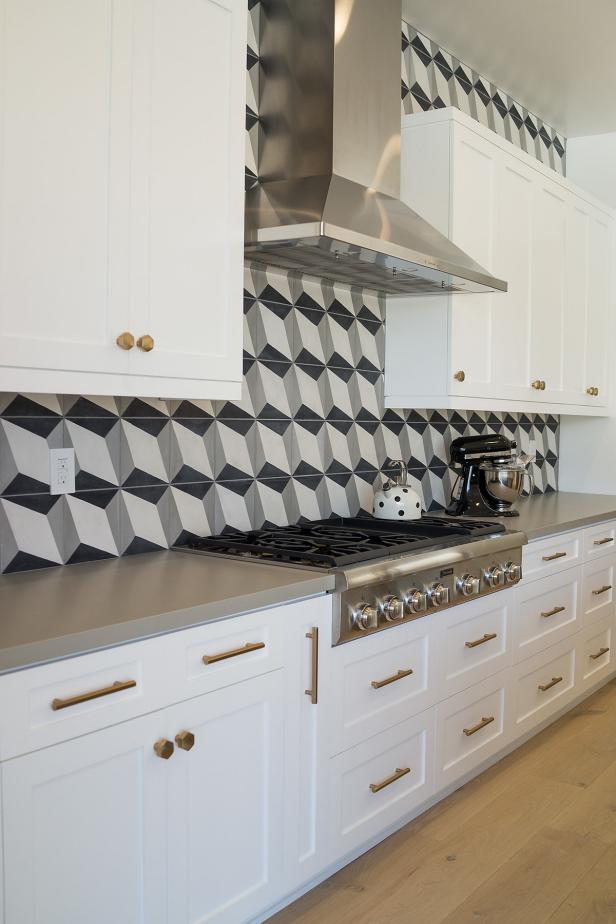 Farmhouse Kitchen with Herringbone Tile Backsplash
The high-end appliances were chosen with a master chef in mind, and the clients love to make use of the entire space. The stainless steel range and oven blend smoothly with the custom herringbone tile while adding loads of texture to this farmhouse kitchen.
Though we mention above that you can install radiant flooring beneath new concrete tiles, it's not as feasible in older homes with existing concrete tile floors. Washing dishes standing atop hard tile can feel uncomfortable, and they're not exactly the most in-demand surface for children who like to crawl around and play on the floor. Furthermore, designers are mixed on whether or not polished concrete emits a cold or sterile feeling when the rest of a home is designed to feel warm and cozy. If in doubt, consider installing the concrete tiles as a wall accent or backsplash to integrate their design without it being an impractical underfoot option.
They Aren't Ideal Outdoors
Concrete tiles that are exposed to freezing temperatures and Mother Nature's elements are more likely to crack and distress – even in covered or screened-in porches that may be affected by the occasional blustery rain or snowstorm. If you're in a climate with drastic changes in temperature and weather, use these beautiful tiles indoors and choose alternative products, such as natural stone, for outdoor spaces.