All About the Different Types of Drywall
Learn how to choose the right type of drywall to cover your walls or ceiling.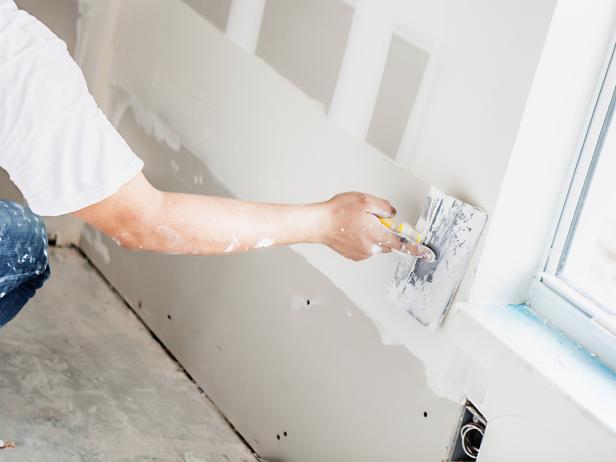 Installing Drywall
The type of damage will determine which route to take with drywall. If it has gotten wet or is moldy, choose to replace. "Moisture in drywall really weakens the integrity of the material, and if it's been wet it's usually best practice to replace it to save any potential of future 're-repairs,'" says Jeremy Wrenn, President of Wrenn Home Improvements in Wake Forest, N.C. If the drywall is damaged with a hole, Wrenn recommends repairing that section as long as the hole measures 6" x 6" or less.
©iStockphoto.com/Jodi Jacobson
Sheet stock is used to create and/or cover large, flat surfaces. Sheet materials are usually supplied in standard sizes, 4 x 8 feet being the most common size. Some need special screws or nails to secure them in place. Eco-friendly sheet materials are also available.
This is the most common wall and ceiling material. It is made by compressing gypsum plaster to create rigid sheets, which are covered on each side with thick paper. Treated varieties are available. These are often color-coded for easy identification. Some sheets have more than one quality, e.g., moisture-resistance and fire-resistance. All types are available with square or tapered edges.
Choosing a sheet size
Drywall comes in sheets. While the most common size is 4 x 8 feet, you can purchase much larger lengths. Use a sheet size that minimizes the number of seams that will appear in the finished product.
Choosing a thickness
Drywall comes in various thicknesses, 3/8 inch and 1/2 inch being the most common. Thicker sheets are needed if nails or screws will be far apart — for example, if there is a large gap between studs or joists.
Which side is which?
Standard drywall is pale gray or ivory on one side, and a darker gray or brown color on the other. The lighter surface should face into the room. The other side may have manufacturers' logos on it, and visible seams down its edge.
Square-edged vs. taper-edged sheets
The choice depends on how the drywall is to be covered. Square-edged sheets are best for plastering, and taper-edged sheets for drywalling.
Scribing drywall
This is a way of marking where to cut a sheet to fit against an undulating surface, such as an uneven wall. The method shown here is the basic technique for the first sheet. Examples of when it may be needed include altering a ceiling and drywalling. Use the same method, if you need to, against an uneven ceiling. Place the sheet so that it is just touching the uneven surface. Cut some wood to the length of the largest gap between sheet and wall. Then cut one end into a point. Place the pointed end against the uneven surface and, holding a pencil at the other end, run it along the surface to draw a guide line.
Square-edged
Standard drywall. Sheets butt against each other and should be plastered over. Uses include: Walls and ceilings to be plastered
Taper-edged
Regular drywall with a tapered end that allows for easier filling between gaps with joint compounds. Uses include: Finishing walls
Moisture-resistant
Core is impregnated with waterproofing materials, but is breathable so the surface beneath the board can "breathe" through the wall's surface. Can be used in areas of high water usage — as abase for tiles in a shower stall, for example. Uses include: Bathrooms and kitchens
Foil-backed
Has vapor-resistant paper on one side, so is less protected than moisture-resistant sheets. Has a silver foil-like layer on nondecorative side. Uses include: Used in cold climates; not for moisture-resistant materials or humid climates
Fire-resistant
Has greater fireproofing qualities than standard drywall. Uses include: Integral garage ceilings, some corridors, stairwells
Abuse-resistant
A polystyrene layer bonded to the nondecorative side provides greater heat insulation than normal. Thicker than other drywalls. Uses include: Garages
Soundproof
Has greater soundproofing qualities than other drywalls. Uses include: Walls and ceilings in apartments or condos
Cement board
Not a drywall, but has similar properties and uses. Is a strong, moisture-resistant base board, often used as a subfloor, beneath ceramic tiles or as a backing for wall tiles. Board thicknesses and sizes vary. Uses include: Can be used as a subfloor beneath ceramic tiles, or as a backing for wall tiles