How to Design a Kitchen on a Budget
Remodeling your kitchen? Follow these tips to help stay on budget.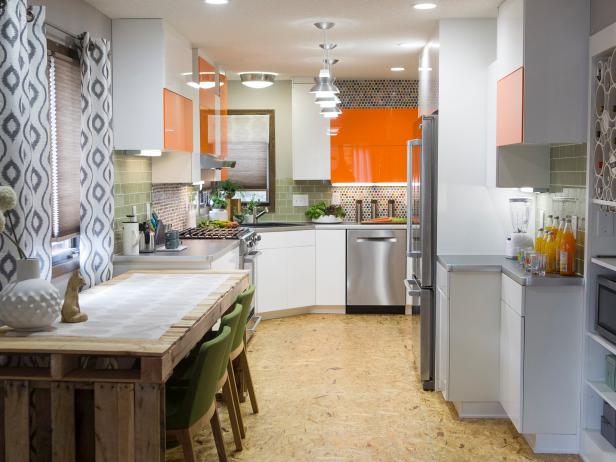 BP_DHMK_707-kitchen-after-wideshot_h
The after photos of Kaytie Kamphoff and Nick Strom's kitchen in Minneapolis, MN, on Monday, November 4, 2013, as seen on DIY's Networks' I Hate My Kitchen. For this kitchen, James Young, the host of the show, transforms this outdated room into a mid-century modern kitchen. The wall between the kitchen and the dining room was removed. High gloss white cabinets were used with orange ones sprinkled throughout the kitchen. New gray laminate countertops with a metal edge added to the retro feel. The backsplash was created with green subway glass. Behind the range and the right of the stove, vintage bottle caps add a vintage flair. All of the appliances are now stainless steel. The refrigerator is flanked by cabinets, a diy wine and microwave bar. The dining room table was made from old pallets. The entire main floor has been covered with 4x8 sheets of wafer board then joined with metal hints and coated in glossy poly. (after)
Jenn Ackerman / Getty Images, 2013, HGTV/Scripps Networks, LLC. All Rights Reserved.
The average homeowner will likely spend about 20 percent of an overall construction budget on the kitchen – not including the appliances. In most instances, it's the homeowner that makes kitchen design and construction go over budget.
Here are ways to make sure a fabulous new kitchen doesn't drain the construction budget:
Make selections early and stick with them. Research and decision-making is essential to avoid duplicate purchases (two different types of the same product), reinstallation and costly delays. A last minute change can mean starting the entire materials ordering process again, adding an additional 6-8 week delay.
Come up with a construction schedule for your subcontractors. Coordination of the kitchen components in any new construction project can be a complex undertaking. Generally, the general contractor is responsible for coordinating the sub-contractors used for kitchen installation, but being familiar with each step will move the process along.
Maintain a good relationship with anyone working on your project. Make sure that not only are they available to discuss any concerns you have, but that you are also open and available to them. Should scheduling conflicts arise; installations can be rescheduled without costing a lot of money.
Make sure everyone involved is aware of your chosen design and layout. This will help subcontractors (plumbing and electrician) understand space constraints and better plan their own installations to be most effective.
Kitchen Reno Tips & Projects