From high-tech projectors to the latest apps, find out what's new in home cinema.
What's new in home theater? Everything - literally.
While home theater remains its own category, the lines are blurring. Home automation, Web-based mobile apps and streaming Internet content are - dare we say it? - converging. The home theater experience is becoming the integrated entertainment component of today's homeowner-centric smarthome that includes security, lighting, heating and cooling, and convenience. It's all accessible, programmable and definitely cool.
So, with technology surging ahead at a multi-megahertz pace, what's in store for the home theater aficionado? Here's what's on that fast-approaching horizon.
Today's quick-twitch breakthrough and marketing darling, 3-D technology is fast becoming the latest must-have audio-visual treat. A curiosity not more than two years ago, 3-D got a tremendous boost in consumer acceptance from the big-screen behemoth Avatar. Now, major appliance makers are cranking out 3-D capable TVs and Blu-ray DVD players, while gaming producers and movie/television studios are wakening to the growing appetite for 3-D content. Already, 3-D television broadcast channels from ESPN, Discovery and Direct TV are a reality.
Those 3-D images look best on big screens, so right now TV manufacturers are only offering the technology on sets larger than 40 inches. While 3-D home viewing is in what looks to be a short-lived infancy, you'll currently pay $2,000 to $7,000 for the privilege of being an early adopter. The good news is that most 3-D sets excel at regular 2-D as well.
One key to this dimensionally enhanced visual experience isn't necessarily the television sets - it's the glasses. All 3-D televisions use battery-powered glasses that flicker 120 times per second, triggered by an infrared signal from the TV. The 3-D television images are shown at 240 frames per second, and the glasses pick up a slightly different viewing angle between the right and left eyes, creating the 3-D effect.
It's nifty but pricey - glasses cost about $100 to $200 per pair - so you could easily shell out close to a grand to outfit your entire family. To add a dollop of frustration, glasses are proprietary - you can't bring your Samsung glasses to a Sony 3-D gala showing at a friend's house. At least one company, XpanD, offers universal viewing glasses, and reviews are positive.
Video Projectors and Lampless LED Technology
One classic definition of home theater is that it includes a video projector and a screen the size of a double garage door. For many aficionados, that definition still holds true.
"To me, home theater begins at 80 inches," says Jim Zoyiopoulos, a custom home electronics expert and owner of David Vincent Designs in Carmel, CA. "I think home theater comes as close as possible to re-creating the big theater experience - the viewing, the sound, even the lighting."
For those who prefer the jumbo-screen format, that usually means a projector capable of producing an image ranging from 70 to 200 inches (measured diagonally). Room lighting is critical, as screens are washed out by stray light. A darkened room - characteristic of big theater ambiance - is essential.
Reproduction quality from top-quality projectors can be impressive, but the real news on the projector front is the development of LED "lampless" technology. High-intensity LEDs run cooler and are much more energy efficient than traditional projector lamps, offer thousands of hours more of useful life, and easily provide the intense firepower needed to throw a clear, sharp image at a big screen.
Prices for a high-def 1080p projector range from $1,000 to $3,000, and get upward of $10,000 at the very high end. Throw in a retractable screen for $1,000 to $2,000, add a light-controlled viewing room and the price of classic home theater rises quickly for a medium that's not necessarily conducive to casual television or streaming media viewing.
Internet Streaming Capabilities
Bringing Internet content into home theater "is probably the most important development in the home theater experience," says About.com's home theater expert, Robert Silva. No longer confined to DVD movies and Super Bowl parties, HT is the venue for consuming all types of content. You can get news, weather, games, music, YouTube, Facebook, Twitter and more with a flick of your trusty thumb.
Internet-enabled devices include televisions, Blu-ray disc players, receivers and gaming consoles, such as Wii, Playstation 3 and Xbox 360. Lacking one of those, you can opt for a media extender - a standalone box whose job is to stream Internet content to your non-enabled entertainment devices.
Internet-enabled Blu-ray players are a current favorite, owing to the fact that they're already a highly desirable home entertainment component, and they sport a relatively low entry price. You can get a top-quality, high-definition, Internet-enabled player with built-in Wi-Fi for less than $250. For non-math majors, that's a lot less than a $5,000 Internet-enabled TV.
For a modest price bump, you also can add a 250 GB hard drive for storing your personal photos, videos and music files. And yes, 3-D capability is yet another option, with 3-D Blu-ray discs on the immediate horizon. Some Blu-ray players are "3-D ready," meaning they'll be able to convert to 3-D via a firmware upgrade whenever you - and the upgrade - are ready. However, you'll still need a 3-D TV to see those flinch-inducing scenes that pop into your living room.
Currently, manufacturers are busy hatching marketing deals with content providers so certain Internet services are only available on particular brands. You may get Picasa and Netflix from one manufacturer, and Flickr and Blockbuster from another. That kind of exclusivity is probably a short-term strategy, and it's likely most devices will eventually carry a fully developed suite of the most popular services.
Mobile Accessibility and the Impending App-Ocalypse
While there are those whose idea of entertainment is to use their mobile devices to watch reruns of Friday Night Lights on a screen the size of a tea bag while riding a commuter train out of the city, an increasing number use their mobile phone or pad to manage just about everything in their home environment, including their big screen home theater.
Via mobile apps, the touchscreen on your mobile phone or pad can use Wi-Fi to communicate with a centralized home automation control system, which then sends infrared or other signals to your devices and equipment. You can check your security system, adjust your home's heating and cooling, and tee up Hot Tub Time Machine. Later, from the comfort of your couch, you can use your mobile device as an all-in-one remote, switching between content sources, selecting programs and adjusting the light level in your media room.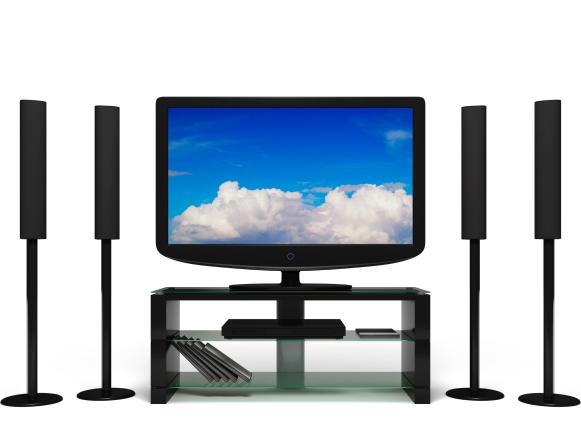 Sound Bar Audio Systems
Sound bars provide a solid alternative to multi-speaker surround sound. This system is much slimmer, which compliments a thinner television, while still providing the surround sound that viewers desire. These systems are relatively reasonable, ranging from $200 to $2000 and have a variety of uses such as iPod docking and satellite radio capabilities.
Sound bars provide a solid alternative to multi-speaker surround sound. This system is much slimmer, which compliments a thinner television, while still providing the surround sound that viewers desire. These systems are relatively reasonable, ranging from $200 to $2000 and have a variety of uses such as iPod docking and satellite radio capabilities.
Sound reproduction quality for home media continues to benefit from innovation and excellence. The trend is toward more compact, wireless systems that are increasingly affordable for the average audiophile and home theater buff.
Sound bars eschew the clutter and complexity of multi-speaker systems that typically have five to seven individual speakers placed around a media room. About 35 to 40 inches long and 5 to 6 inches high, sound bars present thin, sleek profiles that complement slim-profile TVs. They range from $200 to $2,000.
Bars include up to 40 individual speakers that offer a full dynamic range and are slightly angled to project sound around a room, re-creating the surround-sound experience. Although a separate subwoofer usually is recommended, sound bars are capable of producing rich, satisfying audio all on their own - although they work best in small to medium-size rooms. Most models include amplification, meaning speakers are internally powered and don't require a separate receiver/amplifier.
Befitting today's multi-faceted interconnectivity, sound bars offer a variety pack of possibilities that include:
Video switching. Plug all audio and video components into a sound bar and switch between them using sound bar controls. Some sound bars even upconvert lo-res video sources into high-def viewing.
iPod docking. Hook your iPod doc to your sound bar and you're ready to rock 'n' roll. Or minuet.
Get XM. Hook up an XM receiver to your XM-ready sound bar and get tons of music, sports and talk radio via satellite.
DVD viewing. Some sound bars include a DVD player - an especially handy feature if you don't have a DVD player, n'est-ce pas?
Digital sound projectors are a subset of the sound bar. In a DSP, each speaker features its own amplifier, all electronically controlled to fire at various ranges and speeds that provide ultra-realistic sound reproduction.
Wireless subwoofers free your audio system from hardwired connections (obviously) and give your sound design more flexibility and convenience. While you still need to plug your wireless subwoofer into a wall outlet, you'll gain a lot of creative options for placement. You'll spend $200 to $400 for top brands.
Probably the most significant development continues to be the democratization of home theater brought on by affordable, large-screen, hi-def television sets that display content in combination with super-high quality audio. The HT experience is more accessible than ever. And even though it's easy to get hung up on native resolutions, nominal impedance and gamma tracking, the route to home theater satisfaction is more straightforward.
"Lots of folks write me and ask about various numbers and test results," says Robert Silva. "But I think it comes down to a fairly simple set of criteria. Go and look at systems and listen to the sound. If you like it - if it all seems good to you - then that's really the bottom line."