Your Guide to Carpet Tiles
Carpet tiles encourage your own imaginative designs followed by easy DIY installation.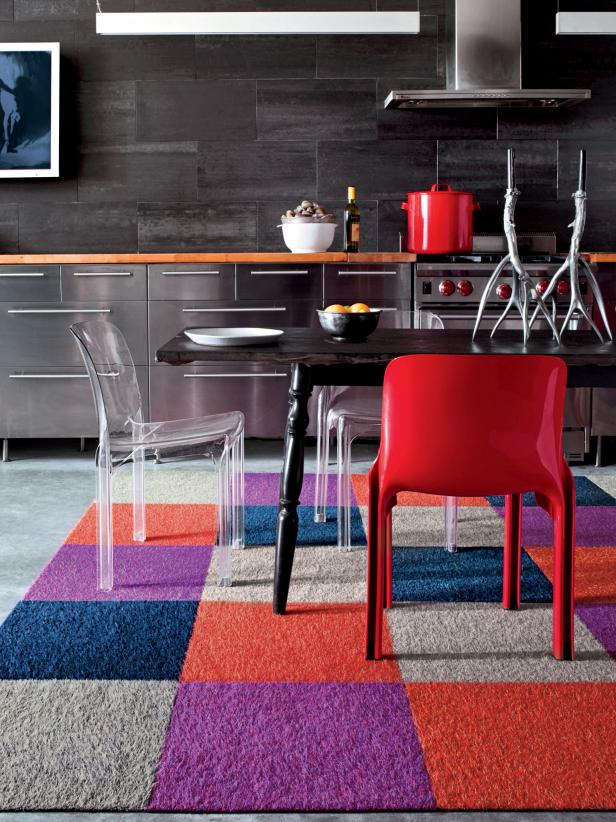 Colorful Carpet Tiles in Kitchen
Instead of searching endlessly for the perfect area rug, create your own colorful look with carpet tiles. You can achieve a big look on a small budget by going modular; just six FLOR® tiles can make a roughly 3' x 5' rug or a narrow 10-foot runner, and the individual tiles can cost as little as $8 apiece. Shown is the FLOR style House Pet, which comes in a rainbow of hues and can stand up to heavy foot traffic.
If you're looking to add a new area rug or runner to a room or hallway, check out carpet tiles. They're made in lots of colors and patterns so you can create your own unique designs. Plus, installation is simple and a good DIY project. You also can install carpet tiles wall-to-wall, which is just a bit more challenging.
Carpet tiles, sometimes called carpet squares, come in modular sizes like 18" x 18" and 24" x 24" that are ideal for building geometric patterns, and many manufacturers make companion half- and quarter-size tiles so you can jazz up your design.
You can also cut tiles yourself to make curved edges and unique insets, or simply install identical carpets to make a uniformly colored and textured rug. A popular method is to install identical tiles but turn each tile at 90 degrees to its neighbors. The slight differences in the direction of the weave of each tile results in a subtle checkerboard pattern and serves to disguise seams.
Carpet tiles are made with various fibers, such as wool and nylon, and cut-pile and loop piles in various depths — just like regular carpet flooring.
The biggest difference depends on the type of backing a manufacturer puts on the bottom of the tile. There's urethane, recycled vinyl, fiberglass, polypropylene and others. Whatever the backing, it's important to choose carpet tiles with a manufacturer's warranty against buckling, shrinkage and curling at the edges — the weak spot of carpet tile installation.
How To Install Carpet Tiles
Carpet tiles are either glued down or come with some version of peel-and-stick adhesive backing. For glue-down tiles, look for the manufacturer's recommendation for a pressure-sensitive adhesive.
Either method requires a clean, dry, hard subfloor. For below-grade basements, choose carpet tiles with a vapor barrier backing.
You can install over smooth ceramic tile that's well-bonded and stable. Level all grout lines with a leveling compound. Glossy tiles surfaces should be sanded to ensure the tiles bond tightly.
Temperature and humidity levels are important for good adhesion. Bring the tiles into the room you're carpeting and let them acclimate for at least 24 hours before installing. Temps should be at least 65 degrees and relative humidity between 10 percent and 65 percent.
It's important to set tiles with edges precisely aligned — any offsets will create open seams. A good method is to use a six-foot level to help keep edges in perfect alignment, moving the level along as you work.
How to Lay Carpet Tiles Wall-to-Wall
For wall-to-wall installations, you'll want to make sure that the edge tiles are at least a full half tile wide to help prevent edge curling.
Start by snapping diagonal chalk lines from corner to corner of your room. That'll give you a center point of your room for both width and length. From the center point, measure to the center of each wall, and use those measurements to adjust your layout to avoid narrow partial tiles.
Next, snap lines from the center point to the middle of each wall to divide your room into quadrants. Work one quadrant at a time.