Simple Carpet-Maintenance Steps
Caring for your STAINMASTER® carpet is easy. Follow these four steps and your carpet will feel great, look wonderful and last for years.
Courtesy of STAINMASTER® carpet




Vacuuming removes dirt that dulls appearance

Select a vacuum with good suction and strong beater bars, which brush the carpet and loosen dirt

Change vacuum bags and filters regularly
Treat your carpet well, and it will provide you with years of comfort and beauty

Here are some strategies for minimizing the rough and tumble wear and tear of every day living
Clean up spills promptly

Take aim at stains with our comprehensive Stain Removal Guide
Get your carpets professionally cleaned at least every 12 months, even if you clean them yourself in between

Lighter shade carpet may require cleaning more often

Professional cleaning methods include steam cleaning (known as hot water extraction), absorbent pad or bonnet cleaning, rotary shampoo, and dry foam powder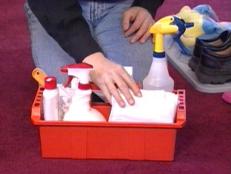 Use these simple tips to keep your carpet looking good for years to come.