The Best Bathroom Flooring Ideas
The best bathroom flooring ideas combine performance with good looks.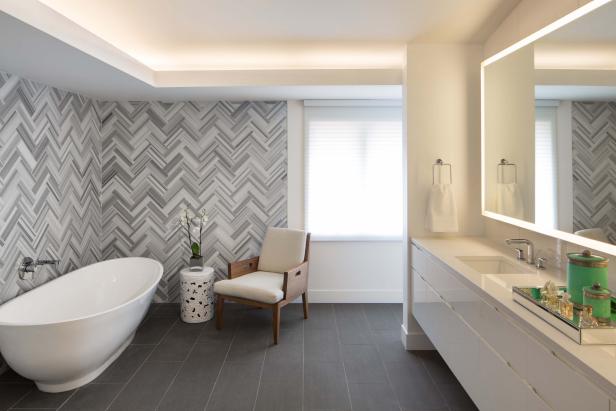 Herringbone Tile Wall Uplifts Modern Master Bathroom
This beautiful master bathroom, crafted by Design Platform, features a floating double vanity, a freestanding tub, a standing shower and two walk-in closets. Linear marble tiles in a herringbone pattern and a high-gloss white lacquer cabinet add modern elegance to the space. Matte floor tile in a darker gray completes the look.
Bathroom floors have their own special mantra: safe, waterproof, stylish. Here are the best time-tested bathroom flooring options:
Sheet vinyl flooring comes in a huge array of colors and patterns at a reasonable cost. You can find it at home improvement centers for $1 to $2 per square foot, and a competent DIYer can avoid the additional $1 to $3 per square foot for pro installation. Step up to $3 to $5 per square foot for textured vinyl that mimics tile and stone.
Sheet vinyl comes in 12-foot-wide rolls which makes most bathroom installations virtually seamless. By sealing the edges with silicone caulk, you'll create a splashing-kid-proof bathroom. Avoid vinyl tiles for bathrooms because the many seams gives water a better chance of finding its way to the subfloor.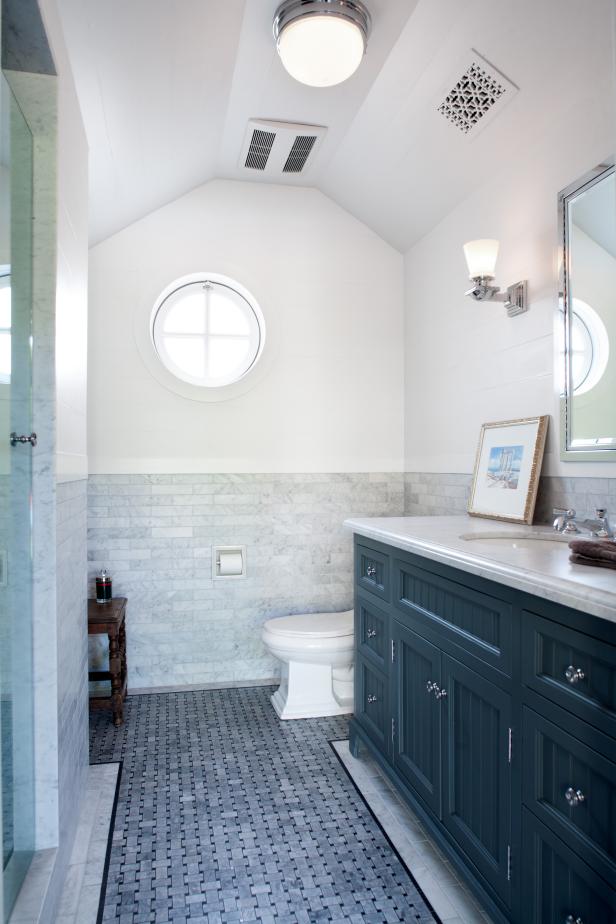 Basketweave Tile on Bathroom Floor
The pristine guest bathroom features beautiful tile in shades of gray. A subway tile backsplash continues around half of the room, while intricate basketweave tile is underfoot. The dark vanity with its beadboard-inspired front is dressed up with metallic hardware and an undermount sink.
Ceramic bathroom floor tiles are the designer's choice with endless sizes, shapes and colors to complement any scheme. The cost ranges from $1 to $20 per square foot. Professional installers charge $5 to $10 per square foot.
For a slight uptick in price, choose porcelain tiles. They're harder and less porous than regular glazed ceramic tiles and a better choice for bathrooms, but they're a bit trickier to install.
Glazed tiles can be slippery when wet, so you might want to look for tiles with textured surfaces or that have been certified as slip-resistant by the Americans with Disabilities Act (ADA) — look for the certification on the packaging.
Another anti-slip strategy is to choose bathroom floor tiles that are 4" x 4" and smaller. The many grout lines give the floor added traction.
Cork and Linoleum: The Green Options
Cork is waterproof, resilient and warm, so it's both splash-proof and comfortable underfoot. It has a textured surface that's slightly slip resistance, too.
It comes in 12" x 12" tiles and 1' x 3' planks, each with grain patterns that range from subtle to wild. The tiles and planks are DIY-friendly, but they create a lot of seams. It's a good idea to install unfinished cork, then coat your bathroom floors with a good sealer that will help guard seams against moisture.
Cork is made from harvested tree bark that grows back again, so it's sustainable as well as biodegradable. Cork flooring should be resealed every two to three years.
Linoleum is a resilient sheet flooring that comes in many vibrant colors and patterns. The basic ingredients are cork and linseed oil, so it's recyclable and biodegradable. Linoleum produces no harmful VOCs.
Although it's moisture-proof it's susceptible to staining, so wipe up spills immediately. Look for linoleum with a protective coating to help prevent scratches and stains.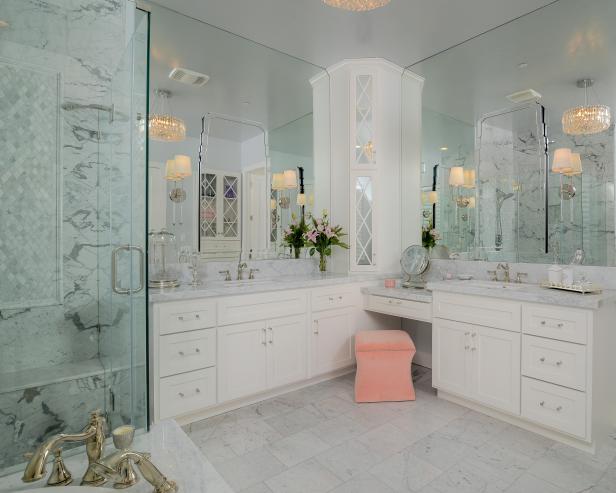 White Spa Bathroom With Built-In Vanity
The cool white palette of this spa bathroom also has texture thanks to varying patterns in the marble backsplash and floor.
Brian Kellogg Photography
If you'd like a little luxury, stone tile delivers — for a price. You'll find naturally beautiful stone tiles made of travertine, granite, marble, limestone and slate for $2 to $100 per square foot.
Polished stone tile can turn slippery when wet, so choose stone that's honed instead of polished. Tumbled stone and naturally cleft slate have textured, skid-resistant surfaces.
Softer stones such as sandstone, travertine and limestone can be used for baths, but should be refinished at least every two years with a quality stone sealer. Harder stones, such as granite and marble, can be resealed every four to five years.