Here's What You Need to Know Before Buying Drapes
Drapes are one of the interior designer's best weapons, bringing formality to a room, while also adding privacy and controlling light.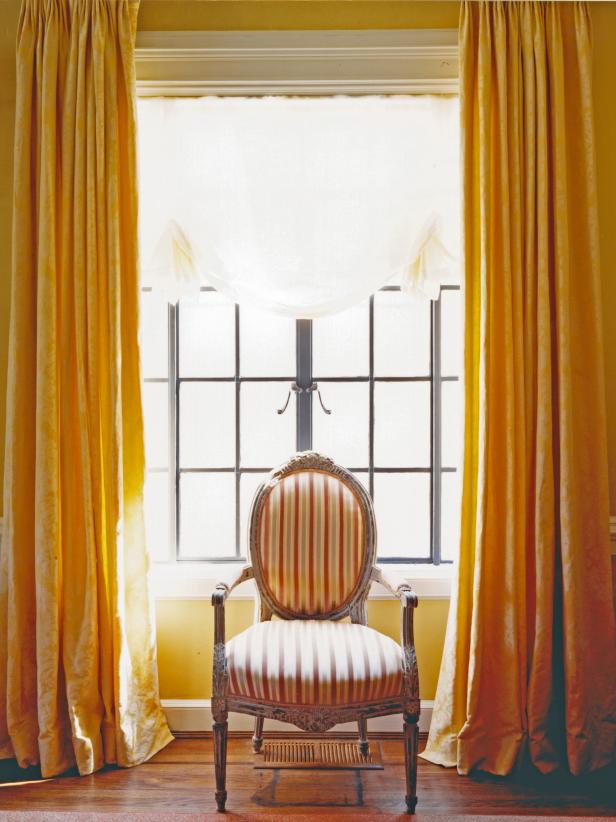 Gold Flowing Drapes in Front of a Large Pane of Old -Style Windows
Floor to ceiling draperies just barely puddle the floor in this castle-like setting. The Louie XV red-stripe chair sits underneath the gathered white sheers and black windows.
As interior designers know, the right drapes can make or break a room. These window coverings carry with them a sense of elegance and formality, giving a room a sophisticated, grown-up vibe.
How do Drapes and Curtains Differ?
First, some nomenclature. If you're buying window coverings, you'll often see ads for drapes, curtains and panels. Panels refer to a single panel of fabric; drapes and curtains are typically made up of multiple panels. And while we often use the terms drapes and curtains interchangeably, there's actually a difference:
Drapes: These are formal, heavier and are typically lined. They're used to block light and add privacy. Traditionally they were used in formal or private areas of a home, like a bedroom or living room.
Curtains: Light, often sheer, and rarely lined, these window coverings filter sunlight without adding privacy. Think colorful sheers in an office window or café curtains in the kitchen.
Curtain Jewelry
03:55
Great budget ideas to jazz up your drapes and curtains.
Drapes come in a variety of styles, often separated by headers (the way the top of the drape is finished). Some basic header types are:
Because they're more formal, they also often include toppers like swags, valances or window scarves. The panels can be left to hang straight to the floor, puddled on the floor, swept back by ties or arranged in a variety of classic tails, like bishop's sleeves or jabots.
Drapery hardware can be broken into these categories:
· Finials (decorative pieces on the end of curtain rods)
· Hangers (rings, grommets, hooks, etc.)
Rods are sold by length and come in a variety of types. Basics include round hollow rods in a variety of colors, materials and finishes; track systems that allow you to open and close the drapes with a cord; and dual rods with room for drapes and another item like sheers or a valance.
Rods can screw directly into the wall or rest on brackets, such as decorative corbels or sconces. Finials are the decorative pieces on the ends of the rods, and they range from modern-looking stainless steel caps to vintage glass knobs. You can also find birds, pineapples, artichokes and other shapes that represent your style.
Hangers can be both decorative and functional. Traditional curtain hooks were made to work invisibly, but other hangers like rings, grommets and ties, are part of the drapes' distinctive look.
Tiebacks and holdbacks vary, as well. Tiebacks can be the same fabric as the drapes, a contrasting fabric, or a ribbon or braid. Holdbacks come in an almost endless array of shapes, colors and styles, and they make quick work of opening the curtains – simply tuck them over the holdback and let the sunshine in.
Drapery Fabric and Custom Drapes
Drapery fabric ranges from satin, silk and velvet to lighter cloth like brushed cotton. Lining them gives drapes extra body. This helps them hold their shape and also presents a unified look to the windows from the street.
Custom drapes are a good option for hard-to-fit windows, or if you want to use a specific fabric. Lined drapes are relatively simple to make, though you can also commission them affordably through places like Etsy and local fabric stores.