Is The Standard Window Size a Myth?
Learn about the most common window sizes and whether there really is such a thing as a standard window dimension.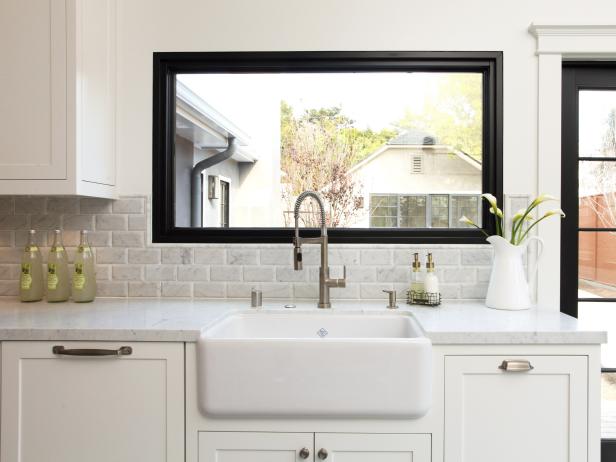 Farmhouse Kitchen With Apron-Front Sink
No farmhouse kitchen is complete without an apron-front sink. This white one flows seamlessly with the white cabinetry and light gray countertops and backsplash.
Arch-Interiors Design Group. Inc.
When you're thinking of replacement windows, the first question that probably comes to mind is, what's the standard window size?
But a quick search on the term gives so many options that it soon becomes apparent that there isn't one common window size. Windows come in a variety of shapes and sizes, from round windows at the top of a vaulted ceiling, to small windows in bathrooms, to giant picture windows. Even double-hung and casement windows have no standard window dimensions.
The real answer is, what size are your windows? That should be considered the standard. Fortunately, although windows come in all shapes and sizes, installers know how to properly measure to fit.
To give them a head start (or to allow you to order your own windows), here are some tips for finding your proper replacement window sizes.
The rough opening is the measurement from the inside of one side of the frame to the inside of the other. Manufacturers start with finding the window size by measuring the rough opening. To do this yourself, measure the top, middle and bottom of the window vertically and note each measurement. Then do the same horizontally.
If the difference in any of the measurements is more than one inch, the installers will use filler strips to level the window properly.
Windows measurements are first given in width, then height.
Once you have the rough opening, take 1/2 inch off of each measurement. This allows for flashing to be installed and for the window to be made plumb, or centered.
Double-hung windows, where both sashes move up and down, are one of the most common window types. These windows start at 24 inches and go up to 28, 32 and 40 inches. Their heights vary from 36 to 72, with heights of 44, 52, 54 and 62. Remember to take 1/2 inch off of each measurement for the correct window size.
Sliding windows have fewer size options than double hung: 36, 48, 60, 72 and 84 inches are the horizontal options. Twenty-four, 36, 48 and 60 inches are the vertical possibilities. If you hear an installer refer to a window by "6040," that would mean a window that is six feet wide by four feet tall.
Even though window sizes are all different, the technique for measuring is the same. Whether you're ordering your own replacement windows, or discussing options with an installer, knowing how to measure properly puts you a step ahead of the game.
Window Anatomy
01:00
Learn all about the anatomy of the window from top to bottom.