Here's What You Need to Know About Stained Glass Windows
Stained-glass windows come in a variety of styles, designs and colors. Get expert tips on designs, patterns and even panels.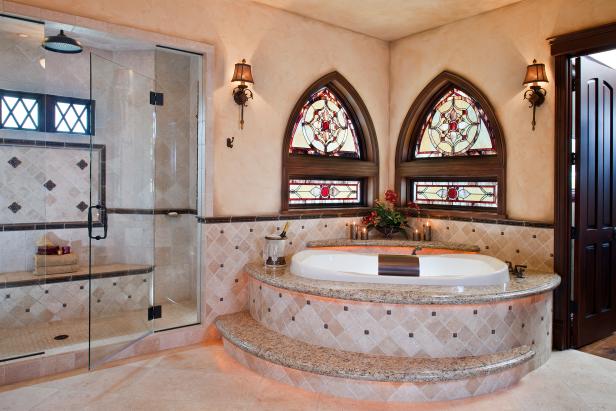 Traditional Bathroom With Stained Glass Windows
Beautiful, Gothic style stained glass windows make a dramatic statement in this traditional bathroom. Using the same tile pattern on the bathtub surround and on the shower walls doesn't distract from the unique windows and gives the bathroom a spa feel.
Stained glass windows, which came into fashion in Gothic churches, are a beautiful way to add color and architectural detail to a home.
Many places make custom windows, which work as new or replacement windows, to suit your home's design. You can also get a one-of-a-kind look with a vintage window.
Another way to get the stained-glass look without the price is to buy panels or art pieces and hang them from a window or in a room. For the DIYers, there are kits and also window film, which is a simple, quick way to get the look.
Stained glass window panels are a popular way to add the color and charm of stained glass without the headache of installation. Many architectural salvage shops sell vintage windows that can be used as panels. The panels are typically suspended from a window frame by a thin chain, which allows them to be easily removed for cleaning, or to switch a panel, for example, seasonally.
Panels can also be purchased from stained glass companies, and you can also buy directly from artists online, in galleries and at places like craft fairs.
Stained glass window hangings are a great alternative to a painting. They offer similar color and presence and come in a variety of patterns and designs, from traditional to Arts and Crafts to modern.
Hang a long narrow one above a window or door, suspend two large ones above your end tables or use one in a bedroom for a romantic look.
Stained glass window patterns and designs are based on the type of glass (opalescent or cathedral), the texture (beveled, crackled and seedy, for example) and the way the glass is arranged in the window frame.
Traditional patterns include clovers, flowers, religious symbols and geometrics. A rose window or Catherine window is an ancient design, often seen in churches, whose mullions form the shape of a rose.
Modern stained glass patterns include Arts and Crafts, abstract, natural world (birds, flowers, trees – even holly berries for Christmas) and geometrics.
How to Make a Stained Glass Window
To make a real stained glass window requires extensive training and tools. However, many companies offer startup kits, which allow you to buy tools, glass and patterns then show you step-by-step how to create a window.
Another option for the DIYer is window film. This self-adhesive film can be found at department stores, discount stores and home stores, alike. It peels on and off, and instantly makes any window look like stained glass.
Stained-Glass Window
04:27
John and Jimmy DiResta are called upon to create a stained-glass window.