Find Out What a Picture Window is and How to Decorate It
Picture windows increase the light in the room, but their large size can make them difficult to decorate. Get window treatment tips and more.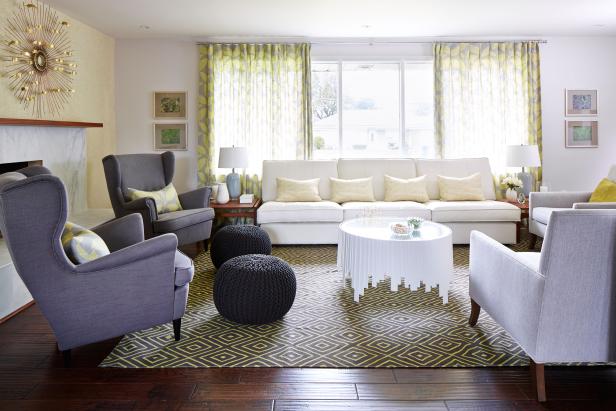 Bright, Eclectic Living Room From Sarah Sees Potential
As seen on season 1 of Sarah Sees Potential, designer Sarah Richardson filled this large living room with cozy, eclectic furniture and decor. Dark pink walls were painted a fresh white and a once over-imposing fireplace replaced with sleek white marble. Floor-to-ceiling curtains in a cheery yellow were hung to enhance the room's picture windows and add bold visual interest to a large, white wall. A gray and white patterned rug ties together the sleek modern furnishings and adds warmth to the new hardwood floors.
From:
Sarah Sees Potential
A picture window is a large window with a single pane of glass, usually found in living rooms – though also often found in kitchens or large bathrooms. They're fixed in the wall, so they don't open, and typically don't have mullions, unless they're toward the edges. They frame the view as if it were a picture.
The Symbol of Soulless Suburbia
They became a fixture in post-war homes, and thanks to John Keats' 1957 novel, "The Crack in the Picture Window," they became synonymous with the dark side of suburbia. With the resurgence of interest in post-war, 1950s and 1960s homes, however, the picture window has been somewhat redeemed.
Common Picture Window Sizes
Picture windows can be used with other types of windows, and are often framed by single or double hung windows. Picture window sizes vary based on the installation, but common measurements are between three and five feet wide and four to six feet tall.
Blinds for Picture Windows
Because they were built into post-war homes, which were predominantly modern in style, blinds suit them particularly well. Depending on the width of the window and the look you want, you might want to use one large blind or multiple blinds side by side.
Cellular and Venetian blinds are typically easier to fit on these large windows than softer blinds like Roman shades. You can find blinds for them by searching for "large window blinds" in addition to "picture window blinds."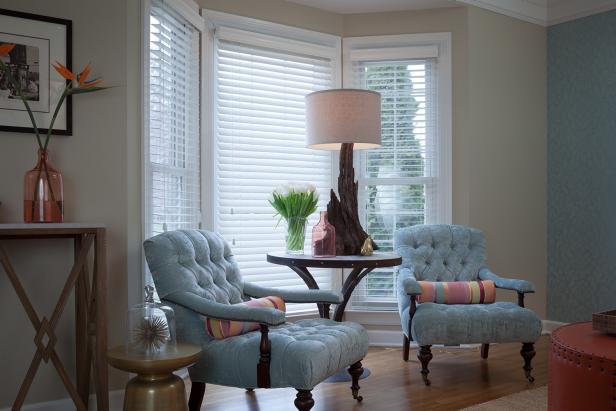 Living Room Sitting Area With Tufted Blue Chairs
This living room sitting area features pale blue tufted armchairs, a driftwood lamp, and a bay window with large white blinds.
While the original picture windows were a single, large horizontal pane of glass placed in a living room, over the years, their uses have expanded. Now ideas for picture windows are only limited to your imagination – just remember that these are nonfunctional windows, so use them in an area where opening them won't be necessary.
Picture windows can be placed in twos or threes, can be used in bay or can be turned into a wall of multiple panes of glass. They're particularly beautiful in a bay window above a window seat.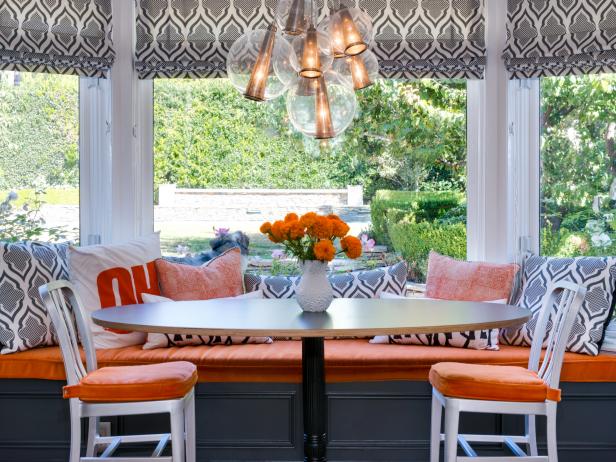 Gray and Orange Kitchen Banquette
This vibrant orange and gray kitchen banquette offers a prime spot to enjoy the bay window overlooking the backyard. Perennials fabric covers the seat cushions, including the Crate & Barrel Delta chairs. Graphic throw pillows complete the look and coordinate with the Roman shades.
When decorating them, blinds are a great starting point. But if curtains are your thing they look equally beautiful. Hang them an inch or two from the ceiling or crown molding to add height to the room.
Since picture windows were made to frame a view, extend the rod a few inches to the sides of the window when possible. This will allow you to push the curtain as far to the edges as possible, making space for that beautiful view.
To clean windows this large, invest in a squeegee. Mix a solution of one part vinegar and one part hot water, which breaks down dirt and grease, and cut your cleaning time, not to mention the streaks.
Blinds come in many styles and colors, and recently motorized options are available that will make your life easier.