In search of a contemporary front door to complement your home's exterior and add curb appeal? Check out these key components of a modern entry door.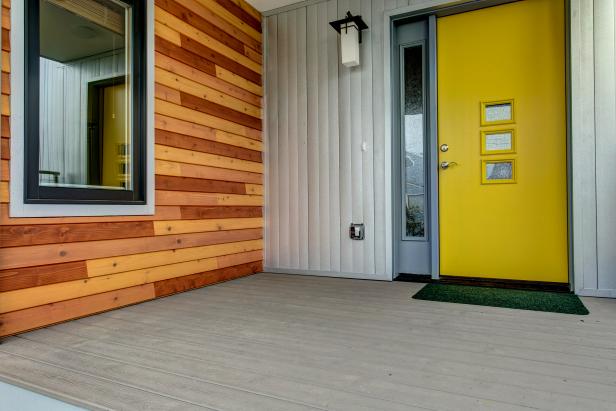 Modern Exterior with Canary Yellow Front Door
A canary yellow front with a green door mat is a bright and bold entrance to this striking modern home. Multicolor wood paneled exterior walls adds a neutral, craftsman look alongside the bright blocks of color.
John G. Wilbanks Photography
Sleek and clean, modern-style front doors follow the style of contemporary architecture and home design. Whether minimalistic, artistic or purely functional in nature, they are one of the most popular designs available in exterior home doors. Read on for a few features you're likely to find on today's modern entry doors.
As noted above, clean lines are often a key component in the style of modern doors. Rather than the elaborate or often ornate scrollwork and stained glass you might see on a more traditional entry door, you'll find simplified, straight lines and either transparent or translucent frosted glass. And, while simplified, the doors are far from boring. Depending on the exact selection, modern doors may feature beautiful abstract designs in clear glass or even a series of geometric patterns and shapes cut out of glass. If the door is solid, you might see a grid work or shape-centric design created with molding pieces.
In regards to color, many of the more simplistic designs will be either black, white, or gray — colors that are common to a variety of door styles. More adventurous contemporary doors may feature more vivid hues including lipstick red, lush green, electric yellow, deep navy or any other color of the rainbow.
When it comes to the type of material that composes modern doors, there's really no difference in what you would find for a traditional-, rustic-, or cottage-style door. You'll find options in wood, fiberglass and metal. For wooden front doors, light-hued options or selections with less pronounced wood grain, are popular choices. These include bamboo, poplar and maple along with other options. Fiberglass and metal doors will likely be painted to the homeowner's preference. More artistic versions of modern entry doors may feature ironwork or unique textural details as well.
Again, glass accents are popular in the design work. Rather than the vertical rectangular panels you often see on the top portion of Craftsman style doors or the centrally placed ovals found frequently on traditional versions, contemporary doors may have long horizontal panels of clear or frosted glass that run the width of the door or are arranged in an artful geometric pattern.
Finally, as with any door, hardware adds to the look. You'll find finishes such as chrome, satin nickel, brushed nickel, brass and gold at the top of the list. Pieces may either be bulky or minimalistic depending on the other details of the door. Long, linear bars that are placed vertically to serve as door pulls are a popular option. Deadbolt security locks accompany this type of hardware for security. Door knockers and other hardware are generally at a minimum on modern front doors. However, there may be digital cameras or security features nearby to assist in seeing and recognizing the guests at the door.