How to Clean Window Blinds of All Types, From Vertical to Venetian
If you're wondering how to clean blinds, here are simple tips for speeding you through this twice-a-year chore.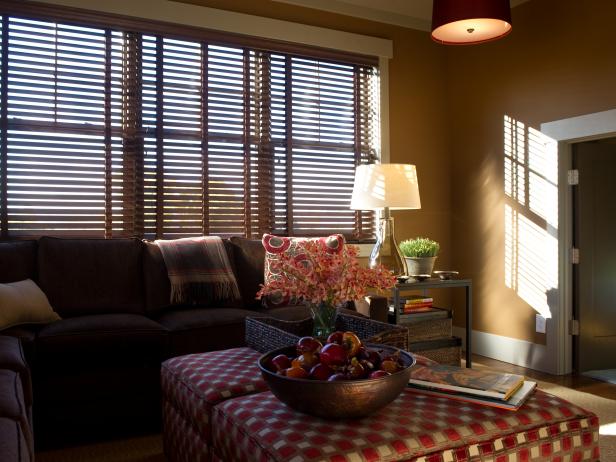 HGTV Dream Home 2012 Family Room
The furnishings in this room all serve a multipurpose. The chenille sectional can be pulled out to make a queen sleeper bed. The checkerboard ottomans double as tables and extra seating as well as punctuate the room's rich color palette of mocha, pomegranate, cream and tan. The classic wood window blinds allow for privacy or dramatic lighting.
Blinds are a popular window covering, adding decorative punch while also protecting privacy and allowing you to control the light entering the room. If you're wondering how to clean your window blinds, here are some tips and tricks that will speed you through this chore.
No matter what type of blinds you have, vacuum them with the brush attachment each time you clean the house. Not only does this mean you'll need to deep clean them only twice a year, it also increases their durability, saving money in the long run.
Always clean with the direction of the slats or honeycombs, not against it. And be sure to clean both of the sides, the hanging apparatus and any cords.
Wipe wood blinds with a damp cloth dipped in vinegar. Not only does vinegar cut through dirt (even grease), it's also a natural antimicrobial. Wipe the blinds dry immediately to prevent warping or discoloring. Condition them with a wood conditioner to protect them against sun damage.
Clean faux-wood blinds using the same method as wood blinds, but skip the wood conditioner. Instead, when they've been cleaned, run a fabric softener sheet over each slat. This will prevent dust build-up for several months. When the magical dust-repelling properties have stopped working, simply wipe the blinds with a new cloth.
It's easiest to clean aluminum and vinyl blinds by washing them in the tub in a little bit of Dawn and warm water. Let them soak then scrub them gently with a sponge – a sponge mop makes particularly quick work of this task.
Drain the water, refill the tub and let them soak again to remove any remaining grime. Then drain the tub again and put the blinds on towels to dry. You can also hang them from a clothesline or dry them on towels on the lawn. Let them dry completely before rehanging them.
Tip: If you have a whirlpool tub, turn on the jets, and voila! No scrubbing required.
Clean vertical blinds using the same method as for faux-wood blinds, unless they're fabric, and then use the directions for cleaning fabric blinds. For a quick pick-me-up between cleanings, use a lint roller on the slats – it will quickly pick up cobwebs and dust.
Fabric Blinds (Pleated, Roman, Roller and Cellular)
Thoroughly vacuum the blinds with the dust brush of your vacuum cleaner. If your vacuum cleaner has a low setting, use it to decrease the possibility of damaging the blinds.
Another option is to use a blow dryer set on cool. With it, you can blow away dirt or bugs caught in the honeycombs, rolls or creases.
If fabric blinds are stained, dampen a microfiber cloth and blot the stain away. Use a little fabric detergent for set-in stains. Let the blinds dry completely before raising them. If they're badly stained, take them to a dry cleaner.