How to Buy Clean and Repair Venetian Blinds
These slatted shades have a multitude of benefits, not just in light control but style, too.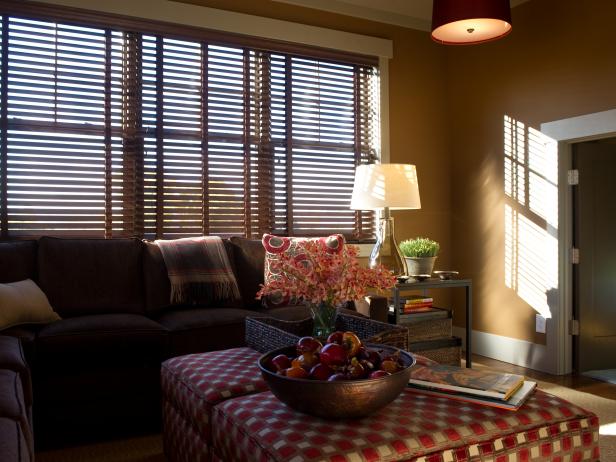 HGTV Dream Home 2012 Family Room
The furnishings in this room all serve a multipurpose. The chenille sectional can be pulled out to make a queen sleeper bed. The checkerboard ottomans double as tables and extra seating as well as punctuate the room's rich color palette of mocha, pomegranate, cream and tan. The classic wood window blinds allow for privacy or dramatic lighting.
Venetian blinds, the shades with horizontal slats, have been popular in America since the 1760s when St. Peter's church in Philadelphia was fitted with them. They had been used for centuries before that by many cultures, including the Chinese, who made the slats from bamboo.
Slats range from 1/2-inch to 2.5 inches. Two-inch slats are the most popular size.
Venetian blinds are just as popular today, not just for their sleek look, but for a multitude of other reasons, too. Those include:
In addition to the benefits above, Venetian blinds have a classic style that suits most decor types. Installing them inside the window frame gives them a neat appearance and allows them to be used with other window treatments, like drapes, valances or window scarves.
Venetian blinds come in several popular types:
Aluminum blinds are durable and easy to maintain, but can rust if exposed to moisture for long terms, so are better off not used in bathrooms. They have a sleek, sometimes retro look (depending on the color) that suits modern and contemporary spaces. Aluminum blinds are one of the least expensive options.
Wooden blinds offer warmth and texture as well as classic style that works in traditional, cottage and country homes. They are subject to moisture damage, so – as with aluminum – using them in rooms where moisture is not an issue will help them last longer. Wooden blinds are the most expensive type.
Faux wooden blinds are most often made of PVC, the synthetic resin used in everything from shower curtains to PVC piping. The wood grain is stamped on, giving faux wooden blinds the look of real wood without the cost. Because they're made of plastic, they are extremely durable and not prone to moisture damage like other types of blinds.
Typically made of vinyl or aluminum, mini-blinds are used primarily for small windows or as coverage for French doors. Their slats range from ½-inch to 1-inch. Because they're made of durable materials, they're great window treatments for bathrooms or patio doors that get maximum sun exposure.
How to Clean Venetian Blinds
Venetian blinds are some of the easiest blinds to clean. They can be wiped with a damp cloth and a small amount of detergent, or vacuumed with a brush attachment on the end of the hose. In rooms like kitchens, where they're apt to become greasy, cut the grease with water and dish soap or spray on a 50-50 mix of water and vinegar. Many companies also make blind-shaped vacuum attachments and dusting cloths, making it easy to clean both sides of the Venetian blinds.
When blinds become damaged, you can repair them yourself for a fraction of the cost of replacing them. Venetian blind parts include:
Sourcing repair parts from companies online makes it more likely to find the parts you need, especially if your blinds are more than a few years old. Many places like fixmyblinds.com allow you to identify your blind and buy parts then offer instructions and troubleshooting for repairing your blinds.
Depending on how damaged your Venetian blinds are, it may be easier to replace them. Luckily, installation is simple and can be done in 10-15 minutes.