Garden Windows Are a Great Way to Let in the Sun
If you love having fresh herbs at hand, a kitchen garden window may be just the thing.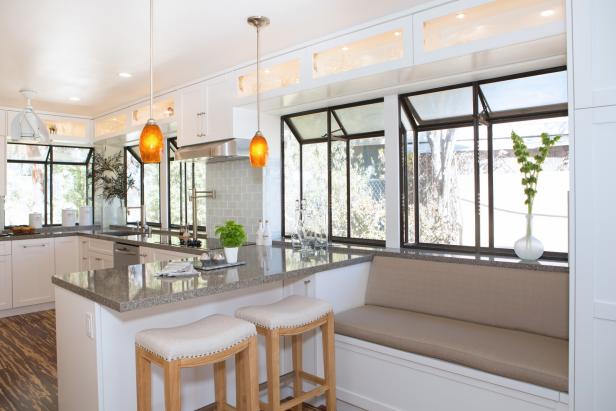 Transitional Kitchen Feels Fresh, Airy
Surrounding windows give off a greenhouse effect to this kitchen, filling it with lots of natural light. Orange pendant lights add a pop of color to the neutral color scheme. Beautiful white cabinets pair with gray granite countertops to complete the fresh, elegant design.
ERIKA BIERMAN PHOTOGRAPHY
Epicures, gardeners and plant lovers, unite. The kitchen garden window puts fresh herbs, veggies and flowers at your fingertips, year-round.
These small bay windows can be fitted new or as a replacement for an existing kitchen window. They typically have at least two vented panes, which allow you to open them to let in the air.
They're outfitted with shelves for plants, from succulents to herbs to pots of flowers. Cooks might like theirs filled with terra cotta pots of cooking herbs, giving their kitchen the feeling of an Italian villa, while gardeners might prefer hen-and-chickens or strawberry pots filled with berries.
A kitchen garden window also lets in tons of light, brightening the room even on the darkest of days. They're a fun way to bring the greenhouse indoors, and let you grow a variety of plants all through the year.
Garden windows are best when professionally installed. Typically made from vinyl, they are easy to clean and long-lasting. They should be placed away from sidewalks or other traveled areas, like a driveway.
Handier types might want to try their hand at installing a garden window themselves. Be sure to check with your local building inspector to make sure a permit isn't required.
If you're concerned about sun damage to fixtures and furnishings, look for windows that block radiation while still allowing the full visible spectrum of light, which the plants need for optimum growth.
Make sure the garden window you purchase is energy efficient with Low E glass and Argon gas, and designed to be easily cleaned and maintained. If you purchase your kitchen garden window from the same company that manufactured your windows and doors, they will often have a line made to match your existing materials. This creates a unified look, even if your kitchen window is installed years after your home was built.
If matching existing details isn't possible, purchase a garden window as close to the the same color and style as your windows as you can find.
You can also get the effect of a garden window by placing potted plants on a kitchen window sill, or even a long, narrow planter on the countertop behind the sink, if room allows. Another option is to hang a window box for seasonal flowers and plants outside the window, allowing you to slide the window up and snip what you need.
Kitchen gardens increase curb appeal. Choose one that fits the style of your home and fill it with the plants you love. Your home will be brighter for it.
Big Impact Garden Window
02:58
Discover how a garden window can increase natural light in your kitchen.