Entry Doors: Portal to the Soul of Your House
Learn the pros and cons of different types of entry doors, the various styles and latest trends.
Looking to make a great first impression? How about switching out that overgrown cereal box you call a front door for an entry door that's as stylish and welcoming as you are? When it comes to adding some curb appeal to your home - and making a statement about who lives inside - your front door plays a leading role on the grand theater of your property.
Door manufacturers are willing partners, providing more options and configurations than ever, along with custom services that let you dial up your own personalized entry.
"One of the trends we see is toward unusual shapes and sizes," says Brad Loveless, marketing and product development manager for Simpson Door Co. "People don't necessarily want a cookie-cutter front door. After all, it's one of the first things you see on a house and it lends terrific perceived value."
The good news is that a good-looking entry door isn't necessarily a budget buster. Yes, you can get a custom-made front door with gorgeous art glass and hand-forged hardware that costs as much as a late-model Porsche, and your entry will be nothing short of impressive. But today's manufacturing techniques are sophisticated enough that even modestly priced doors are well-made and nicely designed and off-the-shelf models from home improvement centers include jambs and casings that turn door installation into an easy, money-saving weekend DIY project.
Entry door prices start around $150 for ordinary six-panel steel doors and range up to $3,500 for solid wood doors with an art glass window. Add about $300 for professional installation of a basic door. Made-to-order doors featuring rounded tops, custom craftsmanship or unusual sizes can cost up to $10,000. Prices for all doors can escalate depending on options, such as sidelights, transoms and hardware.
A new entry door adds value. According to Remodeling Magazine's annual Cost vs. Value report, an entry door replacement project featuring a new steel door returns almost 130 percent of the installed cost - the only project in the report that has an immediate positive return on your investment.
Doors of Steel
A steel entry door combines strength and stability with relatively low cost. A steel door has a well-deserved reputation for security and weather resistance, but fiberglass and solid wood doors are solid performers too.
Steel doors aren't made of solid metal - they have a polyurethane core with a 16- to 24-gauge steel skin. That core material is an excellent insulator, and steel doors rate high as thermal barriers.
Steel doors come either primed or with factory-applied paint. Some feature a vinyl coating that simulates the look of wood grain.
The Achilles heel of the steel door is that it is prone to dents and dings that may be difficult or impossible to repair and scratches in the surface may rust. In a heavy-use area, such as your front entry, the risks of accidental damage increase.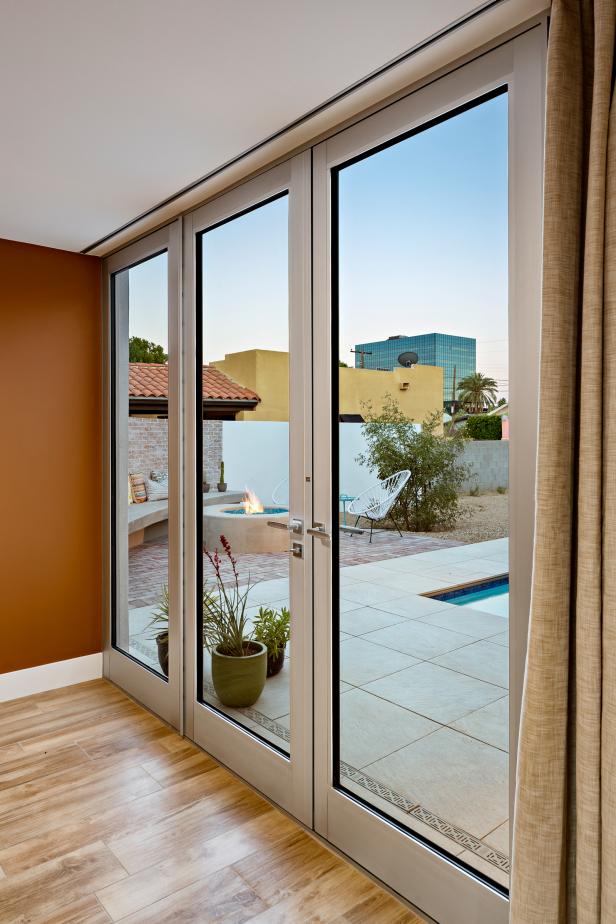 Indoor-Outdoor Metal Frame Glass Doors
These metal framed glass doors provide access between the indoor living space and outdoor pool and patio areas. An adjacent rust orange accent wall provides a pop of color.
Precious Metals
On the opposite side of the price spectrum from steel, wood doors clad in aluminum, copper and bronze fill the need of homeowners who want durability and a distinct architectural accent. Aluminum-clad doors feature tough, factory-applied finishes that have warranties of 10 years of more and are exceptionally weather-resistant. Sophisticated extruding techniques ensure that joints and details are crisp.
Copper- and bronze-clad doors feature finishes that are changing subtly, but constantly, due to oxidation and their variegated appearances hide scratches and other imperfections gathered over time. Teresa Grabill, CFO of custom window and door manufacturer Grabill in Almont, Mich., estimates that a bronze-clad door costs approximately 40 percent more than a comparable all-wood door.
Fiberglass
If there's a buzzword in the world of entry doors, it's fiberglass. Price-wise, fiberglass sits in the middle between steel and wood doors, but outperforms both in terms of toughness and low-maintenance.
Similar to steel doors, fiberglass-clad doors feature an inner foam core that contributes light weight and high energy efficiency. The core is covered with a layer of fiberglass that's impervious to moisture, rot and insects.
These days, door manufacturers are getting very good at having embossed fiberglass mimic the look and feel of real oak, mahogany, fir and other woods. Finished in one of a variety of stain colors, fiberglass doors are tough to tell from the real deal. Crisp detailing on good-quality models completes the deception.
Fiberglass doors are stable and won't warp in weather extremes and are good candidates for paint. Because fiberglass doesn't contract and expand with changes in humidity as much as real wood, paint and stains last a long time, and fiberglass doors rarely need a touch-up.
Fiberglass doors are readily available at home improvement centers where price ranges from $200 to $2,500. Complete fiberglass door systems with a pair of art glass sidelights reach $3,500.
According to Remodeling Magazine, a fiberglass entry door replacement project doesn't have as big of a return as that of a steel door, recouping only about 65 percent of your investment.
Wood
If your plans call for a front door with character, warmth and style, wood is the top choice. Unmatched for natural beauty and substance, wood doors with a natural or stained finish harmonize with all styles of houses. Lower-grade woods and finger-jointed construction - doors made with unmatched pieces of wood - take paint readily. In the hands of an experienced craftsman, wood is relatively easy to shape and cut, so custom possibilities are endless.
Wood doors generally are the most expensive door option, ranging from $500 to $4,000 for standard manufactured doors and more for custom sizes and configurations. Popular woods include oak, cherry, mahogany and clear fir, but wood door specialists may offer more exotic options.
"We're always experimenting with new technologies and materials," says Simpson's Brad Loveless. "We're currently using some very tough, weather-resistant woods such as black locust and nootka cypress that are incredibly durable."
If environmental impact is a concern, look for doors made with wood certified by the Forest Stewardship Council to be sustainably grown and harvested.
The drawback of wood is that it needs consistent maintenance, especially in harsh climates or if the door is exposed to moisture and direct sunlight. Hairline cracks and changes in the color or texture of the surface signal it's time to repair the finish. Expect to touch up your door's finish every two or three years.
Bells and Whistles
Although you can buy an entry door all by itself, most come as door systems that include the framework and all the necessary hinge mortises and cutouts for latches and deadbolts. Systems can get quite elaborate, and can include double doors, one or two sidelights and rectangular or arched-top transom windows. Finished entryway systems can be 16 feet wide and nearly as tall.
Doors can be solid, all-glass and everything in between with limitless selections of grills and art glass possibilities thrown in to the mix. "Options and flexibility are driving factors in the market right now," says Lance Premeau, product and market analyst for Kolbe Windows and Doors. "Consumers want the freedom to choose their own styles and materials. As a result, our product offerings are very complex."
To help the stylistically challenged consumer negotiate this option-rich environment, the web sites of most major manufacturers offer sophisticated data bases that provide styles, shapes, colors, and other goodies at the click of a mouse. However, you'll probably have to have a local supplier work up a price for your tricked-out entry.
Impact-Resistant Doors
In many coastal areas, local building codes specify that windows and doors are tough enough to withstand impacts from flying objects, such as might occur during a severe storm. Florida and Texas lead the way for stringent rules governing the types of doorway systems that can be installed in areas at risk for high winds.
In Florida, for example, the Department of Community Affairs has designated specific areas as "hurricane protection" areas where building materials for new construction - specifically exterior doors and windows - must be able to withstand wind-borne debris travelling in excess of 120 mph.
That's a wallop an ordinary door won't take. Some manufacturers, however, specialize in creating tough door systems designed to meet the strictest building codes. Laminated construction, with fiberglass mesh sandwiched between layers of plywood, prevents wood styles and rails from giving way on impact. Steel rods embedded in the frame add strength. Laminated glass, similar to automobile glass, keeps window openings sealed even if the glass is shattered.
It's important to note the distinction between doors claiming to be impact resistant, and those products that are actually tested to meet standards set by the American Architectural Manufacturers Association for resistance to impact.
"Testing is expensive and not all manufacturers actually test," says Steve Lashley, owner of Surewood Doors in Naples, Fla., whose products are exclusive to the high-impact market. "Some products are engineered, meaning the product specs are reviewed and approved by an engineer, but not actually tested and certified by an independent laboratory."
Approved products receive a Notice of Acceptance (NOA) from the state or county. Notoriously strict (with good reason) Miami Dade County, for example, has a database of building products approved for high-impact resistance. Those interested in impact-resistant doors should look for testing certification and an NOA.