Bring on the Fun and Function With Roman Shades
Roman shades come in a variety of styles, including bamboo. Plus, they're easy to DIY.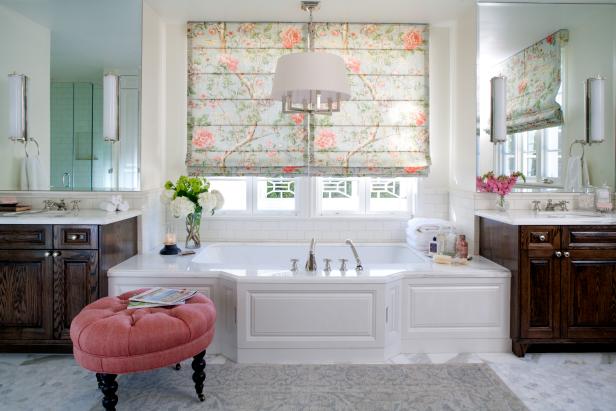 Romantic Master Bathroom With Luxurious Whirlpool Bathtub
This dreamy traditional bathroom features a spacious whirlpool bathtub with a dark brown wooden vanity on either side. A large window at the center of the bathroom allows natural light to flood the space, while soft pink and light blue floral Roman shades add a touch of feminism.
Roman shades are a classic window covering, with a variety of styles that suit any decor. They're lighter than curtains and warmer than vinyl or aluminum blinds – and if you make them yourself, they're super affordable.
Constructed or Unconstructed
Roman blinds come in two types, constructed and unconstructed. Unconstructed blinds are a single (though they can also be lined) piece of unsupported fabric with cords on the sides, which pull up the fabric, pleating it attractively at the top of the window.
Unconstructed Roman shades are made with a single, flat panel that hangs straight over the window. They are free of seams and extra supports, giving them a loose, casual appeal.
Constructed blinds have supports, like stays in a corset, which help the blinds keep their shape. The supports can be seams (in which several panels are sewn together to create the shade), or they can be metal or wooden rods inserted every 6-8 inches into the back of the fabric. This gives the shades a more structured appearance, and makes them more durable.
Easy Custom Roman Shades
04:10
Ariel demonstrates how simple it is to make your own elegant Roman shades.
Constructed blinds have a modern, unfussy look that suits similar decors, but they also work in a traditional or romantic interior design, especially when paired with drapes.
Tip: If your windows are wider than 54 inches, make sure there is an extra cord inside the shade, which will create another pouf while better supporting the blind.
Flat Roman blinds, which are a single fabric panel, can be constructed or unconstructed. Because of their flat appearance, they show off large prints to advantage. They have a casual look that's a natural for interiors like beach homes, country homes. They're also a good fit for rooms like kitchens or kids' rooms.
Butterfly blinds are similar to flat shades, except that the ends of the shades are left to hang free, creating the look of butterfly wings.
Balloon shades are highly decorative and, as such, aren't made for daily use. They should be mounted outside the windows <link to mounting article>. To balance the bottom scallops, these blinds often have tailored inverted pleats at the top.
Bamboo Roman shades can be woven, reed or matchstick styles. They come in a range of wood tones from white to espresso, and many also have a liner that blocks light and makes for a unified appearance from the street.
If you want to know how to make Roman shades, there are many patterns available. Here are two DIY Roman shades from our blog:
Save money and get classic, custom window treatments in the bargain? Who wouldn't love that?