5 Arched Window Treatments That Are Sure to Please
Browse beautiful arch window treatments, from curtains to shades.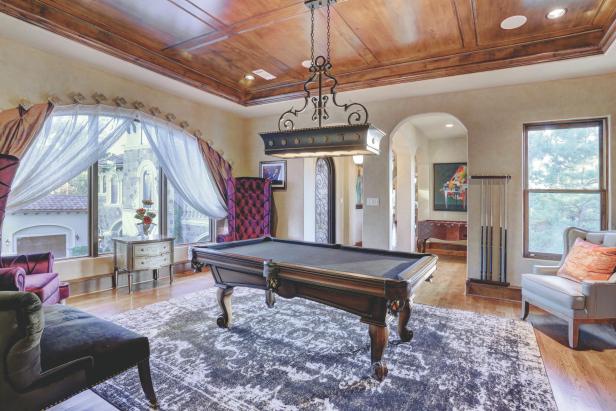 Traditional Billiard Room With Navy Area Rug
The stained wood tray ceiling draws the eye up to add height to this billiard room. An over-dyed navy rug balances the dramatic ceiling detail and creates a defined area for playing pool.
John Daugherty, Realtors a member of Luxury Portfolio International
Arched windows are some of the most graceful window shapes, adding classic design and architectural interest to your home. But their lovely silhouette also makes them tough to cover. Do you choose blinds, curtains or nothing at all? Read on and find one arched window treatment idea that's sure to work for you.
Whether hung on an arched rod or a straight rod, curtains make a natural window covering for arch windows. Designers often use the romantic, curving window as a base for an elaborate curtain, using princess-style overlaps, sweeping swags or graceful jabots to highlight the size and shape of these elegant openings.
Windows hung straight, either at ceiling height or at the top of the arched window, give the effect of blending the arch into the decor and streamlining the window.
Architectural Window Valance
An architectural window valance can breathe new life into a tired room.
You can also hang decorative curtains that cover part of the window but don't open or close, which will soften the window without blocking the view.
Arched window blinds come in a variety of types, from a sunburst shape of fabric to fan-style honeycomb blinds. Blinds are low-maintenance, especially if they're vacuumed or dusted regularly, and quite durable.
In the past, these blinds were stationary, but now several companies make arch window blinds that can be raised and lowered, maximizing your light and privacy options.
Arched windows are best friends with valances. Whether you're using a fabric topper or an upholstered valance, these elegant window treatments look beautiful with swags and pleated drapery beneath. The lower arch of the valance will follow the window's edge, drawing the eye to the window. While this seems uber-traditional (not to mention formal), using lighter, sheerer fabrics will give a more casual look.
When you can leave your windows uncovered, consider, adding elegance with mullions. Mullions are the vertical bars between windowpanes, and this look gives windows Gothic or English country style.
Mullions can be straight, creating squares, diamonds or rectangles. Or they can fan out, arch and even overlap. These can be planned into the window from the beginning or added later, when the windows need to be replaced.
Leadwork or Stained Glass
Leadwork and stained glass are also beautiful options for your arched windows. Leadwork – or stained glass windows with clear glass – adds an almost lacelike effect to arched windows, obscuring without completely blocking the view.
Stained glass diffuses light, adds beautiful color and can take on any style from modern to styles that are as traditional as an old church. Speaking of churches, you can find vintage church windows on places like Etsy and eBay, which can be made to fit modern windows.