All About the Different Types of Plantation Shutters
Plantation shutters come in vinyl, composite and wood. Which is best for your home?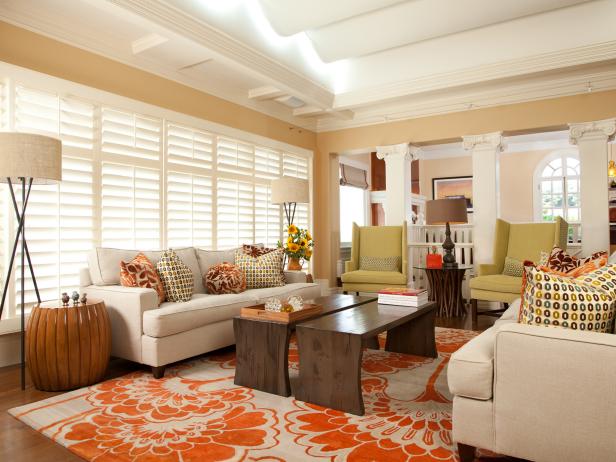 Warm Transitional Living Room With Wood Shutters
A lively orange-and-cream rug with a camellia motif warms this living room. Oak benches act as coffee tables, while white wood shutters line the wall of windows.
Jo Ann Hartley Interior Design
Plantation shutters, sometimes called plantation blinds, are interior shutters with wide louvers, usually 3-1/2 to 4-1/2 inches wide. They're the most popular type of shutter across the country, but particularly in the warmer Southern and Western states.
The larger louvers give the shutters an elegant look, which works well in dining rooms and bedrooms. But these versatile window treatments also translate to casual rooms like dens and kitchens. The most popular color is white, but stained shutters have their followers, too.
Plantation blinds come in three types of material, vinyl, composite and wood. Here's a breakdown of each, to help you determine which is best for your home.
Vinyl Plantation Shutters
Vinyl shutters are the least expensive of the plantation blinds, but the low-end ones can have structural issues, if the shutters are large.
Vinyl shutters contain no wood, but they can have PVC or aluminum supports for stability. Their main advantage is cost. They're also weather resistant and good in high-moisture areas. Vinyl plantation shutters come in the following types:
Hollow vinyl – These shutters are exactly what they sound like: hollow vinyl frames. They have the benefits of vinyl but have size limitations because the hollow frame can't support the weight of larger frames. While these are the least expensive of the options, they can sag over time.
Structured hollow vinyl – This next step up includes a vinyl skeleton within the shutters to support the shutter's weight, reducing the amount of sag in the vinyl. Still considered hollow, these have better structural integrity.
Solid vinyl – Next up the shutter food chain is solid vinyl, which is a vinyl frame that has been filled with blown PVC. These are more stable than hollow shutters, and still on the low-end cost-wise.
Solid vinyl with an aluminum insert – These offer the support of metal with a lighter profile.
Vinyl-clad wood – These shutters have a hard wood frame wrapped in vinyl. They offer the strength and durability of wood with the benefits of a vinyl coating, which increases their moisture resistance.
Composite Plantation Shutters
Composite plantation shutters – sometimes called engineerd wood, fake wood or faux wood – are made of engineered wood, which is MDF wrapped in a vinyl or PVC coating. They are very sturdy, while also being weather and humidity resistant. They offer an affordable alternative to wood shutters.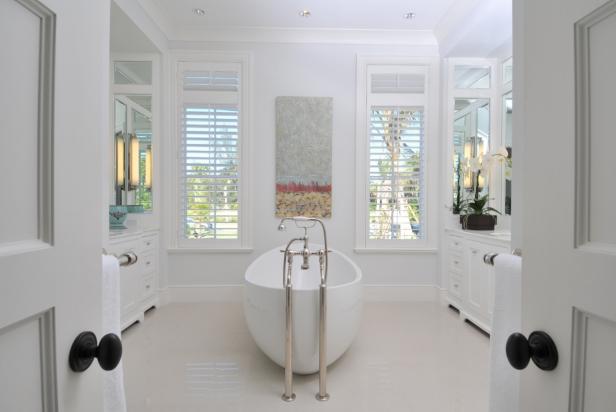 Transitional Bathroom Is Light and Airy
Double doors open to a spa-worthy bathroom. A contemporary soaker tub takes center stage and is flanked by windows with wood shutters that allow a lot of natural light in the room.
Clifford M. Scholz Architects
The ultimate shutter is a true wood shutter, and the gold standard of plantation shutters is basswood. It has the highest strength-to-weight ratio, making it very light and strong.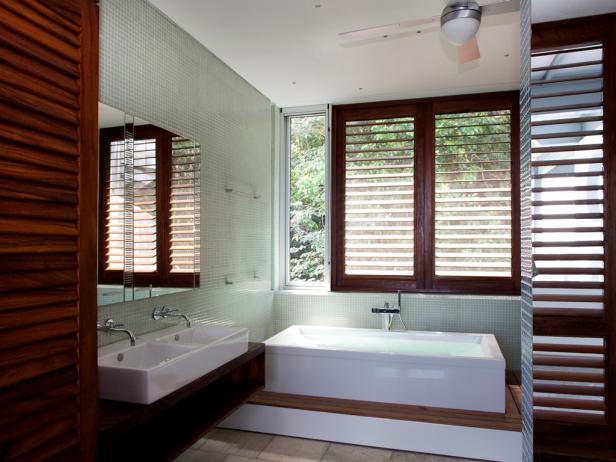 Contemporary Bathroom With Wood Shutters
This contemporary bathroom features cabinetry, doors and window louvers made from locally sourced wood. Glass tile walls create a soothing backdrop against the sleek tub and floating vanity. The home uses low-flow and oxygen-infused plumbing fixtures to reduce water consumption.
Wood can be honed into custom shapes and sizes, and it can be painted or stained, unlike vinyl and composite, which are prefabricated into styles and colors.
Plantation shutters are a beautiful, affordable window treatment, and whether you choose vinyl, composite or wood, these classic coverings will add style to your home for years to come.
Reclaimed Wood Shutters
01:00
Matt Muenster shows how wood shutters can add style to a bathroom.
Picture windows increase the light in the room, but their large size can make them difficult to decorate. Get window treatment tips and more.
Blinds come in many styles and colors, and recently motorized options are available that will make your life easier.
Skylights bring natural light into areas that normally wouldn't have windows. They come in a range of designs. Check out the three standard types of skylights that are used—ventilating, fixed and tubular.