The Benefits of Going Green in the Bathroom
Learn how to use eco-friendly bathroom design to save energy and water, lower your utility bills and create a beautiful bathroom in the process.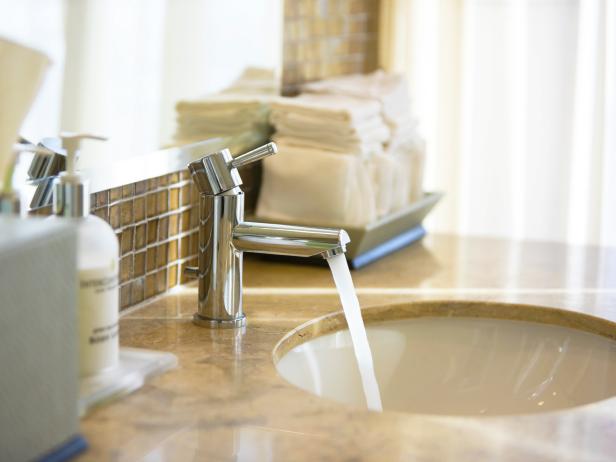 Bathroom Sink With Neutral Countertop and Backsplash
Another reason to work with a designer on your bathroom renovation: using the existing piping will save you big bucks. Relocating utilities like the toilet and the bathtub are no small task: Designer Justin Riordan says it costs about $5,000 each time you move plumbing fixtures.
©iStockphoto.com/webphotographeer
Bathrooms are among the easier rooms in which to go green. Changing out fixtures manufactured before the water conservation mandates of 1994 will immediately ease your bathroom's impact on the environment (and your wallet). As consumer demand for green products has grown, manufacturers today are offering more recycled and sustainable options.
In a recent survey of remodelers conducted by the National Association of Home Builders (NAHB), more than one quarter of the respondents saw a growing demand for green remodeling. And since bath remodels are consistently among the top four remodeling jobs (along with kitchens, room additions and roofing projects), that translates into more green bathrooms today than ever before.
"Americans spend over $230 billion on home remodeling, with energy efficient and sustainable products representing an increasing share of the market," says Mike Nagel, chair of the NAHB Remodelers Council.
An energy efficient and water-wise bathroom can save significantly on monthly utility bills. Using low-flow water fixtures can save thousands of gallons of water per year.
And don't forget indoor air quality. Since the bathroom is subject to heat, humidity and chemicals from cleaning, hygiene and cosmetic products, ventilation becomes vital. It is also important to reduce volatile organic compounds (VOCs). VOCs are known to cause a range of health problems, from asthma to cancer. They may be contained in building components, like cabinetry, adhesives, caulks and paints.