Inject color into your landscape with witherod viburnum.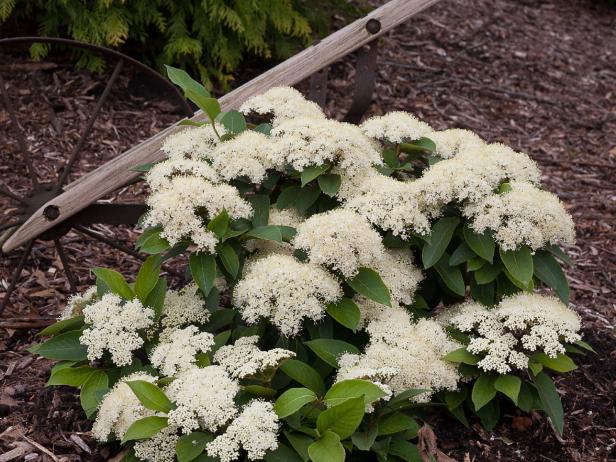 Lil' Ditty Witherod Viburnum
Enjoy all the great attributes of viburnum in a neat little package. Lil' Ditty grows 1 to 2 feet tall and wide, making it a great choice for perennial borders, containers or edging water gardens. Fragrant white late spring blooms—a big hit with pollinators—fade to form berries, which shift color as they ripen from green to pink to red to blue to black. Hardy in Zones 3-8. Botanical name: Viburnum cassinoides
Turn up the color in your landscape with Viburnum cassinoides. This viburnum shrub offers strong fall leaf hues coupled with intense berry shades. It's a one-two color punch that makes it sparkle in the landscape. The common name, witherod viburnum, comes from Old English "wythe" meaning flexible and "rod" meaning branch. Flexible branches are typical of Viburnum cassinoides.
This viburnum shrub is native to North America, where it tends to grow in wet places, like swamps, the edges of ponds, low field or marshes. Viburnum cassinoides can withstand soggy soils, and also holds its own in spots that are more well-drained. Choose a spot that provides full sun to part shade for best growth.
Viburnum cassinoides has a host of common names, including witherod viburnum, blue haw, swamp haw and wild raisin. The first refers to the plant's flexible branches, while the last three make mention of the shrub's fruit. Viburnum cassinoides has clusters of berries in summer that slowly ripen through a variety of colors. The berries start green, then shift through white, pink, rose and blue, before finally ripening to a blue-black hue in autumn. Many colors are often visible in one berry cluster, transforming Viburnum cassinoides into eye candy.
The fall color show doesn't stop with the berries. In autumn, leaf color changes from summer green to shades of yellow, orange, red, crimson and purple. Between the berries and the fall foliage, Viburnum cassinoides is a strong performer in the autumn landscape. Usually the berries linger into winter before birds gobble them up.
Plants flower in late spring to early summer, opening white blooms in clusters that measure up to 5 inches across. Bees, butterflies and other insect pollinators flock to flowers to feast on nectar and pollen. To ensure fruit formation, be sure to plant several different viburnum shrubs. Check with your local nursery for tips on which viburnums work well with Viburnum cassinoides.
Use witherod viburnum to create a hedge, fill in a foundation planting or add color to a wet spot. It makes an ideal edging plant for a pond and thrives in low, swampy areas. Viburnum experts agree that to get the most out of this plant, use it in a mass or group planting. Viburnum cassinoides grows 5 to 8 feet tall and wide.