Unusual Summer Perennials
These little-known plants can help pull any gardener out of a planting rut.
Agastache spp are easy to grow in well-draining soil with full sun or light shade and they're drought-tolerant. They bloom from June to October and their bright, tubular flowers attract butterflies and hummingbirds. Both the flowers and the leaves are very fragrant when brushed or crushed. Varieties include Cana, Pink Panther, Summer Luster, Mexicana, Summer Breeze and Tutti Frutti. Good matches for Agastaches include any number of ornamental grasses, yarrows, Salvia, Gaura, Echinacea, and different varieties of lavender.
Ornamental oregano will bloom all summer and into fall. It likes well-draining soil and full sun. It grows really well in containers and looks particularly great growing out of a chimney flue. It has sprawling clumps of small, dark green leaves and tiny, violet-red flowers. 'Kent Beauty' is the common variety and it's quite showy. Other varieties: 'Hopley's Purple,' 'Showy Pink' and woolly Oregano.
Stachys officinalis will tolerate many conditions. It grows best in partial shade but it's not fussy about soil or water. It will produce attractive, tight clumps of rich green leaves and tubular flowers with 30-inch stems. This typically blooms from mid June through July. Ornamental oregano really looks great on its own in a container or alongside any other container plantings.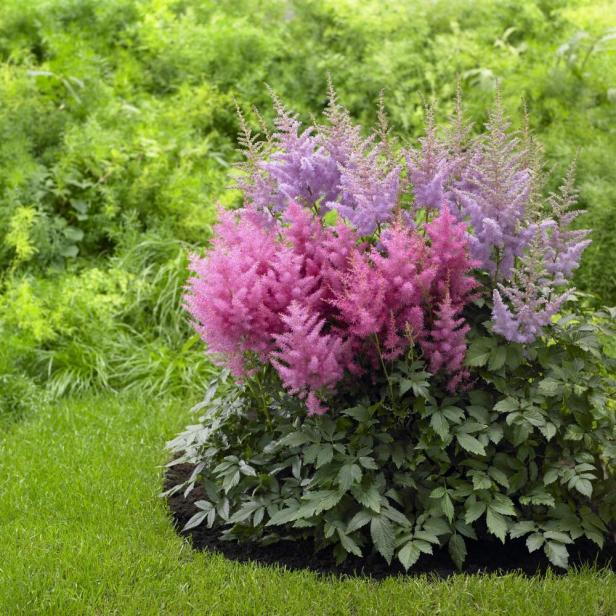 Astilbe
These two astilbes , 'Heart and Soul' (right) and 'Boogie Woogie' (left) make excellent cut flowers. In the garden, they attract butterflies with their mid-summer blooms.
Image courtesy of Longfield Gardens
Astilbes like moist, well-draining soil. Astilbe tacqueti superba will tolerate more sun than others. It grows to 4 feet tall and flowers in late summer. Astilbe chinensis pumilla grows as a groundcover. It produces 12-inch spikes of rosy purple flowers in mid July. Astilbes will fit right in with coralbells, columbines and hardy geraniums. Stachys look great along a shaded border, planted with columbines and hellebores.