3 Easy-to-Grow Tropical Indoor Trees
Add height or soften the corners of a room with tropical trees. Learn the best way to grow ficus, citrus and dracaena as houseplants.
Houseplants add color and interest to interior rooms, and many of these tropicals also act as indoor air purifiers. Soften the harsh lines of a corner or add dramatic height to an interior room with indoor trees. Some tropical trees can be successfully grown indoors, if you can meet their needs.
Purchase your indoor tree from a reputable nursery, a garden center or a florist rather than a mass merchandiser. Stores that specialize in plants often offer a guarantee on their merchandise, usually for at least 60 days, which is long enough to determine whether the tree will grow well in your home.
Most houseplants, such as tropical trees, need bright, indirect light and supplemental humidity to thrive inside, so before you buy, determine whether you can provide for an indoor tree's needs. Also consider how much growing space is available and how much you wish to spend.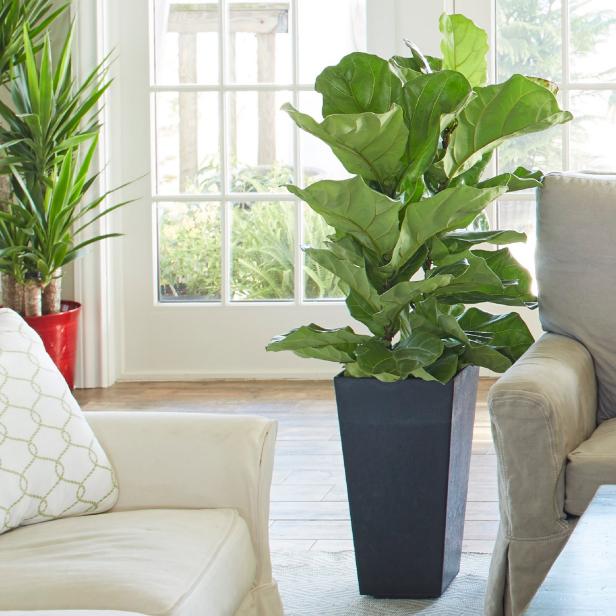 Ficus And Yucca In Living Room
Large plants automatically draw the eye in interior settings. To breathe life into a living room, add plants that match the scale of furniture pieces. This mix of houseplants unfurls leaves with varying textures that work to complement one another. The plants include a spikey yucca and broad fiddleleaf fig (Ficus lyrata). When selecting large plants, make sure you have enough space that the plant won't interfere with traffic flow or otherwise be an obstacle, like blocking a view. Choose cachepots that match your décor.
The most popular indoor tree is the ficus. Several species grow well indoors, including Ficus lyrata, or fiddle-leaf fig (image 1), and the popular F. benjamina, or weeping fig (image 2). Ficus trees are tropical plants that require bright, indirect light and have a reputation for being finicky. They drop leaves in response to any change in their environment, including a move to a new location, a draft or a change in temperature.
Don't overreact to occasional leaf drops. Instead, mist the plant, but don't overwater a ficus. Before you water, feel the soil, and if it feels damp, wait a day and check again.
To ensure that a ficus stays healthy, provide a bright, indirect light source. Allow the plant to dry out slightly between waterings. Feed the plant monthly with a balanced houseplant fertilizer, and provide as much humidity as possible. A saucer filled with gravel and water is a good source of extra humidity.
Mediterranean Sitting Area With White Sofa
A pair of lemon trees frame this elegant sofa to create an inviting spot to sit in the upstairs hall at the Atlanta Decorators Show House. Patterned pillows add pizzazz to the sophisticated space.
The citrus group includes oranges, limes, lemons, grapefruit and kumquats. Citrus trees are very popular because they produce not only fruit but also fragrant flowers. Experts recommend not eating the fruit until you produce your own crop; pesticides may have been used on the tree at the nursery.
To care for citrus trees, provide four to six hours of direct sunlight each day. Feed the plant every three to four weeks with a blooming-plant fertilizer. Fertilizers labeled 0-10-10 or 15-30-15 are adequate for use with citrus trees. A dedicated citrus fertilizer is even better and is available at most garden centers.
Provide high humidity with a saucer filled with gravel and water. Water the plants when the soil is dry 1" below the surface. Maintain even soil moisture; don't allow the soil to completely dry out or stay too wet.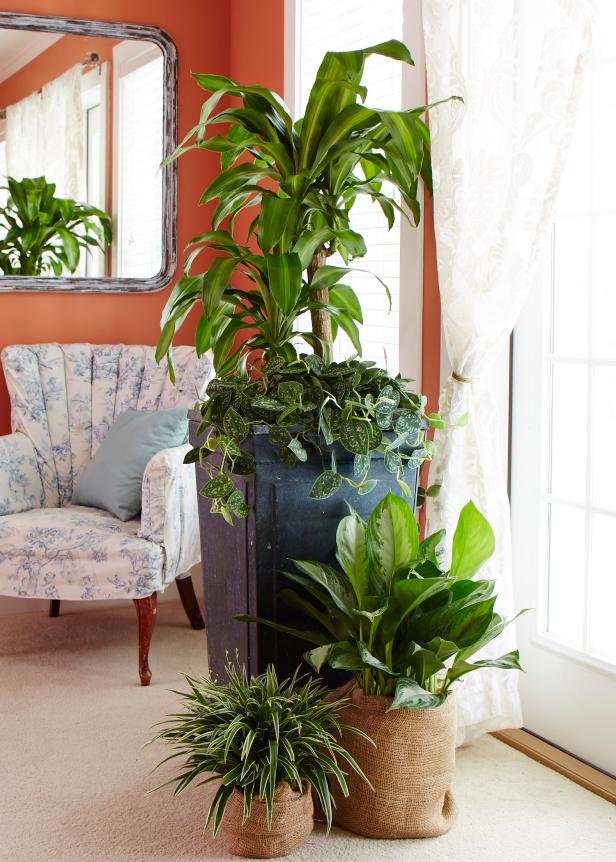 Quartet Of Variegated Houseplants
When choosing a plant to make a bold statement in your home, instead of one single dramatic specimen, stage a grouping of several plants. This quartet features variegated houseplants that offer contrasting leaf textures that combine to create an eye-pleasing scene: dracaena surrounded by silver pothos, Aglaonema and spider plant. Stairstep pot sizes to stir more interest. Skip the cachepots and simply wrap plants in burlap for a unified look that's natural and a ready complement to many decorating schemes.
If you have a low-light environment, dracaenas are a better choice than ficus or citrus. Often called dragon trees, they're often used in offices, where constant care is not available and the only light source may be fluorescent bulbs. Dracaena marginata (image 1) has narrow green leaves with a burgundy edge. Dracaena 'Massangeana' (image 2) has wide green leaves with a yellow stripe.
To care for dracaena plants, provide indirect light. Allow the soil to dry out between watering and provide high humidity with a saucer filled with gravel and water. Feed monthly with half-strength indoor plant fertilizer.