A Super-Easy Spring Flower Bed Cleanup
Learn a trick to make spring garden cleanup easy—and improve your soil at the same time.
Spring's arrival bursts into town with red-breasted robins and species tulips, dainty members of the tulip clan. When the leaves of these tiny jewels poke through the soil, it's time to clean up flower beds. Even if you cleaned up your beds last fall, you can adapt this spring cleanup method to every garden season. It takes its cue from Mother Nature's handiwork.
In a forest, leaves fall to the ground and, within a growing season, disappear. No one rakes, gathers or piles those leaves up. Instead, a natural network of animals, insects and microorganisms work over those leaves until they're incorporated into soil. That layer of decomposed leaf litter is known as humus, and it's an amazing, fertile substance because it's chockful of microscopic critters. Those microorganisms are why compost is known as black gold.

You can mimic and jump-start this same process in your flower beds using the chop and drop method during spring cleanup.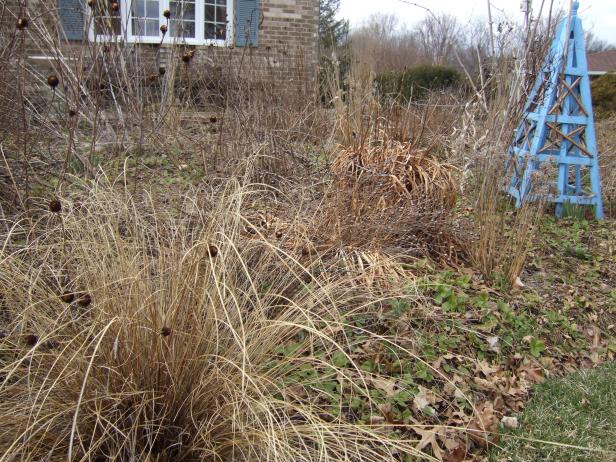 Early Spring Flower Bed
If perennial and ornamental grass stems aren't clipped prior to winter, the early spring flower bed can appear messy. In fact, the remaining stems help protect perennial crowns through winter by trapping blowing leaves. Seedheads provide forage for birds, and stems offer nesting material.
After cutting back perennial stems left over winter, instead of bagging and bundling them to haul off to your local yard waste center, chop them into pieces and drop them on the flower bed. It's that simple. The end result isn't unsightly, especially if you chop stems into small pieces.
Guidelines for Chop and Drop Composting
Follow these tips to get started with the chop and drop method of spring garden cleanup.
What you use to cut is up to you. Go low-tech and grab hand clippers for small stems and loppers for larger ones. Or warm up your power tools and use a weed trimmer or hedge clippers to take down stems quickly.
For skyscraping stems like perennial hisbiscus, cut stems down in sections, so pieces that lay on the ground are small. Smaller pieces decompose more quickly.
If you plan to mulch flower beds this spring, toss mulch on top of the dropped stems. That helps speed up decomposition and gets you on your way to rich, healthy soil in your beds.
Time cutting so that it occurs before spring rains arrive. This ensures that lightweight stems won't blow away. The extra moisture helps start the decomposition process. In areas prone to wildfires, dropped material needs to be moistened to keep it from becoming a fire hazard.
The woody stems of perennial shrubs like butterfly bush or Russian sage, which get cut back in spring, can also be dropped onto the flower bed to decompose. Woody material takes longer to break down, but it will happen. Adapt flexible woody stems as stakes for clumps of spring bulbs, such as daffodils.
With plants that self-sow readily, including black-eyed susan or goldenrod, cut any remaining seedheads off stems and toss them into a bucket. You'll need to dispose of those at your local yard waste site. Once seedheads are removed, chop and drop the remaining stems.
Ornamental grasses need to be cut into small pieces and moistened so they don't blow away. Try using grass stems in place of straw around your yard. They provide excellent dry footing beneath faucets or informal paths.
Caution: Some perennials, such as cut-leaf coneflower (Rudbeckia laciniata 'Herbstonne'), have round stems that can become a slipping hazard (they roll underfoot) if they're not cut into small pieces. Also avoid dropping any plants that root along the stem (mint family, including bee balm), or you'll be helping plants spread through the garden.
Follow the chop and drop method through the garden year, anytime you need to cut back flower stems, pull weeds or prune plants. If stems are unsightly to you, toss them behind taller plants. Working with nature using the chop and drop method is smart—and it saves you back-breaking labor.