This tangy root plant comes in all shapes, sizes, and colors, and makes a good beginner's fresh vegetable because it germinates and grows so fast.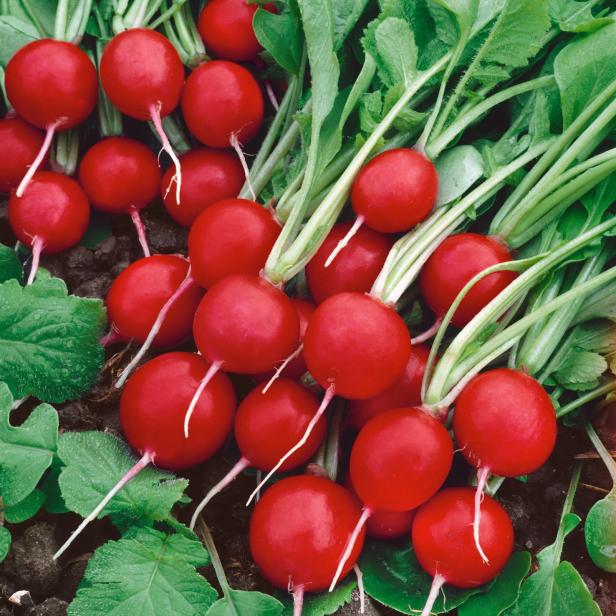 Radish 'Rudolph'
Need an easy way to mark the rows in your garden? Plant fast-sprouting radishes like 'Rudolph' in spring or fall. These crisp, round radishes, which are as red as the legendary reindeer's nose, are ready to pull in 25 days from sowing. They resist cracking and won't get pithy and pungent as long as you don't leave them in the ground too long. Sow more seeds every 10 days for a fresh, continuous harvest.
Terra Organics/National Garden Bureau
Botanical Name: Rhaphanus sativus
Radish plants produce edible roots in an astounding array of shapes and sizes, colors and degree of spiciness. This crop is popular with beginning gardeners because many varieties germinate in just a few days – usually under a week – and can grow to eating size in less than a month.
The root, when eaten raw, is high in vitamin C and even contains some iron and calcium. People in different parts of the world have consumed radishes as a healthy food since ancient times, and today, creative chefs make use of radishes to assemble refreshing salads, either alone or combined with other eye-catching ingredients.
Radish roots are sometimes carved into fanciful shapes as garnishes, with the pink and white tones producing artistic effects. Some radish plants produce a fat, bulging root weighing nearly a pound that is cooked rather than eaten raw, notably in Asian cuisine.
As long as seed gets planted at the right time of year, radishes are pretty much foolproof. Maturity ranges from 21 days for some salad radishes, to 120 days for so-called winter radishes. Salad radishes require little care during their short growing period. The slower growing radish varieties may need light weeding, and will certainly need sufficient water.
With typical red or pink radishes it is imperative to plant radish seed in early spring, when the ground is quite cool, or in autumn for a late crop; some white radish varieties actually do well when planted mid-summer.
Planting the wrong kind of radishes in warm or hot soil can cause the plants to bolt, or produce flowers and seeds quickly, instead of appetizing roots. Radish flowers are small and usually have delicate pink and white petals with yellow centers. While attractive, radish flowers on a young plant indicate that the roots probably won't develop a crisp, tender texture, but instead may have tough and bitter flesh.
The flowers, if left alone, will produce seeds, and these in turn can be saved to grow radishes another year. One type of radish, called rat's tail, produces tender edible seed pods; these can be eaten raw, cooked in stir fry, or even pickled.

In order for radish plants to form large roots, the soil should not be too high in nitrogen. Too much nitrogen will produce a lot of leaf growth instead, although the leaves can be cooked and eaten as greens.
Radishes need moist soil, not only to encourage the formation of plump, fairly sweet roots, but also to keep away pests that thrive on too-dry radish leaves.
Although radish is related to horseradish, they are distinct plants with different growing habits.