Plant purple hydrangeas to add a strong wow factor to your garden.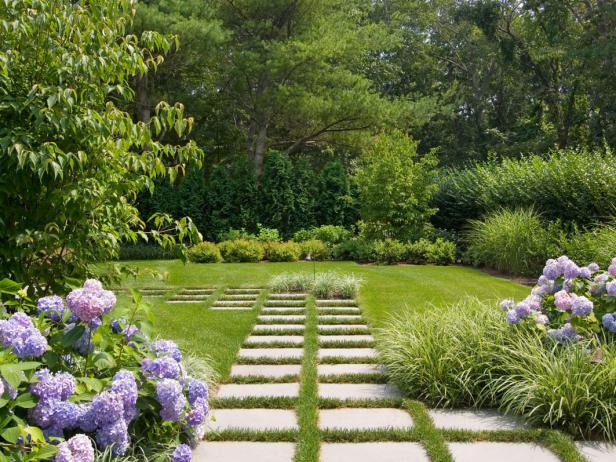 English Country Stone Pathway With Purple Hydrangea
In the distance, the Kousa Dogwood acts as a focal point to pull the eye through the front pathway along with the low Liriope in the foreground. Designer tip: Soft textures and colors, like in these hydrangeas, evoke a feeling of being able to wander and get lost in relaxation.
Botanical Names: French or bigleaf hydrangea (Hydrangea macrophylla)
Play with purple shades in your garden by planting purple hydrangeas. These striking flowers start opening in summer, and some types flower until fall. Depending on variety, the coloring ranges from pale lavender, to blue-purple, to deep wine purple shades. Purple hydrangeas bring stunning beauty to part shade settings. They're the type of flowering shrub that you won't regret including in your landscape.
Most purple hydrangea varieties fall into the French or bigleaf group (Hydrangea macrophylla).This group divides the plants into two categories based on flower form. Mophead types have spherical flower heads, while lacecaps open flattened blooms with tiny central flowers ringed with a row of traditional looking hydrangea blossoms. In both types of blooms, you can find purple hydrangea varieties.
Blue and pink Hydrangea macrophylla flowers shift color depending on soil pH. Purple hydrangeas may turn pink in alkaline soil, but in an acid soil, the hues lean toward blue and purple. Hydrangea varieties that fit into this color shifting category include mophead types 'Endless Summer,' 'Early Sensation' and 'Blue Heaven.' Lacecaps that shift colors to become purple hydrangeas include 'Twist 'n' Shout,' Forever & Ever 'Summer Lace' and Let's Dance 'Starlight.'
There are hydrangeas that, as they encounter acid soil and start shifting color, never fully move to blue but stop at a purple hue. 'Merritt Supreme' produces a purple bloom in acid soil, as does 'Mathilda Gutges.' 'Royal Purple' is one of the deepest purple hydrangeas, as is 'Ami Pasquier,' which yields a wine-purple hue in acid soil. Cityline Rio hydrangea also offers a solid purple hue in acid soil, as does 'Alpenglow.'

To shift pink hydrangea flower color to purple shades, you can try several things. Add aluminum sulfate to soil where the hydrangea is growing. This helps lower pH, but you'll need to do it several times a year. The lower soil pH helps plant roots to take up aluminum, which is responsible for the blue tints in petals.
There are a few tricks to using aluminum sulfate successfully. First, the plants should be well established (2 to 3 years old). Make sure soil is thoroughly moist before applying the solution. Add the sulfate carefully and slowly, because it can burn roots. You can also add pelletized sulfur to avoid the potential of burning roots.
Shifting soil pH is a process, and you need to continue to maintain the lower pH if you want to keep hydrangea blooms in the purple-blue range. Some gardeners add coffee grounds and composted oak leaves to soil around hydrangeas to help maintain lower pH and keep hydrangeas purple.